If images of white sandy beaches and azure seas fringed with coconut palms are a part of your ideal holiday plans, then you should consider a trip to Fiji. This small country in the South Pacific is renowned for the welcoming nature of its friendly people, and it's a very safe and easy going destination with many luxury and good value resort options. 
Being an island nation in the tropics and close to the centre of marine diversity in the world, you should not be surprised to hear that the scuba diving here is terrific too. Fiji has earned the nickname as 'the soft coral capital of the world' due to the intense colours of its reefs. It also has one of the best shark dives in the entire planet, located in Pacific Harbour.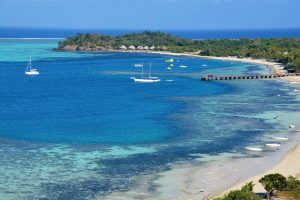 Fiji is a group of volcanic islands in the South Pacific. New Zealand lies 1,400 km to the south, and the Queensland coast of Australia is some 1,800 km to the southeast east, and Fiji's nearest neighbours include Tonga, Vanuata, Wallis and Futuna, and Niue. The...
read more