Save up to US$ 189 per diver!
The sleek looking MS Royal Evolution is offering you an amazing chance to dive Sudan at a very convenient price throughout all of 2018 if you act quickly. This luxurious and spacious steel yacht will allow you to sample the Red Sea diving of Egypt & Sudan in style.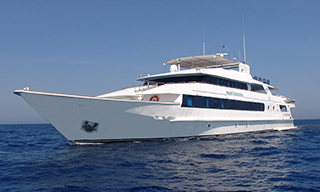 This high quality vessel has a high staff to guest ratio and even a hot tub. 4 decks ensures you'll always be able to find some space to relax and enjoy the fantastic onboard amenities.
The exquisite touches of luxury such as hot chocolate after night dives and tea or coffee brought to your cabins in the morning ensure you get that pampered feeling as you cruise the blue waters of Egypt and Sudan.
There's few better boats to sample the wonderful mix of reefs, wrecks and endemic species that make the Red Sea such a special place.
Red Sea Liveaboard MS Royal Evolution – 10% early bird discount offer on the Sudan trips throughout 2018 if you book before the 31st December 2017:
Fury Shoals, St. John's Reefs & Sudan
8 days 7 nights 17 dives
Standard twin bed cabin: Was US$ 1,691 (EUR 1,499) Now US$ 1,522 (EUR 1,349) per person
Deluxe twin/double bed cabin: Was US$ 1,894 (EUR 1,679) Now US$ 1,705 (EUR 1,511) per person
Save US$ 378 per couple!
Cruise price per person includes: Cabin accommodation, breakfast, lunch, dinner, snacks, drinking water, some soft drinks, hot drinks, Egyptian entry visa on Egypt only itineraries), hotel accommodation, transfers to the boat from the airport, dives (unlimited), experienced English speaking divemaster, tanks, weight and weightbelts.
Cruise price per person excludes (mandatory, unless customer provides own): Dive equipment, local Egyptian taxes (US$ 19), marine park fees: all Brothers itineraries (US$ 58), all Marine Park itineraries (US$ 95). Sudan trips: taxes and entry visa (390 EUR + 115 US$ or 390 EUR + 165 US$ for American nationals), Hurghada to Port Ghalib transfers. Fuel supplement of (US$ 159) per person for all Sudan trips and (US$ 212) per person for all Deep south Sudan trips. Unless otherwise stated, all the listed items need to be paid on arrival (cash or credit card).
Optional extras: Canned soft drinks, alcoholic drinks, nitrox fills for enriched air certified divers, torches, diving computer, dive insurance. Unless otherwise stated, all the listed items need to be paid on arrival.
If you want to experience awesome Red Sea diving then book now on the MS Royal Evolution Red Sea Liveaboard. Contact Dive The World for more information on +66 (0)94 582 7973 or send us an email.
Ensure you are kept up-to-date with the latest diving news and special offers, subscribe to our e-news now!