>
Dive Destinations
>
Australia
>
Bougainville
Australia Scuba Diving: Great Barrier Reef
Bougainville
Bougainville lies some 150 km to the south of Osprey Reef and is not often visited by Australian liveaboards in this area. Normally, Coral Sea trips will return to the Ribbon Reefs after visiting Osprey Reef but if conditions permit, you may be lucky enough to dive around this exposed offshore reef.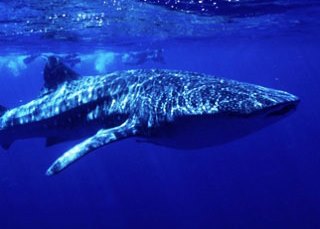 Like Osprey, Bougainville is a Coral Sea reef in the middle of nowhere that enjoys a proliferation of life thanks to the deep ocean upwellings that bring nutrients into the shallows. The coral here is in great condition. Superb visibility and a lack of river run-off result in pristine reefs with some large areas of the finest plate coral imaginable.
Dives here typically consist of quite steep walls from about 15 to 40 metres followed by a slope to greater depths. There are the same type of healthy hard corals you might see at Osprey Reef and also plenty of schools of fish. Bumphead parrotfish in schools of up to 50 regularly charge around munching the coral into a fine sand. Yellow-tailed barracuda and jacks are also present in impressive numbers.
Smaller fish also school in numbers unlikely to be seen elsewhere, and the reef edge is often dancing with hundreds of fish such as pyramid butterflyfish, unicornfish and blue dash fusiliers, all in impressive numbers. Sharks, rays, tuna and turtles are all commonly sighted here too.
The crew on board your Coral Sea liveaboard are probably going to be excited to be going here. Not only is it a seldom visited spot, but they also know that it offers some of the most unspoilt scuba diving in Australia. So you too should be thrilled if you have the good fortune of hearing the captain announce that they are setting sail for Bougainville.
Dive Site Descriptions
The Zoo - This is one of the most-loved spots in Bougainville, whose proliferation of creatures gives this site its name. You can expect plenty of white tip reef sharks as well as some cowtail rays on the sea floor, grey reef sharks in the blue, as well as green and hawksbill turtles, plus myriad schooling butterflyfish and unicornfish.
The Sticks and Between the Wrecks - These both offer some wonderful drift diving opportunities with exceptional visibility and the chance to see large numbers of the creatures that visit or call Bougainville home: sharks, rays and schooling fish in abundance.
Liveaboard diving cruises to Bougainville and Osprey Reef are in hig demand and fill up quickly. We recommend you plan to book well in advance.
How to Dive Bougainville
Due to its remoteness, access to the Bougainville is by Australia liveaboard only. It is only visited by those Liveaboards that take in Osprey Reef but it does not form part of the normal itinerary.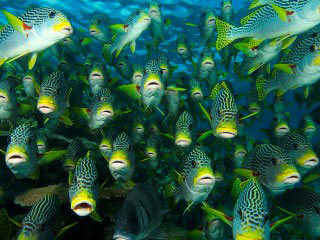 Depending on weather conditions, you captain may decide to spend a shorter time at Osprey in order to visit Bougainville, so it is unlikely it can be promised in advance. As with all Osprey Reef liveaboards, some operators do also leave from or return to Lizard Island, which is accessible by flight. The flight departs from Cairns and flies to Lizard Island over the reef, providing you a scenic trip with an overview of what you'll be diving on the Great Barrier Reef. This promises to deliver some of your best Australian scuba diving memories.
Diving Season
As Bougainville is only visited by liveaboards that go to Osprey Reef, you should consult the diving season of Osprey Reef when considering your Great Barrier Reef vacation. Bougainville is subject to similar weather influences to Osprey Reef although it can enjoy more settled conditions when Osprey Reef is being exposed to heavy winds. This explains why it is occasionally visited as an alternative to Osprey Reef.
Reef Summary
Good for: Reef life and health, visibility, beginner divers
Not so good for: Snorkeling opportunities
Depth: 5 - >40m
Visibility: 20 - 40m
Currents: Normally gentle, can be strong
Surface conditions: Can be choppy
Water temperature: 25 - 30°C
Experience level: Beginner - advanced
Number of dive sites: 5
Distance: ~230 km north east of Cairns
Access: Australian Liveaboards
Recommended length of stay: 2 days
Useful References