Why Choose Dive The World?
...for Your Diving Vacation Booking
There are countless dive trip operators out there. As with any other industry, there are good and there are bad. We work with only the best scuba operators to ensure that you spend a hassle-free vacation DIVING.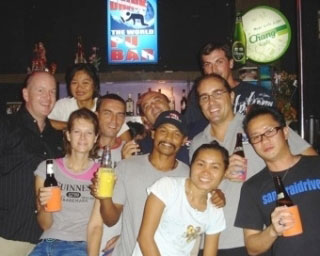 You don't need to worry about your regulator not working when you are 20 metres down. We use only a select list of operators whom we know and trust. We visit our operators to check out their boats, facilities and accommodation before recommending them to you. If we discover they are not good enough we simply don't feature them.
Our goal is to meet your needs as a diver and not just to grab your money and send you on your way. We want to build lasting relationships with you and your diving buddies. In order to get you back as a return customer, we understand that we need to provide the best service to you so you won't get an attitude from our staff. Our prices are competitive and our service is second to none!. Want to know who we are? Find out more about us.
Take full advantage of your dive vacation. Relax, have fun, and let us sort through the winners and losers in the scuba world for you.
8 Great Reasons to Book with Dive The World
You benefit from choosing Dive The World because:
• You pay the best price
We charge you NO commission or agents' fee so we can GUARANTEE that our price is no more (and sometimes less!) than what you would pay if you booked directly with any of the operators.
Dive The World maintains the widest and most up-to-date range of special offer information you will find anywhere. The dive specials on our blog are constantly updated. You can also find liveaboard specials and last minute deals highlighted in yellow on our calendar of departures or on the boat departure schedules on our liveaboards website.
• You have a bigger choice
We match your requirements against the offerings of hundreds of scuba diving trips before we offer you an objective and independent recommendation!
• You can take advantage of our insider knowledge
When you use our services to find your best match, you can be sure that our descriptions are free of any dive operators' exaggerated marketing-speak. We know the operators and their boats and resorts, so we can carefully match your requirements, and tell you exactly what to expect. No other agent has invested more time and effort into staff product knowledge than Dive The World. We have 100+ trip reports on liveaboards and resorts which show in great detail what you can expect, from our own first-hand experience!
• You'll get a quick reply, personalised expert advice
From the moment you send an inquiry, you will be communicating with an experienced, knowledgeable member of the Dive The World Team. Their goal is to answer all your questions fully and quickly and to make recommendations on what is right for you. Our friendly staff will guide you through the process and make booking your adventure as hassle-free as possible. Don't just take our word for it, read what our customers say, or have a look at our Trip Advisor reviews at the bottom of this page.
• You're not being used to fill our boats
We're independent agents. Our priority is to You, to see that you get what you expect, at the best price. Why? Because we want you to be so thoroughly delighted that you'll want to use us again to book your diving trip next year!
• Your booking makes a difference
Your bookings make a difference ... Dive The World makes charitable contributions on a yearly basis and, by booking your dive tours with us, you are contributing to our chosen charities:
Sharklife Conservation Group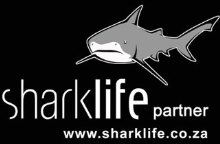 A registered non-profit organisation, Sharklife addresses the alarming exploitation of both shark populations and ocean fisheries in South African waters. The organisation actively engages the urgent need for research and protection of many marine species.
Sharklife aims to firstly develop a compassionate desire to conserve sharks by replacing the "Jaws" syndrome with positive understanding and respect. Secondly they seek to reduce anthropogenic threats to over exploited marine species by increasing awareness and encouraging sustainable seafood choices. The third aim is to Increase marine tourism and transform shark populations into a sustainable living resource by developing educational ocean experiences for all South Africans.

People for the Ethical Treatment of Animals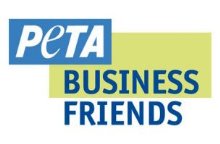 PeTA is the largest animal rights organisation in the world. It works towards the prevention of cruelty and exploitation of both land and marine species.
PETA works through public education, cruelty investigations, research, animal rescue, legislation, special events, celebrity involvement, and protest campaigns.
Although not everyone's cup of tea, few do as much as PeTA to raise awareness and take action against animal exploitation.
Stop Fish Bombing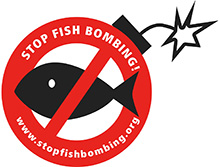 A dedicated non-profit charity (Hong Kong charity number: 91/7402) whose aim is to end the practice of fish bombing worldwide. This global coalition is developing underwater bomb detection technology to allow for the pinpointing of fish bombing activity.
The prevention of this destructive practice is currently very difficult to police due to the inability to monitor and immediately locate the activity.
Now there are proven technologies that can pinpoint fish bombs as they happen and provide solid evidence for convictions. Working together with governments and law enforcement, StopFishBombing.org can greatly improve the operational efficiency of enforcement activities and legal processes, helping to end this appalling fishing practice.
• You're entitled to our loyal customer bonuses!!
Our return customers enjoy some additional privileges and benefits as an expression of our gratitude for their loyalty:
Returning customer discount - another initiative from Dive The World to ensure you get the best possible value for money: Book 2 scuba diving trips with us and receive a 5% returning customer DISCOUNT applicable to your second trip and every one after that. Just complete our simple QA form to qualify.
* Terms and conditions apply.
Frequent diver discount - make 5 bookings with us and receive 10% off the price of your 5th booking from Dive The World's Gold Range (contact us for the latest full list of Gold Range products). This discount is repeated every additional 5 bookings that you make.
Free booking amendment - we know that it's not always possible to stick to your plans. So we will waive any administration charge for the first change you request to any booking as a repeat customer.
Why not try one of our other exciting world class destinations and qualify for a discounted scuba adventure vacation - Australia, Bahamas, Belize, Burma, Cuba, Cocos Island, Fiji, the Galapagos Islands, Indonesia, Malaysia, the Maldives, Mexico, Palau, the Red Sea, Thailand - and the list is growing ever longer!
• You get a cash reward when you recommend us
If you have used our services and recommend us to your friends, relatives or dive buddies, then you will be rewarded. When they book their trip with us, you can claim a discount voucher of up to US$ 100.
Our Industry Partners

Dive The World is a business partner of DAN Asia-Pacific. We are proud to be associated with the industry leader in diving insurance, which we promote. DAN and Dive The World share the common aim of helping customers to have a fun, fulfilling and safe diving experience.

Many of the operators Dive the World recommends are associated with training agencies such as PADI and SSI. We will include this information in our descriptions of the products we promote. If you have any preference regarding an association with a training agency please let us know and we will match our recommendations to those requirements.

Dive The World is an affiliated business partner of Lonely Planet
, the largest travel guide book publisher in the world. They have an amazing array of guide books, ebooks, phrasebooks, online travel forum and apps, all designed for adventurous travelers, like the customers of Dive The World.

Dive The World is an affiliate of and long-time partner with World Nomads. World Nomads provides travel insurance for independent, adventurous travellers like you. You can buy now from our website, extend your cover and claim online, even after you have left home.
Press Coverage
Dive The World has enjoyed a variety of media coverage over the years, including:

The renowned writer and Dive The World customer, John F. Ross wrote a great online feature for the New York Times about his experience on a Thailand liveaboard diving cruise, booked with us. Read his article here: Scuba Diving in Thailand – A Balancing Act
.

CNN Travel featured Dive The World in their featured article about the '10 Best Dive Sites in Asia'
, recommending us to their readership as a source of information on diving in Malaysia and Indonesia. CNN is among the world's leaders in online travel news.

Dive The World has been featured in a number of articles on the renowned USA Today travel tips website on a variety of subjects, including 'Snorkelling with Whale Sharks in the Maldives'
, 'The Coral Reefs of Thailand'
and 'Places to Vacation in February'
.

In an article about 'Jacques Cousteau's underwater living experiment, Conshelf II'
, The Daily Beast featured Dive The World.



Australian news channel Nine MSN featured Dive The World in a pair of Pacific island travel articles about holidays in Fiji. These two archived articles are called "Trip Tips: Fiji's Pacific Harbour" and "Fiji: Adventurous Types" (links no longer active).
Operator reviews
Dive The World enjoys long-established relationships with operators worldwide, so you can trust us when they say:
Worldwide Aggressor Fleet
"Over a decade of professional, reliable and trustworthy cooperation has made Dive The World one of Aggressor Fleet's most valuable resellers/tour operators around and with the constant volume of customers thay have sent us over time, our partnership is invaluable. With this in mind and with the professionalism and dedication of their entire staff, we can highly recommend Dive The World for all your needs in your future dive adventure planning." … Tom Gebhardt, Sales Manager, Aggressor Fleet
Explorer Ventures Liveaboard Fleet
"Over the years, we have enjoyed working with Dive The World. Their professional agents provide the attention to detail and quick response often needed in this fast-paced industry. Their product knowledge is thorough and comprehensive, providing their clients the tools they need to make the best travel decisions. We appreciate their business and their partnership." … Sue Hamilton, Business Development, Explorer Ventures Fleet
White Manta Liveaboards
We value our agents and Dive The World rank up there as one of the best & most professional with their invaluable in-depth knowledge, experience, and attention to detail in helping their customers, our guests, realize their diving adventures with our White Manta Diving liveaboards in Thailand, Malaysia, & Indonesia. I can happily say this of each and every one of the many guests they have sent to us over several years in our partnership. Our goals for excellent in service, satisfaction, and safety are shared by our friends at Dive The World and for that reason we are happy to recommend them." ... Maximilian Hand, Operations Manager, White Manta Diving
MV Pawara
"West Coast Divers have worked with Dive The World for over 10 years during which time they have been one of our best agents. They are a professional and trustworthy company and a long-established presence in the dive industry that we are happy to recommend to anyone." … Pakdee Doo Khruthanang, General Manager, West Coast Divers, Thailand
Spirit of Freedom
"We have worked closely with the Dive The World Team for around 10 years. In that time they have sent us many hundreds of divers to join our live-aboard expeditions, and we have enjoyed a great working relationship with them. We have always found the Dive The World team to be thorough, efficient and professional to deal with, and we have no hesitation in recommending them as a long established, quality dive booking agent. We look forward to continuing our relationship in the years ahead." …Trina Baker, Sales Manager, Spirit of Freedom, Australia
MY Sachika/ MY Moonima
"It's a long business time relationship now between Top Class Cruising and Dive The World. I can definitely say that I am, as GM of Top Class Cruising, really satisfied about our cooperation on the Maldivian liveaboard market, as we found in Dive The World a solid business partner, really professional and reliable, with an easy process of communication about both business needs. I'm sure the relationship between us will remain strong in the coming years and will become stronger too, with the common goal to send to Top Class Cruising an increasing number of guests that could come back home satisfied about the services provided." … Corrado Scaburri, General Manager, Top Class Cruising, Maldives
---