Bordered by Mexico, Guatemala and the Caribbean Sea, Belize's stock as a popular tourist destination is growing due to its national parks, cultural history, and aquatic adventures. It is also the only country in Central America where English is the national language. The mainland is mostly covered in protected rainforests, where you can explore hidden ruins from the ancient Mayan civilization and spot wildlife such as jaguars, howler monkeys, toucans and parrots. Off the coastline are located 3 atolls past which runs the second-longest barrier reef in the world. 
San Pedro on Ambergris Caye is a great place from which to sample some Belizean Caribbean culture. Turneffe Atoll is the place to go for remote dive resort vacations and enjoy some of its natural wonders by kayak or paddleboard, such as manatees, dolphins, tarpons and saltwater crocodiles. Lighthouse Atoll hosts the most vibrant reefs in the Caribbean, and nearby is the natural wonder of the Great Blue Hole – a site that seems to be on every scuba diver's bucket list!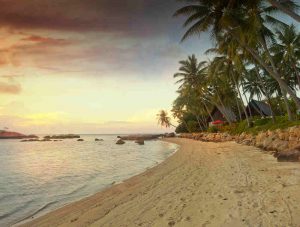 Belize is one of the most popular tourist destinations in Central America. This small country used to be known as British Honduras during colonial days and its historic days are reflected in the country being the only one in Central and South America where English is...
read more