Calling on all divers and tourists who care about the preservation of our marine life to support  Sugud Islands Marine Conservation Area (SIMCA) following a severe violation of their protected area on 14 Nov 09.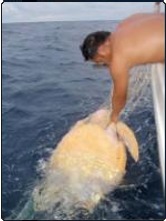 Many of you have experienced the crystalline blue waters and abundance of sea creatures at Lankayan.  These waters are part of the 46,300 hectare sanctuary patrolled by SIMCA to safeguard the biodiversity of marine life in the area.
A locally registered fishing boat with a crew of 9 Vietnamese nationals was apprehended on the evening of 14 Nov 09, but their 7 km long bottom gill net was only recovered the day after with dire consequences for many marine animals.
As there was no net onboard at the time of the arrest, the boat's owner was initially fined a mere MYR 500 and the boat released. The SIMCA members were left with the arduous task of hauling in the heavy fish net manually.  It took them an exhausting 3 days to pull in just 4.5 km of the net!
The deadly haul from the night included: many trevally and tuna; 10 sharks – including guitar and black-tip sharks, some as long as 2m and a pregnant leopard shark; and 5 adult turtles – 4 of which were females, which is bad news for this endangered species.
They were able to save 4 leopard sharks, several stingrays, 2 guitar sharks and 6 turtles which were all set free – well done SIMCA!
News flash:
Good news is that the Sabah Fisheries Department have responded to SIMCA's letter of complaint and there will be a hearing 1 Dec 09.
What YOU can do:
Please send a polite e-mail to Mr. Rayner Stuel Galid of the Fisheries Department, thanking him for their quick response and respectfully urging them to enforce stronger measures to safeguard SIMCA and other Marine National Parks.
Marine Protected Areas are set up to safeguard breeding grounds for marine life. Considering the devastation this vessel caused in just 1 night, we can only imagine the hidden cost to our marine environments from unseen fishing. It is imperative the government take a more proactive position  to safeguard the exquisite Sabah diving destination, which in turn will ensure the region continues to receive vital tourist dollars.
Calling all Eco-Tourists
Another way you can help is by vacationing in the area.  Yes, by taking a holiday at the Lankayan Island Dive Resortyou contribute financially to the continuation of SIMCA's mission!
So, are you dreaming of a tropical island holiday in Malaysia finning with schools of barracuda, or exploring the coral reef with clown fish? Contact Dive The World right away to book your dream Lankayan diving holiday send us an email or call us on +66 (0)83 505 7794.
Source: SIMCA
Below are some images from the incident.
Warning: they can be upsetting and are not for the faint hearted.