>
Dive Destinations
>
Indonesia
>
Bangka Island
Diving in Bangka Island
Manado's Third Wonder
...Good for: Small animals, underwater photography, reef life and health, snorkelling and value-for-money...
...Not so good for: Wrecks, wall dives and non-diving activities...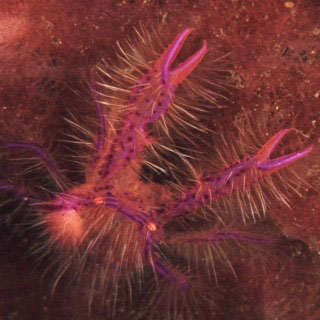 The island of Bangka, with its rolling hills of green fields and forests, and the nearby islands of Gangga and Talise offer over 25 dive sites with fringing reef slopes and pinnacles carpeted in soft corals.
They are often visited on scuba diving daytrips by the resorts of North Sulawesi - from both Manado/Bunaken and the Lembeh Strait - or as part of Manado liveaboard dive cruise itineraries.
Dive Site Descriptions
Sahaung on the east coast is a very well thought of Bangka scuba diving spot and for very good reason. The row of underwater boulder pinnacles that just break the surface here form giant steps underwater. This is a drift dive that requires a negatively buoyant entry, as waves can be present at the surface at drop off and pick up points. Show more
As you descend down the pinnacles you will marvel at the proliferation of green and golden brown soft corals, huge elephant ear sponges, dense thickets of branching green cup coral and table corals. There are carpets of frilled leather corals and pink, brown, cream and lilac soft coral trees swaying in the shallow surge.

At the same time swarming all around you are redtooth triggerfish, midnight snappers, blue-striped snappers and long-fin bannerfish. Fish soup! If you are not sufficiently enthralled by this, then the site may also throw in teira batfish, pygmy seahorses, frogfish, harlequin sweetlips, palette surgeonfish and perhaps a whitetip reef shark or two might put in a guest appearance. "Breathtaking" and "awesome" are oft-used words on the boat after this Bangka dive.
Batu Mandi is just off the Sulawesi mainland, opposite Bangka, and consists of a large rock jutting out of the surface, forming a steep slope. As you work your way along the wall here you will see no shortage of pretty macro life including ornate ghost pipefish, lots of nudibranchs and if you are lucky some gorgeous mantis shrimps. Show more
In addition to the abundant macro life, another major feature here are the colossal sea fans at around 20 m and on top of the reef a series of sea fans in hues of pink and red. At Batu Mandi there is no great variation in depth so diving here normally takes the form of a nice and easy shallow dive.
How to Dive Bangka
Some of the resorts in Manado will take you to the dive sites of Bangka for an additional fee to cover fuel expenses. For more information on your options, and all the other travel information you might need to visit Indonesia, review our:
But a single day trip here will not give you the full picture. The best way to experience all that Bangka has to offer is to join a Manado liveaboard dive safari.
Diving Season
You can dive here in Bangka all year round but the conditions do vary. March to June is dry season and the visibility is at its best. November to December is generally wet and July to October is windy, both having reduced visibility.
Liveaboard season in the Bangka area runs year round.
Where is Bangka Island and How Do I Get There?
Review our maps below of Sulawesi, showing the location of Bangka, and its host country Indonesia. Here, you will find information on how to get to Manado, and then on to Bangka.
Reef Summary
Depth: 5 - >40m
Visibility: 10 - 35m
Currents: Can be strong
Surface conditions: Can be rough
Water temperature: 27 - 30°C
Experience level: Intermediate - advanced
Number of dive sites: >25
Distance: ~80 km north of Manado Bay (2¾ hours)
Recommended length of stay: 2 - 3 days
Useful References