>
Dive Destinations
>
Indonesia
>
Flores
Diving in Flores
Maumere Dive Sites
...Good for: Small animals, drift dives and snorkelling...
...Not so good for: Beginners and non-diving activities...
An Eastern Indonesian liveaboard trip gives you the perfect chance to sample the best of Flores scuba diving and add some new, small fish and aquatic animals to your knowledge base, since it is an area that's known for its endemic species.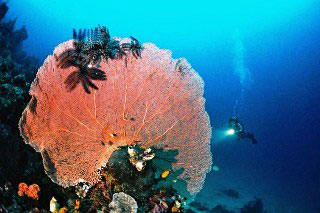 Although the combined effects of dynamite fishing and the earthquake and tsunami of 1992 caused damage to certain areas including Maumere, the regeneration of the reefs here is cause for divers to celebrate.
Space was cleared by these natural phenomena, which has allowed new corals to flourish and bring an even greater diversity to the sites. Once considered among Indonesia's finest dive sites, Maumere Bay, on the northern coast of Flores, is well on its way to a full recovery and provides some excellent and interesting diving opportunities.
Dive Site Descriptions
Adonara Island - Eastern Flores has some well known dive sites such as Magic Log where ribbon eels and frogfish are common. The very rare weedy scorpionfish (Rhinopias) has been found here, as has the wonderpus octopus. Headlands and channels dot the coastline of the island and these are gradually being explored by divers on visiting liveaboards but there is still a lot of unchartered territory to discover in this region. Show more
How to Dive Flores
The dive sites of the island are spread quite far apart so the only way to visit them all is by an Indonesian liveaboard. For more information on the trip routes and durations, and all the other travel information you might need to visit Indonesia, check out our:
Diving Season
The best conditions for diving Flores are from April to December as this usually forms the majority of the dry season. The rainy season from January to March has an increased (but by no means certain) chance of rain during your time there. The west of Flores, where there is a more mountainous region, sees more rain and more resulting run-off. Most of the diving is done off the north coast.
Sea temperatures vary very little during the year from a low of around 25°C and a high of 30°C. Diving in Maumere tends to focus on wrecks or the ocean's smaller creatures, neither of which move far from month to month. Although you may see the occasional eagle ray, Maumere is not a destination for seasonal pelagics.
Where is Flores and How Do I Get There?
Review our map below of Indonesia, showing the location of Flores. Here, you will find information on how to get to the ports of departure in Indonesia, from where you will cruise to Flores.
Reef Summary
Depth: 12 - 28m
Visibility: 8 - 30m
Currents: Can be strong
Surface conditions: Can be rough
Water temperature: 25 - 30°C
Experience level: Intermediate - advanced
Number of dive sites: ~10
Distance: ~800 km east of Bali (40 hours), 350 km west of West Timor (18 hours)
Recommended length of stay: 3 - 4 days
Useful References