>
Dive Destinations
>
Egypt
>
Southern Red Sea
>
Daedalus Reef
Dive the Red Sea
Daedalus Reef
Daedalus is a remote outpost of a reef, less than a kilometre wide and marked by a lighthouse, some 80 km offshore from Marsa Alam. Its isolation means it is not frequently visited and this, together with its marine park status, means its reefs are in mint condition and it's one of the best scuba dives in the Red Sea.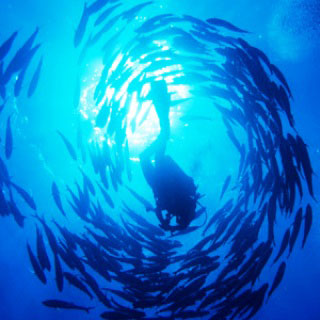 As with the comparable Brothers, strong currents tend to run from north to south along the steep walls of this outcrop and winds can cause surface swells and waves to lash the reef. However, the incredible action below the surface can make the challenging conditions seem all worth it.
Diving at the north point of Daedalus can be the toughest when strong currents are running since the currents tend to split here. But its these same conditions that almost gaurantee you some predator action, so find yourself an eddy in the currents, hide out and wait. Hammerhead sharks frequent the area, particularly in the summer months, as do other large pelagic fish such as trevally and tuna.
Due to the Earth's rotation around the Sun (or is that the Sun around the Earth?!), its best to dive the eastern wall in the morning and the western wall in the afternoon. Again, both walls make drift dives to the southern point. Both walls are thickly overgrown with fans and soft corals but its the western wall that has more variety. A deep ledge at 30m provides homes for anemones and their hosts, endemic Red Sea dottybacks, moray eels and large pore hard coral formations. At the southern point of Daedalus Reef, keep an eye out for a special appearance from thresher sharks.
Daedalus Reef Basics: Deep walls and shark diving
Depth: 5 - >40m
Visibility: 20 - 30m
Currents: Can be strong
Surface conditions: Can be rough
Water temperature: 23 - 30°C
Experience level: Intermediate - advanced
Number of dive sites: 3
Diving season: All year round
Distance: 80 km east of Marsa Alam (4½ hrs), 275 km (16 hrs) south-east of Hurghada
Access: Liveaboards
Useful References