>
Dive Destinations
>
Maldives
>
North Male Atoll
Diving in Maldives
The Dive Sites of North Male Atoll
...Good for: Underwater photography, wrecks, walls, drift dives, reef life and health, and advanced divers...
...Not so good for: Small animals, beginners, non-diving activities...
Also known as North Kaafu, North Male is perhaps the best known and explored diving area of the Maldives, having long been recognised as providing a great variety of scuba diving, beautiful scenery and a geographical location that makes it relatively easy to get to - the international airport is in Male, the port of departure for many of the Maldives liveaboards.
North Male Atoll diving is characterised by reefs, caves, current-swept channels and drop offs. The atoll sees plenty of fish action and is generally a good area for large pelagics, with reef sharks and mantas at the front of the queue.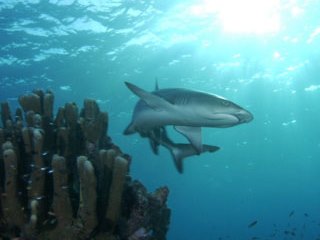 A shipping route through one of the atoll channels has also left a few wrecks for future generations to enjoy as colourful and thriving artificial reefs. In addition, the North Male dive sites enjoy some of the best coral reefs in the Maldives. The islands are not really known for their pristine coral coverage these days but there are spots in this area as healthy and bright as anywhere in the world.
Manta Point is a cleaning station in the south east of the atoll that's great, not just for observing manta rays at close quarters, but also reef residents such as octopus, moray eels and white-tip reef sharks. With a little luck (but not too much) you'll see, not just one or two mantas, but more than your fingers can count of these magnificent graceful rays.
Girifushi Thila is one of North Male's pinnacles, covered in a riot of colourful soft corals and swept with currents that sweep in masses of schooling fish. From one of the many crevices, you can shelter and watch tuna, jacks, reef sharks and eagle rays sweep by.
Dive Site Descriptions
Back Faru - The dive site is located only 1 hour away from Male City, on the northeast of Farukolhufshi, on the outer reef. It's an easy drift dive as it's well protected by the strong winds during the southwest monsoon season, and also because it's not greatly affected by the currents. It's not uncommon to see snorkelers on the site as well, as the reef is very shallow at the top and then it gradually gets deeper. Visibility is also usually very good. Show more
The short distance from Male plus easy diving conditions make this site a perfect spot for a check dive. It's an easy site but that doesn't mean that surprise encounters with big fish aren't possible. Several turtles can be seen on the same dive, as well as eagle rays, dogtooth tuna and white tip reef sharks swimming freely and almost unaware of scuba divers and snorkelers.

Schools of surgeonfish are usually seen feeding around the large coral blocks that are the main feature of the area. At depth, overhangs and small caves are home for resting nurse sharks. There's also colourful soft corals, where humpback snappers and large sweetlips share the area with anthias and gobies.
Banana Reef - Due to the location of this site near to the airport and to the resort islands in the south of North Male Atoll, this was one of the first dive sites to be discovered in the Maldives and it remains one of the best loved. Show more
As you drop in here you will descend down onto a long reef shaped to its western edge in a curve giving the site its name. What you will notice here, especially if you have dived elsewhere in the Maldives, is the quality of the coral coverage. You will see large areas bedecked with acropora corals on the slope which are as clean and healthy as anywhere.

The topography of this site is also of interest. Your guide aided by the current should lead you along the reef in a north easterly direction where, between 10 and 25 metres, you will encounter a variety of spectacular caves, overhangs and caverns.

In this area, swimming around and about the colourful soft corals and sea fans you can spot giant groupers, angelfish and blue-lined snappers, as well as lurking morays and lobsters. Finning to the east is where the enormous school of resident bannerfish flutter in the current, which can really be strong. Indeed, a section of this dive is often referred to as the 'Washing Machine'. In this area your heart rate is more likely to go up than your bubbles, so caution is advised.

At this wonderful site, with due care you can enjoy the varied, constantly changing scenery and the impressive profusion of fish-life that Banana Reef enjoys.
Girifushi Thila (also known as HP or Rainbow Reef) - A combination of an array of colour and the sheer numbers of fish to be found here is what makes Girifushi Thila one of the highest rated dive sites in the Maldives. Constant current means lots of nutrients and large numbers of fish often hanging motionless in large schools which you will pass by as the current sweeps you along. Show more
The thila (submerged pinnacle), which at its shallowest is at 12 metres, is located just off the main reef of Himmafushi Island, along the east coast of North Male Atoll and is dappled with overhangs and crevices as well as large boulders. However the most memorable feature of the site is the incredible array of soft corals in a riot of yellow, pink, blue and orange, flanked by black corals and gorgonian fans, and interspersed with innumerable tunicates.

The topography of the site is also worthy of mention. To the southwest you will find the overhangs and swim-throughs. Here there is a cave with a chimney that rises from 25 metres to about 10 metres and is worthy of investigation.

You should look out for opportunities to duck into the rock formations for shelter from the currents. From these vantage points you can relax a little and take in the sights. Keep an eye out for snappers and jacks as well as boxfish, 3-spot angelfish, lionfish and yellow-mouth moray eels. Larger fish also are regulars here so, with luck, you can expect to see eagle rays, barracuda, tuna and grey reef sharks.

If a red flag is being flown from the shore this means that the nearby army training camp is on rifle exercise so the site cannot be dived. Otherwise the site is likely to be one of the highlights of your trip. Maldives liveaboards, often by popular demand, find themselves diving at Girifushi Thila more than once - a measure of its quality.
Hans Haas Place - As if Mother Nature wished to provide something for everyone, a section of wall has broken and fallen away here to leave a 100 metre long area of reef to be explored, free from the currents normally sweeping through the Maldives. Within this basin are a series of overhangs and caverns in which even the least experienced diver can enjoy the sights. Show more
Many of the overhangs boast ceilings of intricate purple sea-fans and play host to groupers and soldierfish. Less common sightings also include scribbled filefish, freckled hawkfish and leaf scorpionfish. You may even see a few firsts. Have you an idea what any arrowhead soapfish looks like? What about a white-banded possum wrasse? It might be an idea to get the fish books out before dropping in here. Indeed, it is little surprise that this site along the south coast of North Male takes its name from the legendary Austrian underwater pioneer.

You will also spot a number of vibrantly coloured anemones which make great photographic subjects, especially when displaying their vivid red undersides. In and around the reef you should also keep an eye out for octopus and turtles resting on a ledge. The shallows here are a little bleached but are beginning to show signs of re-emerging from the damage caused by El Niño. This doesn't stop the butterflyfish and surgeonfish from calling it home and it is very pleasant to spend the last few minutes of this dive with such colourful and wonderfully active reef dwellers.

This is one of the few dives suitable for all levels and is also a marine protected area. Provided beginners can control their buoyancy sufficiently to avoid the overhang ceilings, the conditions should be just right for everyone to relax and enjoy the delights of Hans Haas Place.
Lion's Head - This dive site is located adjacent to Hans Haas Place at the southern tip of North Male Atoll. It is not often that the mighty lion is referred to in the name of a site. However, it is quite appropriate in this instance since for many, this dive represents the King of the underwater realm of the Maldives. Show more
With a little imagination you will see the eponymous coral outcrop shaped like the head of a lion, in an area where overhangs and caverns shelter an impressive amount of life, including basslets, red-toothed triggerfish and an exceptional array of nudibranchs.

The dive normally starts at 3 metres or so in the shallowest section of the reef, from which the wall drops dramatically down to around 40 metres before disappearing into the abyss. Large pelagics swim by the wall and you are likely to see turtles, Napoleon wrasse, eagle rays and tuna but the grey-reef sharks are the stars of the show. They may not be huge but they are often present in large numbers.

However, you should not entirely ignore the wall in favour of the action going on in the blue. It is covered with encrusting sponges and sea fans, crinoids and anemones making it a smorgasbord of orange, pink and purple. If you are fortunate you may even spot the occasional leaf fish, false stone fish or octopus eye-balling you from the safety of its crevice.

Currents can be an issue here and, when strong, they bring out swirling clouds of anthias and schools of batfish and surgeonfish. Thankfully there are plenty of sheltered spots where, if necessary, you can duck behind outcrops for temporary respite from the current.

The dive normally ends in the shallows where the vibrant sunlit reef will keep you entertained as you make your safety stop. This site used to be a place for shark feeding and there is evidence of environmental damage in areas where guests would sit and stand on corals to watch the show. Thankfully the site is now a marine protected area and little by little the lion is beginning to roar again.
Maldives Victory Wreck - Since 1981 this 100 metre long cargo ship has been lying in 35 metres of water, becoming encrusted with corals and fans and providing shelter to countless species of fish and other marine animals. Show more
This Singaporean ship ran aground and sank without loss of life, carrying goods to the island mostly for use by tourists. Desperate attempts were made by local scuba divers to salvage what they could but most of the merchandise was spoiled. However, the Maldives gained another excellent dive site so it was not all bad news.

As you deflate your BCD you will begin your descent down the line to the ship's main deck at around 12 metres. You will make your way along the deck at around 25 metres where you can shelter from the current and investigate the roll call of residents. You can expect to encounter large groupers, batfish, large puffers and schools of fusiliers. You might also run into a turtle or two resting on the ledges within the wreck.

Your dive guide is likely to then move toward the bow where there are some beautiful corals and sheltering lionfish, soldierfish and hawkfish. You will probably then make your way back to the stern of the ship along the outer hull looking out for nudibranchs and pipefish. Once near the stern you can poke around in the wheelhouse before preparing for your ascent.

Because the current may be rushing over the top of the wreck you should keep plenty of air in your tank for the ascent and safety stop, as you work your way back up the line near the main mast. When doing so, be sure to gaze down beneath your fins as you can get a wonderful view of the entire wreck - The Maldives Victory.
Manta Point - This site in the south east of North Male Atoll has plenty of reasons to recommend it quite apart from the rays that give it its name. As you drop in here you descend down to the top of the reef at 12 metres, and beyond down towards where the reef gently slopes down to an abyssal edge at around 40 metres. Show more
While hovering around the reef wall you should look out for oriental sweetlips, Napoleonfish and hawksbill turtles, which can be present in impressive numbers. If you keep an eye out among the many cracks and crevices you may be rewarded with the sight of a lurking octopus or moray eel, its jaws gaping as it fans the oxygen rich water over it gills.

Keep an eye out in the blue for barracudas and schools of jacks and as you make your way towards the sandy slope at around 20 metres. Do not be surprised to see several white-tip reef sharks resting on the sea bed. However, many of the above-mentioned creatures do not get a look-in at this site since most divers are focussed exclusively on their manta count.

To maximise your viewing pleasure you should position yourself above the porites corals which are home to the cleaning wrasses. This is quite a shallow area and one which is very rich in plankton so expect a greyish colour in the water (and the occasional minor sting). If all in your group position themselves well and move sensibly you can expect to see manta rays emerging from the blue and then hovering in line, awaiting to avail themselves of the services of the cleaners. The little fish fastidiously remove every parasite and piece of dead skin they can from the surface of their huge clients before the manta decides the job is a good one and moves on.

It is quite a spectacle to watch manta after manta being serviced in this way as the little cleaner-fish busily work their way around its body, and even in and around the mouth and gills. Some such sightings can last longer than the scuba tanks air can, which explains why this site is often requested as a repeat dive.
Miyaru Faru - If you knew that Miyaru means shark in Dhivehi then you would not be surprised to know that sharks feature prominently at this spot. But it's not only sharks you should look out for but several pelagic fishes often appear here, in eastern North Male. Show more
The wall here is quite unremarkable really. There are interesting things to spot such as lionfish, moray eels and porcupine fish but the real action is out in the blue. At around 30 metres there is an overhang which can shield you from the strength of the passing current, and with an incoming current the visibility can be excellent and the parade of pelagics and local residents, impressive. You might see a number of grey reef sharks as well as barracuda, kingfish and tuna.

Large squadrons of eagle rays are frequently seen here, seemingly flying in formation in an unforgettable display. Their larger cousins, the manta rays, are also often seen, filter feeding in the plankton-rich water. Less frequent are sightings of hammerheads but an encounter with these, for those lucky enough to be in the right place, is another wonderful moment to be had a Miyaru Faru.

After having had your fill of pelagic action you can make your way towards the shallows or out into the channel where you can (if currents allow) cross over to a thila where butterflyfish, parrotfish, powder-blue surgeonfish and groupers all add a splash of colour to the coral pinnacles.
Okobe Thila - This amazing site is found inside the atoll to the west of Lankanfushi and can be dived via a number of different plans. Normally you will descend down a line that is fixed to a hole in the reef at around 12 metres. Show more
Once on the reef, you may be able to make out that the site consists of 3 coral mounts starting at around 10 metres and sloping down to 25 metres. The stars of the show are the family of Napoleon fish that live here. They are very curious creatures and seem to enjoy the presence of scuba divers for who they make a great photographic subject, particularly one of them which is an absolute colossus!

The entire area is literally bedecked with soft corals and sponges and the substrate peppered with windows, overhangs and caverns all worthy of inspection since they play host to squirrelfish, soldierfish and gaping morays. One such cavern is home to a group of some 20 oriental sweetlips. The wall also sees anthias in enormous swarms, as well as hundreds of bannerfish fluttering off the edge of the reef.

As a second or alternative dive here you may wish to vary your entry and exit points by approaching it as a drift rather than concentrating on the Thila alone. This will allow you to inspect the sandy channel that climbs up to 5 metres, where you can complete your safety stop among the fields of anemones, soft corals and tunicates, bright and vibrant in the sun's nourishing rays.
Diving Season
The northeast monsoon from December to May is dry and brings gentle breezes. Currents pick up from November onwards which bring colour, good visibility and pelagic fish life, including manta rays and reef sharks, to the channels and pinnacles, although mantas and sharks are present the whole year round.
The southwest monsoon runs from June to November with a greater chance of rain and less calm sea conditions in exposed areas. However, there is less rain here than in the southern atolls of the Maldives. Late May 'til July are the months when conditions might be less than ideal and most liveaboards will go elsewhere during this period.
Air temperatures at North Male Atoll stay pretty constant at between 30 and 32°C, and water temperatures tend to hover around 26 to 29°C, although thermo-clines at depth can bring a sudden rush of cooler water. Visibility can be greater than 30m all year round when diving at the channel entrances with inflowing currents, and 15m at outflow.
How to Dive North Male Atoll
Liveaboards are without doubt the best way to see around the dive sites of North Male. For more information on the tour routes and all the other travel information you might need to visit Maldives, read:
Most of the atoll is inhabited, with more development in the south, with the north being more sparsely populated. This results in the more remote sites of the north being less visited and consequently more pristine. However, there is a greater concentration of dive sites to the south. As with most of the diving in the Maldives, there is often some current present so many dives are drifts.
Due to the popularity of North Male Atoll as a diving destination, we recommend you book 6 months in advance otherwise you may find the boats you want are already full. The Maldives is not a destination where you will find much last-minute availability so pre-planning is very much advised.
Where is North Male and How Do I Get There?
Review our maps below of North Male Atoll and its host country Maldives. Here, you will find information on how to get to Male City, on North Male.
Reef Summary
Depth: 5 - >40m
Visibility: 10 - 30m
Currents: Can be very strong
Surface conditions: Generally calm but can be choppy in southwest monsoon
Water temperature: 26 - 29°C
Experience level: Beginner - advanced
Number of dive sites: 35
Recommended length of stay: 1 - 2 weeks
Useful References