>
FAQs
>
Galapagos Islands
Galapagos Diving Trip Packages
Frequently Asked Questions
Diving FAQs
General FAQs
Diving FAQs
What is unique about scuba diving there?
As a speck in a vast ocean, life is concentrated in the Galapagos as with an oasis in the desert. This is where you can expect a great number of large pelagics, including vast schools of scalloped hammerhead sharks, manta rays, golden rays and dolphins. Whale sharks are also common, as are turtles and tuna.
It is here that you are likely to encounter some creatures that you may not have seen elsewhere, and may never see again. These include Galapagos sharks, sea lions, fur seals, penguins and marine iguanas.
What is the best way to dive here?
The Galapagos Islands are often seen as something of a pinnacle for scuba divers. Those who wish to visit the best that the islands have to offer favor an Ecuador liveaboard cruise as the best means of exploring this amazing underwater landscape. Much of the most interesting and sought-after dive sites are remote and are around islands whose shores no tourists are permitted to visit on foot.
Where is the best diving in the Galapagos Islands?
It is beyond dispute that the islands of Darwin and Wolf, in the far north of the region, are the jewels in the diving crown of the Galapagos. Only liveaboard tours can access these sites. These islands are protected by the national park which prohibits land visits. There are other sites less remote from the main islands, and these too are visited as part of liveaboard safari routes as well as being accessed by land-based diving operations.
Are all the liveaboard trips fully booked well in advance?
There is a strictly controlled license system which limits the size and number of Ecuador liveaboards given access to the islands. Strict environmental regulations have led to licenses being revoked in the past. Space is therefore at a premium and booking your vacation longer in advance than for other destinations is strongly recommended.
What about water temperatures?
The range in water temperature at the Galapagos is wide: from a bath-warm 82°F (28°C) down to a positively chilly 64°F (18°C). The highest temperatures are normally experienced in February, March and April. The coldest months are September, October and November. Thermoclines are always likely and can herald a drop of as much as 41°F (5°C), so you would be wise to ensure that you have the appropriate exposure suit and equipment suitable for the temperatures you are likely to experience on your trip.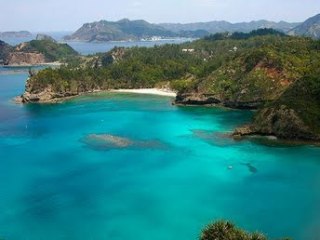 What equipment and exposure suit should I take?
Due to potentially cold water, we recommend you have exposure suits sufficient to ensure your comfort. The following is usually recommended: 7 mm wetsuit, fins, booties, gloves and hood. Some people prefer to wear a semi-dry suit and some bring reef hooks because there will be times when, in surge and current, you want to remain in more or less the same place. Without a reef hook, strong gloves are recommended since there may be times when you have to cling to rocks. A hood is important to prevent heat loss through the head which can easily happen in thermoclines and less clement conditions.
Do the liveaboards rent equipment, or should I take my own?
Yes they do rent some equipment, typically wetsuit, fins and booties, but there is no substitute for having your own gear. Many scuba divers find their Galapagos diving safari experience to be the best they have ever had, so you don't want it tarnished by having insufficient, ill-fitting or inferior equipment!
Are Galapagos Islands vacations only for very experienced divers?
Most of those who come to dive in the Galapagos are experienced and it is not a destination for beginners. Conditions are generally considered medium to difficult because of currents, depth, water temperature, and the types of marine creatures encountered in the Galapagos Islands.
Surface conditions are often worse than calm so generally it makes the diving procedures easier if divers are comfortable in changeable conditions. Many sites are drift dives which may not be suitable for beginners.
Does Galapagos have a recompression chamber?
Yes it does. There is an SSS chamber in Puerto Ayora which is open 24 hours a day. So if you are in need of emergency treatment it can be done in the islands without having to return to mainland Ecuador.
As a single traveler, must I pay a single supplement?
If you are a single traveler joining a liveaboard at the Galapagos Islands, you can normally expect to share a cabin with another guest and pay the standard price. However, if you do not wish to share but want to ensure a private cabin for you alone, you can pay a single supplement on top of the published price. Each liveaboard has its own policy and the range of single supplements is from 50% to 80%.
Night diving used to be banned in Galapagos National Marine Park but these days you may get to enjoy 1 or 2 night dives during the course of your week long cruise. The number and location of these depends on your chosen liveaboard. Night diving locations may include Wolf Island or Cabo Marshall.
What can I expect from my liveaboard land tour?
Depending on the boat, your liveaboard trip will include at least 1 and up to 3 fascinating land tours. These are:
Santa Cruz Highlands which can include Galapagos turtles, Scalecias Forest, the Twins and the Lava Tubes;
Santa Cruz Puerto Ayora which can include the Darwin Center;
San Cristobal which can include the Interpretation Center, a town walk, the beach where you can see sea lions and marine iguanas.
If you'd like to participate in additional land tours before or after your liveaboard cruise, Dive The World can arrange that for you. These tours are conducted by boat and range from a ½ day tour to a 7 night yacht package. Please contact us for details.
Don't all Galapagos dive liveaboard packages include land tours of the islands? That's what my friend experienced a few years ago.
Galapagos Islands National Park regulations changed in 2011 and now require companies with permits to choose either land excursions or diving (there are no permits offering both). Liveaboard dive boats are therefore no longer allowed to take their customers ashore on the uninhabited islands.

General FAQs
Where are the Galapagos Islands?
The islands lie in the Pacific Ocean, some 600 miles (960 km) to the west of Ecuador in South America.
What makes the islands special?
In the history of human knowledge the Galapagos Islands play a starring role. It is here where Charles Darwin formulated much of his theory of evolution, a stunning breakthrough in unraveling the mysteries of life on planet Earth, the origins of living species, and natural selection. Now they are a protected national park in Ecuador, but are also an international treasure for scuba divers and lovers of nature throughout the world.
The islands experience equatorial weather with a wet and dry season. Wet season, from January through July, is when you can experience more frequent showers often with sunny spells either side of the brief but impressive showers. Dry season, from June through December, obviously has less rain but also tends to be cooler and under cloudy, but un-menacing skies.
Water temperatures in the Galapagos vary greatly depending on the time of year. Average temperatures are as follows:
January to June: 70-80°F (20-26°C)
July to December: 65-75°F (18-23°C)
However it is not unusual for the water to be as warm as 86°F (30°C) in the wet season and as low as 61°F (16°C) in dry season. We recommend you pack for both sun (lotion, sunglasses, hat, lightweight clothes) and rain (rain jacket/poncho, warm sweatshirt, waterproof sandals) as well as binoculars and insect repellent.
When is the best time for a Galapagos Islands vacation?
You can take a diving vacation here at any time of the year as the continuous liveaboard charters attest. Some times of the year are better than others in some ways and not so in others. There are fewer visitors in Galapagos and sometimes lower package prices during low season (April/May and Sept/Oct). Outside of this time, during the more popular months, availability is less and therefore advance booking is a must.
The period that most divers seek to be there is during dry season, with the exception of the low season months.
I want to see lots of land animals; what are my options and what will I see?
In the Santa Cruz Highlands where you can see Galapagos turtles and plenty of bird life. At San Cristobal Island you can see sea lions and marine iguanas. If you want to see more of the islands flora and fauna it is a good idea to book additional land tours.
We advise against taking daytrip tours from Puerto Ayora and San Cristobal because in our experience these can be hugely over-priced and disappointing events. We believe that if you are prepared to travel all the way to the Galapagos Islands, then the least you deserve is high quality service with knowledgeable guides and restricted numbers of participants. For this reason we recommend a non-diving wildlife and nature land tour liveaboard as an essential part of any comprehensive Galapagos vacation.
Spanish is Ecuador's official language. English, however, is spoken in all but the more remote and tourist free areas.
Please visit our visa section for up to date information on visa requirements to enter Ecuador.

Someone told me it is necessary to have health insurance to visit the Galapagos. Is that true?
Yes! It is true. From February 2018, all tourists entering Ecuador must show proof of a public or private health insurance program valid for the duration of their stay.

The time zone for the islands is -6 hrs GMT, 1 hour behind Ecuador's mainland which is -5 hrs GMT.
The US dollar is the currency of Ecuador and the Galapagos Islands. You are for your trip requested to bring clean dollars bills with you. USD 100 and 50 notes will not be accepted in shops, restaurants and airports, so smaller denomination notes are necessary. Having plenty of 1 dollar bills is useful for gratuities and small purchases.
What credit cards are accepted?
Visa and MasterCard are the most widely accepted credit cards in Ecuador. You might find some merchants add a cheeky 4-10% add-on, claimed to be to cover the value of the bank transaction.
What are the health considerations when traveling there?
No immunizations are necessary to travel here. You should not expect modern hospital facilities in the Galapagos Islands. Puerto Ayora and Puerto Baquerizo have small hospitals and pharmacy-type shops. So be sure to bring your own medicine if necessary and ensure you have adequate and appropriate insurance.
Only bottled water, other than that served on the diving cruises, should be consumed. You might also want to avoid eating uncooked or unpeeled products, particularly uncooked clams and other seafood.
What communications will be available on the islands?
You can make calls from hotel rooms although the cost may be prohibitive. Public telephones exist in many public buildings although call centers, located in the main towns, represent a better value option. Of course, free internet calls cannot be beaten for price so you can also call when online in an internet café, which are present in the main towns. The call center may have internet as well as fax services.
A lack of an international roaming agreement may render your mobile phone useless. The international dialing code for the Galapagos is +593.
What are the luggage restrictions?
Each visitor may bring 2 pieces of checked baggage into Ecuador totaling no more than 150 pounds (68 kg). If you wish to take a 3rd piece, this will normally attract an additional fee. We recommend you take a soft sided bag on vacation. You will only need the essentials in clothing and personal items and space is limited on board yachts. A duffel bag works best as it can be stored into a small drawer or closet. On flights to the Galapagos, you are allowed a maximum of 44 pounds (20 kg) of luggage (excluding your hand-bag and carry on).
Is there anything I need to know about getting through customs?
According to Ecuadorian law, any person that enters the country temporarily is exempt for the payment of any customs duty. You will not be required to pay taxes or duties for your luggage, new or used articles that you will use during your trip, and portable items such as photo cameras, video cameras, laptops, radios and CD players. The Galapagos Islands does not have customs since there are no international airports. In the airport your personal luggage will receive only a minor inspection for things like fruits or seeds that might be introduced to the islands.
Can you arrange accommodation for me during my vacation?
Our affiliated hotel reservation agents hotelscombined.com have a variety of accommodations in Galapagos

. Browse the choices on their website, use their live chat to ask your questions, and then simply use your credit card to make your reservation.
Locations include Isabela and Santa Cruz Island, where you can benefit from hotelscombined.com's 'Low Price Guarantee', so you will always get top-dollar value for money from your hotel package.


---
CUSTOMER TESTIMONIALS OF DIVE THE WORLD
... It was second time I used Dive The World service and I have been satisfied with the speed of response and the service provided. Well done, thank you. I will be using Dive The World again and am comfortable in recommending to a friend ... -- Juris Lapshe, Latvia. [More customer reviews]