>
Newsletters
>
March 2007
Dive The World Newsletter
March 2007 Contents
Throw your hands in the air like you just don't care - it's the latest Dive The World newsletter! Crammed full of interesting news, articles and offers, you just know it is worth taking 10 minutes off to check it out.
So what do we have in store for you? Read on dear reader, read on: ...
News!
   Dive The World Travel Club launch
   New Products: Thai and Indonesia liveaboards and a new Fiji resort!
   Dive The World Blog
Features
   Dive The World Travel Club: Come dive with us!
   Fiji - Has the place gone coup coup?
   An idiot's guide to creating an artificial reef
   Creature Feature: Frogfish
Diving News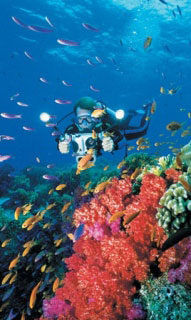 It gives us great pleasure to announce the launch of the Dive The World Travel Club. We will be organising a dive trip in an area we know well, and you can join in! Imagine a group of like minded people on a great diving holiday, being led by someone from Dive The World who can show you all the best dive sites, take you on a recommended trip as group leader, and even all hit the town for some après-dive lemonade! See our main feature below for full details on our first trip.
New products
We have added quite a few new products since last time. So have a look around our websites and see if any of our newbies tickle your fancy. Look out for these ones especially:
Pawara: New to the scene comes this excellent mid-range motor vessel. You can take 2-day Hin Daeng trips or Similans cruises from 4 to 7 nights all from the convenience of Phuket Island.
Moana: A new Komodo Liveaboard. Small but perfectly formed and great for groups with a flexible schedule and itinerary. You can make short Komodo trips for 5 days & 4 nights or longer ones to or from Bali.
Odyssea I: A new motor boat running week long diving trips in Raja Ampat and around North Sulawesi: Lembeh, Bangka, Sangihe. Big beds and high ceilings mean space galore.
Tiliva Resort: By popular demand we have added another resort in Kadavu - one of Fiji's most rugged islands, popular with divers. This family run and friendly resort allows you to see the real Fiji from a welcoming and comfortable base.
Dive The World Blog
In case you hadn't noticed ... We have been feeding you a constant stream of latest offers, last minute deals and special trip announcements. There is no better way to stay in touch with the best deals in the world of diving than to check out or subscribe to our blog:
https://www.dive-the-world.com/blog/.
If you want all blog updates direct to your inbox our feed address is:
https://www.dive-the-world.com/blog/feed/.
Dive The World Travel Club is launched!
Our very first travel club trip to be run in November 2007 will include the following:
Welcome dinner in Phuket restaurant
4 days and 4 nights on a Similan Islands liveaboard trip
3 nights accommodation in a selected Phuket hotel
1 day's sea canoe trip around the beautiful limestone islands of Phang Nga Bay
Dive The World diving accessories for each guest
Return transfers from the airport to the hotel
Sounds like something you would like to do? Then act quickly because spaces are limited and it is first come first served! Join us and let's make it happen. Find out more about the Dive The World Travel Club trip ...
Fiji - Has the place gone coup coup? Reasons to go there now
Fiji - images of lush islands set in the sparkling waters of the Pacific Ocean - what could possibly go wrong? Well apparently something has, since a general and the Prime Minister have had a falling out. Cue cries of 'intolerable interference' and 'undemocratic step' from a string of faceless politicians wanting their name in print. But how bad was it? To what extent has it affected life in Fiji? And what about the poor tourists caught up in it all?
Let's hear it from the inside. Step forward some people who live and work there, and a few tourists who recount what happened to them. Let's turn off the TV and the sensationalised view of the world it represents. Give us the true picture! Find out what the real Fiji coup story ...
Building an artificial reef
We really are making a mess of the world aren't we? Corals are dying out in lots of places. If only there was something we could do about it as individuals. Well there is. You, yes you, foot soldier, can build an artificial reef - provide the substrate for corals to take root, shelter creatures and boost fish stocks. How? It's easy. Step one is to read Sheldon Hey's Idiot's Guide to Building an Artificial Reef ...
Frogfish
There he squats, frowning like an ugly muppet and casting his lure back and forth. A creature of contradiction, Ichthus Oxymoronus, ugly yet beautiful, slow yet lightning quick, a fish but also an angler. Meet the indefatigable, intractable Frogfish ...