>
Newsletters
>
March 2007
>
Dive The World Travel Club Launched
Similan Islands Newsletter
Dive The World Travel Club is launched!
Do you love to dive but find it hard to get your friends together to go on a diving holiday?
Do you find it difficult to get to know interesting people on dive trips?
Do you wish you (and your buddies) could be in a group with someone who knows the area well and will take you to only the best spots?
Well then, come on in to the warm embrace of the Dive The World Travel Club. Be with like-minded divers and let us show you around the best diving and other activities in Phuket and the Similan Islands.
From the moment you arrive at the airport to when we wave you goodbye at departures, you will be part of our club. We are wonderful and interesting people, fun-loving residents, and we'll show you how to get the very best from Phuket.
'What is involved?', I hear you ask. Well the full package looks like this:
• 4 days and 4 nights on a the Colona VI Similan Islands liveaboard trip
A good quality mid-price range boat with en-suite cabins. With its professional and lively crew, the Colona VI has consistently been one of our best-loved liveaboards so come with us and dive all around the Similans. In addition to the Colona's dive crew your Dive The World group leader can help you see the best of these sites where he has worked for many years. We set the itinerary to make sure you see the best sites possible. This makes it a Similan Islands cruise with a difference.
• 1 day's sea canoe trip around the beautiful limestone islands
Enjoy the stunning scenery, isolated lagoons and bat-filled caves of Phang Nga Bay. Tour this spectacular world with the renowned John Gray's Sea Canoe, pioneers of sea canoeing in this area. With your very own driver/paddler, you can choose not to lift a finger if you don't want to.
• 3 night's accommodation in a selected Phuket hotel
Stay your first 2 nights and your last night in the Patong Seaview Hotel, a well located, mid-range beachfront hotel that will suit everyone's needs - close to everything but not so close as to disturb your good night's sleep.
• Welcome night out in a Phuket restaurant (and bars)
Enjoy some authentic food Thai food and get to know the other guests, followed by a stroll around town. The more adventurous can take a tour of Phuket's more colourful areas!
• Transfers from the airport to the Hotel
Be met at the airport with your name card held high and pass by our dive shop to say hello, before being taken on to your hotel.
• Dive The World parting gifts to remember your trip
Everyone gets a memento to remember the trip by. There are lots of goodies (mask-straps, t-shirts, caps and mugs) to go around and if you perform well in our 'Homeward Bound' quiz on the last day of the liveaboard trip, you could walk away with a stack of new dive accessories!
This way you don't go anywhere or do anything that we do not strongly recommend. You can be as much or as little with the group as you wish and every step of the way you will be in the company of our group leader - a diving instructor and long time resident in the area, so you couldn't be in better hands.
The trip is open to singles, couples, anyone really. All we ask is that you are fun-loving and respectful people, keen to have a good time and to see the best of what the area has to offer. Space is limited on this special trip so let us know as soon as possible of your interest.
The Price for this Best of the Similan Islands trip: Only US$ 990 per person
This represents a 15% saving against the regular price of this package.
Come on - Join our Club now!
Itinerary
16 November 2007:
You arrive at Phuket International Airport and transfer to the hotel. Settle in to your hotel and enjoy your welcome evening meal with Dive The World group. Subsequent bar-hopping optional! We will organise any necessary equipment rental for you on the day of arrival.
17 November: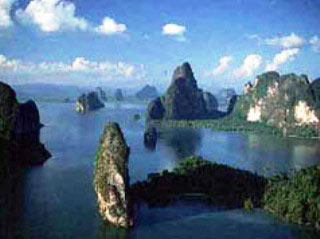 Breakfast and then pick up at the hotel - an all inclusive day out will see you enjoying the famous John Gray's 'Hong Starlight' day sea canoeing around the breathtaking islands of Phang Nga Bay. Meals and soft drinks are included. Then transfer back to your hotel.
18 November - 22 November:
Breakfast then check out. Have the day to yourself for shopping, sightseeing or relaxing on Patong Beach. 21:00 hrs - Embark on your 4 day / 4 night trip around the Similan islands on board the MV Colona VI. Diving in the best spots with Colona's dive guides and your Dive The World group leader to help you see the finest underwater sights that Thailand has to offer.
22 November:
Take part in our Dive The World quiz on the homeward journey and win lots of prizes: caps, t-shirts, mask straps, kit bags and much more. Return to Patong - 17:00 hrs. Transfer back to your hotel.
23 November:
Breakfast and check out. Farewell from Dive The World. Transfer to the airport to meet your flight.
Spaces are limited so send your email now to book your place ask@dive-the-world.com.
Note: Participation is not limited to those flying in and out on the above dates. If you would like to make your own plans in and around Phuket prior to the 16th or after the 23rd November you can still join in all the Dive The World Travel Club activities.
Conditions
Deposit of 30% of the full price must be received before 31 April 2007.
The Balance must be paid prior to 16th August 2007.
Since we have already discounted the Travel Club Offer, no other Dive The World offers (eg returning customer discounts) can be used in conjunction.
Regarding the liveaboard trip, all our normal and relevant terms and conditions apply. Please see our Terms.
Inclusions:
Hotel: bed and breakfast accommodation on twin sharing basis in a standard 'Superior' room.
Dive Cruise: Standard cabin accommodation with air-conditioning, breakfast, lunch, dinner, snacks, coffee, hot chocolate, tea and water, dives, tanks, weights and weightbelts, torches, experienced English-speaking divemaster(s), operators fuel surcharge, and boat transfers.
Sea Canoe Excursion: Transfers to and from your hotel to the departure point of the sea canoe, boat trips, canoe, equipment and canoe guides, refreshments throughout the day including lunch and dinner, soft drinks and drinking water.
Others: Welcome Dinner with Dive The World representatives in a restaurant serving genuine Thai food. Transfers listed in the itinerary above.
Exclusions:
Hotel: room service, meals other than breakfast, all drinks and anything not listed as an inclusion above.
Dive Cruise: Similan National Park fees (~US$ 35), scuba equipment, nitrox fills, soft drinks, dive insurance, alcoholic drinks, any meals and anything not listed as an inclusion above.
Sea Canoe Excursion: alcoholic beverages, emergency evacuation costs, anything not listed as an inclusion above.
Others: Drinks during Dive The World Dinner or after(!). Any additional transfers or anything not listed as an inclusion above.
Interested?
Let's make the Dive The World Travel Club's launch a trip to remember, so we can arrange more trips to new and exciting places in the future.