>
Newsletters
>
January 2014
>
Aggressor Belize Liveaboard Trip
Belize Liveaboards Newsletter
The Aggressor III Dive Trip Report
Many people believe that Belize's Lighthouse Reef is just about the best spot in the Caribbean. I jumped on the Belize Aggressor III for a 7 night cruise to test the theory. When I witnessed reef gardens full of life and colour, I began to think it could be true. Fans of purple and pink, tall waving sea plumes, rope sponges, yellow tube sponges and red stove-pipe sponges all added to the glorious colour-scheme.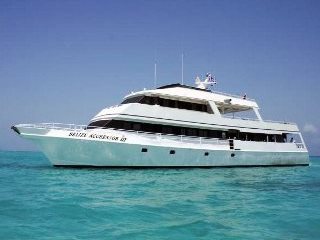 However, it is not just the colour that impressed me. There was an ever-changing topography featuring reef flats, tunnels gullies and drop-offs. There was great macro life, making night dives a real highlight: toadfish, octopus, reef squid, decorator crabs, conches and lobsters. I won't forget the sight of a sculptured slipper lobster scampering over a coral bommie looking just like a big red bed bug!
Larger creatures such as big, grumpy looking tarpon hunt at night along with huge groupers and jacks. Other highlights included an encounter with a pod of Atlantic bottlenose dolphins that we snorkelled with off the back of the Aggressor. There were a lot of eagle rays seen swooping along the reef and even a tiger shark was spotted in the open ocean. We also saw Caribbean reef sharks and blacktips at some of the sites.
The Boat and Cruise
Week-long cruises with 27 dives take in Lighthouse Reef, Half-Moon Caye and Long Caye, plus a dive at the Blue Hole and a few at Turneffe Reef. We had a great trip although the highlight for some, The Blue Hole, was OK but not the kind of experience that gets my pulse racing. Some of the dives around there are pretty good though and I loved the visit to the red-footed booby sanctuary at Half Moon Caye.
The boat is very well maintained and clean and the guests all seemed happy with our floating home. We tended to hang out in the saloon-cum-dining area on the main deck and the upper deck lounge area. There is a TV with some DVDs to watch, or you can plug-and-play any flash drive. Many spent the sunny afternoons on the upper deck at the bar, in the sun, shade or hot tub. Safety was emphasised with a safety video as part of the welcome briefing. You can also request a lost diver device although the conditions are not such as to make getting separated likely.
The Diving Facilities and Service
When diving from the Belize Aggressor you don't have to follow either of the guides, but they are very knowledgeable and it pays to be within communicable distance from them, as they are great at finding the local critters. There are also plenty of books to assist with identification.
Offering 5 dives a day including a night dive, it is important that nitrox is available to cope with this amount of time underwater. Other diving features include a huge dive deck with 2 hot water showers and a central camera table. Dives are done from the platform on the Aggressor assisted by 2 solid ladders and a 5m hang bar with nightlight.
Cabin Accommodation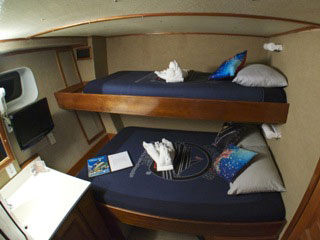 The lower deck cabins are called 'Deluxe' and, although not huge, seemed to satisfy the guests. Featuring a double bed and single upper bunk, they can be singles, couples or twin share. The Master cabin is much bigger and has a window (not a porthole) looking out from the upper deck. All cabins are made-up daily, have air-con, ensuite bathroom and a small TV and DVD player.
The Food and Dining Service
Everyone seemed to agree the food was good, even for a 'difficult vegan' like me. The omnivores were pleased with a menu that features various international influences to add to the local dishes. Favourites included oven baked snapper with lemon cilantro sauce, rib-eye steaks and chicken fajitas. Some of the Europeans thought the food, aimed more at US stomachs, was a little heavy. All food and drink is complimentary except for spirits.
Getting to Belize
Belize is popular with US divers, being so easily accessible from the States: direct flights from several cities including Dallas and Houston. You can also come via Mexico, Guatemala and El Salvador. Anecdotal evidence suggests that your luggage might not do the same journey as you, if you fly with American Airlines.
Conclusion
You know to expect a high level of service and reliability from the Aggressor fleet and this is evident on the Belize Aggressor. Their sister shop the Sun Dancer II may be more spacious but the Belize Aggressor still delivered.
As for the diving, I would say Lighthouse Reef compares very favourably against anything in the Caribbean with colours and reef health that leave many other places in the shade. For North Americans this quality and easiness to get to make Belize an obvious destination. For others there are lots of unique Caribbean species here plus plenty of island charm making it a worthwhile destination and certainly one of the best in the area.
Written by Sheldon Hey, August 2014