>
Newsletters
>
June 2016
>
What's Coming Up
Dive The World Newsletter
A Look at What's Coming Up
Are you planning to dive sometime in 2016? If so, we have a few ideas to give you some inspiration…
Be more Pacific about when the time is right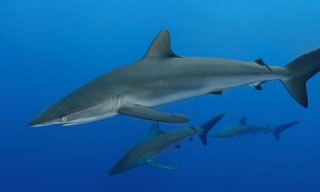 For many people the June to December period is the best time to dive Cocos Island. Nutrient upswelling means life abounds here so if you want to dive among the hammerhead sharks, whale sharks and manta rays then you must decide now to go during this time.
Further south in the Pacific, it is also a great time of the year for visiting the scuba diving paradise of Fiji. Visibility is at its best between July and December, which is outside the time of year when cyclones can occur.
Fiji is back on its feet after February's cyclone Winston so now is a great time to show your support, have a holiday among some of the friendliest people imaginable, and dive the soft coral capital of the world.
Summertime in Europe and some great offers in the Red Sea
It is the European summertime so holidays could be coming up for many in this region. It also coincides with awesome diving conditions in the Red Sea where warmer water makes the diving very pleasant and there is a higher chance of seeing whale sharks. Because of Egypt's recent difficulties, there are some incredible liveaboard specials on offer.
One of the highest quality boats in the Red Sea is offering a sensational 30% off selected trips between August and November.
Looking further ahead - best time to dive in a few months
If you are not ready to spring into action just yet, but you want to dive before the year is out, what are your options? Well, October and November see the peak diving period start in the Indian Ocean.
That means the best possible diving in Thailand and Burma. If you are a fan of Similan Islands liveaboards, or you have always harboured the desire to dive in Myanmar then you should plan for October onwards.
Another Indian Ocean gem that is entering its best time of year in October/November is the idyllic archipelago of the Maldives. With its fish life, sharks, whale sharks, manta rays and more, this is one place that really should be on every diving enthusiast's wish list.

---
CUSTOMER TESTIMONIALS OF DIVE THE WORLD
... I liked how the information was presented, it was very clear and easy to understand. I also appreciated the prices were displayed and that you could book and make inquiries over the internet. I booked the whole trip (within a week of doing the diving course) and I was very impressed with how quickly Dive The World got back to me with answers to my questions and booking confirmation ... -- Karyn Richter, Australia. [More customer reviews]