Dive The World Affiliate Partner Programme
It's simple: If we make money, then you do too
Turn visits to your platform into cash. Add our liveaboard search box to your site (the search box is featured on the right - give it a try). Add our banners too. When someone uses them and books with us, you get paid. Why wouldn't they book with us? We have a 200% lowest price guarantee!
Sign-up Now! - it's quick and easy.
How much can you earn?
- 5% of the purchase price on your first 20 customers each year, and
- 8% of the purchase price on all additional bookings
This is up to 40% of what we receive in commissions!
Example booking: Total price US$ 11,790. Your commission is 5% = US$ 590.
Destination: Galapagos Islands
Cabin: Master/Twin double bed cabin
No. of customers: 2
Liveaboard boat: Galapagos Sky
Price: US$ 5,895 per person
Total: US$ 11,790
Galapagos is not a cheap destination, so not all bookings will be of this value. But who knows, your website referral might even make a big group booking through us!
Benefits of the Dive The World Affiliate Partner Programme
Quick and easy set-up. Place our liveaboard search box or banners on your site or Facebook page, or both.
Unlimited income potential. Every sale from your platform earns you money, and costs you nothing.
Monthly or quarterly payments. We'll pay you monthly or quarterly with a range of payment options - banks, Paypal etc
Your referrals have no time limit. We don't just track for a few days or so like many affiliates. That would mean you lose out on commissions if it takes them longer to act. Our cookie remains with the user's browser during their entire visit and any subsequent visits leading to that first sale. So you get credit when you deserve it!
We make the sales, making you money. Our prices are competitive. We guarantee the lowest price. Our sales conversion rates are high. So you can generate some fantastic commissions.
24 hour reporting on your performance. Track your sales by logging into our affiliate partner portal. Access your number of referrals, total inquiries, sales resulting from referrals, commissions earned and schedule of payments.
Marketing help and support. We want you to succeed so we'll give you all the support you need.
How to get started?
Simply go to our sign-up page and create a profile. You will be allocated a unique ID code. When you add any of the affiliate features to your site you insert that code. Then you will get credit for all sales that come to us through your platforms.
How can I use your liveaboard search on my site?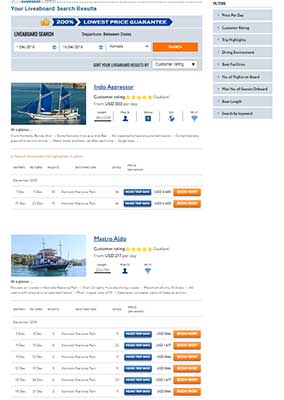 You can add our liveaboard search box to your site and, using iFrames, display our liveaboard search results on your website.
For example, if you have a page on diving in Indonesia your visitors can see our Indonesia liveaboards and their schedules and they can refine their searches to find exactly what they want.
At a glance they have access to all the boats and can see key boat features, prices, and more trip information - all they need to decide whether to click to send us an enquiry.
If you have multiple different destination pages you can display a different and more relevant search result on each page. On your Maldives page visitors will be able to see boats and schedules for the Maldives, on your Thailand page, the boats and schedules for Thailand and likewise for each country you feature.
Sub-destinations can also be searched. You can search for, and therefore display, liveaboards not only in Indonesia but also in Komodo, Raja Ampat, the Banda Sea, for example.
So what better way to enrich the visual effect of your website or blog than to offer your visitors a window into the available liveaboards in the coming months?
As they use the features in the iFrame we will track their visit and credit you for all resulting sales. We expect that affiliates who install the iFrame feature on their website or platform will generate significantly more enquiries.
What do the Dive The World banners look like?
We have a range of dynamic and static banners to choose from. Here is an example:

When you sign-up we will give you access to our full range of banners. You can choose from a number of different sizes and shapes. Some are dynamic, some are still. If you have other specific preferences, let us know.
What will the Dive The World plug-in look like on your Facebook page?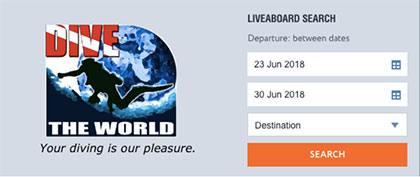 Link to our search feature from the masthead in your Facebook page.
Note that if you feature us as an affiliate, on your website and your Facebook page, we will track all visitors from both platforms and credit you with any sales resulting from both sources.
When you sign-up as an affiliate partner we will give you full instructions and the code you need to get set up and started.
Who are Dive The World?
Dive The World is a well-established online travel company specialising in scuba diving packages across the globe. Since 2002 we have developed one of the most sophisticated and comprehensive databases of diving packages on the internet. We are now offering selected partners an opportunity to become members of our affiliate partner programme.
Why partner with Dive The World?
Our Dive The World team are all passionate scuba divers, and together we offer our clients a wealth of diving experience. We are all enthusiastic about diving and conservation (Dive The World makes annual contributions to Sharklife Conservation Group, Stop Fish Bombing and PeTA).
Our team visits the locations, liveaboards and resorts that we promote, enabling us to have an in-depth, impartial understanding of all facets of the products on our website.
We list the best prices available, even offering a lowest price guarantee. So you can be sure our prices are competitive, meaning traffic from your platforms has a high chance to result in sales.
Our reputation, as one of the leading global liveaboard travel companies, has been built on providing our clients with a high calibre of honest, personalised service. Check out our Customer Testimonials section to get an idea of our standing among our clientele.
---
CUSTOMER TESTIMONIALS OF DIVE THE WORLD
... I sent an enquiry email and in the reply I got all the relevant, necessary info I needed to book. Very good, fast (being a 12 hours time difference), easy to understand and choose the options in the response to my enquiry email. I'm honestly fully satisfied with the whole enquiry, communication process for that trip. Everything was so fast and easy. The best thing was the completeness and accuracy of the information sent to me. ... -- Mercelo Eichelberger, Brazil. [More customer reviews]