>
FAQs
>
Palau
Palau Scuba Diving
Frequently Asked Questions
Diving FAQs
General FAQs
Palau Diving FAQs
What is the best time of the year to dive Palau?
Few places in the world can boast such stable year-round conditions as Palau. The water temperature seldom varies outside of the 28-30°C (82-86F) range. Even during the rainy season, particularly July to September, conditions can be fabulous with occasional dips in visibility from the usual (and incredible) 40m+ down to around 20m (still good!). So it's good for a vacation all year round, but if we had to pick an absolute best time to visit then November to May would be our choice.
The water temperatures do not vary much throughout the year, normally staying between 26 and 30°C. Many divers don't wear wetsuits and most find a 3mm shortie to be sufficient. You may be doing 4 dives a day so continued exposure to the water can make you feel the cold more. A full length 3 mm wetsuit should be adequate for anyone's needs, and hoods are popular at cooler times.
What dive experience level should I have to join a liveaboard in Palau?
Many of the sites on a Palau liveaboard trip are suitable for all levels and the guides are trained to provide services to both experienced and inexperienced scuba divers. If you are inexperienced but you can handle a bit of current and learn how to use a reef hook then you'll be fine. Some current is to be expected at certain sites and it is not uncommon for the inexperienced/cautious to sit out dives at these sites. Many inexperienced divers have been on Palau liveaboards and, making sensible decisions together with the dive crew, have had the time of their lives.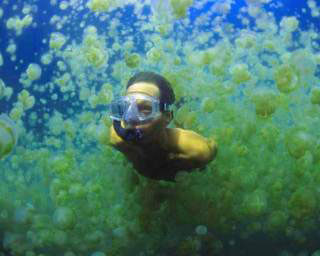 I have no experience with reef hooks. Should I be concerned?
Reef hooks are a great piece of dive kit to have. When in conditions conducive to their use, such as some sites in Palau, they make your life so much easier. If you haven't used one before you will be taught on the liveaboard cruise. One end of the rope fastens somewhere centrally on your BCD and you place the hook, at the other end, securely somewhere on a dead, rocky spot on the reef. This anchors you to the reef as you relax and allow the rope to take the strain. Then you simply face into the current, breath slowly and watch the action. No need for finning or flapping.
Reef hooks are not always available for rent or purchase on all safaris so we recommend you buy one in advance and make sure you bring this, your own safety sausage (SMB) and dive computer with you. Every diver in Palau should have a reef hook.
Why don't you sell land-based diving here?
It is possible that we will sell land-based diving in Palau one day. However for now we feel, and our customer feedback confirms, that the best way to see all around Palau is from a liveaboard tour. Many excellent sites are accessible as daytrips, but when we visit a destination we like to feel we have really seen as wide a range of its finest offerings as possible. It is our view that in Palau liveaboards are the best way to achieve that goal.
Furthermore, the best dive sites are a long way from Koror, meaning that long and repetitive boat rides will be involved if you want to make daily day trips from a hotel or resort on the Palau mainland.

General Palau FAQs
I am travelling alone. Will my liveaboard package involve a single supplement?
If you insist on having a cabin to yourself, then yes. It is expected that single travellers will be happy to share a cabin with another diver, almost always of the same sex. If privacy is a must, then you can expect to pay a supplement of 65 to 100% of the regular 'per person' price, depending on your choice of liveaboard cruise.
Palau is an island in the Western Pacific Ocean and forms part of the island group known as Micronesia. It is east of the Philippines and north of Indonesia, its closest neighbours, and to the west of Hawaii ... a long way west.
The climate is tropical, meaning mostly sunshine, high humidity and occasional downpours. Average temperature is 28°C (82F). Rain is more frequent between July and October although the sun usually comes out straight after a cloudburst.
Not usually. Palau lies beyond the main path of typhoons. They hit the Philippines hard but bring little more than a tail-end of wind and rain to Palau. On rare occasions one might veer off course and affect the islands but that is not the norm. If you really want to eliminate all risk come between February and April – the months where there are no typhoons anywhere in the area.
What about the passport and visa requirements?
You don't need a visa in advance since you will be given a 30 day tourist visa on arrival at the airport. What you do need is a passport valid for at least 6 months and a return ticket. Officially you are said to require proof of funds to support yourself during your stay, although this is seldom checked. Your bags will be checked on arrival so be sure to leave all your weapons, explosives, drugs, animals and plants at home. You also have to pay a levy for all tobacco (above 1 pack of 20) you bring into the country.
What currencies and credit cards are used?
The currency of Palau is the US dollar. There are plenty of ATMs around so you can access your cash.
Major credit cards such as Visa and Mastercard are accepted at all major hotels, restaurants, shops, the airport and on the larger liveaboard boats.
Official numbers suggest 75% Christian with the local Palauan religion of Modekngei a little under 10%. The rest is made up of Buddhism, Chinese folk religion and tiny populations of Jews and Muslims.
When is the peak season for tourism?
December and January are the months when tourist numbers hit their peak.
Can you arrange accommodation for me in Palau?
hotelscombined.com, our affiliated hotel reservation agents, have a variety of accommodations in Palau

. Browse through the choices on their website, use their live chat to ask your questions, and then simply use your credit card to make your reservation.
From 5 star beach resorts to cheaper hotels, there's something to suit most people's taste and needs. And you can be sure that whatever option you go for, it will be backed up with their 'Low Price Guarantee', so you will always get value for money.
What are the languages spoken?
Palauan and English are the 2 official languages. Other recognised regional languages include Japanese, Sonsorolese and Tobian.
Will I get to experience Jellyfish Lake?
Due to a decline in the population of jellyfish in the lake all the liveaboards have suspended taking guests there until further notice.


---
CUSTOMER TESTIMONIALS OF DIVE THE WORLD
... The website was very useful. Great service from Enrique. The website is so user friendly, even the payment process. Well done ... -- Deidre Chang, USA. [More customer reviews]