>
Newsletters
>
April 2015
>
Aggressor Palau Liveaboard Trip
Palau Liveaboards Newsletter
The Aggressor II Dive Trip Report
Click on an image to enlarge

I always wondered if one day I would make it to Palau. Images of steep verdant islands dotted around azure lagoons were etched into my consciousness. Would I dive there some time? Would it be as awesome as people say? In March 2015, I found out!
After my week-long Palau liveaboard cruise, I sat sipping a coffee in Koror, looking back at the experience. We did some awesome dives where masses of fish and sharks swirled around us. We snorkelled amid thousands of stingless jellyfish. We broke the surface in caves full of stalactites. We witnessed WWII wrecks and saw the scattered sunken bullets, shells and shrapnel of the amphibious landings of US marines in 1944.
Amazing to think that one destination can offer so much!
Palau Scuba Diving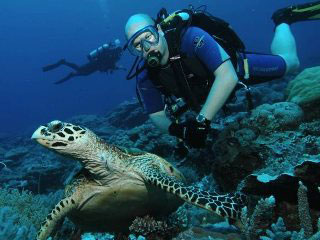 You can expect to see some really thriving colourful reefs here in clean, clear water. There is no rubbish and very little evidence of human degradation. You will see a lot of sharks, mostly grey reef sharks, and tonnes of fish. The best sites of Palau can be really excellent and places like Blue Corner, Ulong Channel and German Channel can bring smiles to the faces of even the most experienced divers. This is especially true when they are dived during times when daytrip boats are not there, one of the main advantages of choosing a liveaboard cruise in Palau.
While I was impressed by the topography, sharks and fish life including tuna, Spanish mackerel, Napolean wrasses, giant trevallies and more, I was equally enthralled by Palau's Word War II history. Not only did we dive some Japanese war wrecks with guns intact, but we visited Peleliu. This island is in the far south and also out of reach of most daytrips. As a scene of one of the most brutal battles between US marines and Japanese forces, the island is a treasure trove of artefacts and sites of historical significance. Diving here is also very good, whether walls or shallow hard coral reefs dotted with sunken evidence of the brutal fighting that raged above the surface. Experiencing Palau's WWII heritage is one of the reasons why people rate Palau as an exceptional liveaboard destination.
The trip concluded with a memorable visit to Jellyfish Lake to snorkel among the thousands of stingless tentacles – not something you do every day. The final submersion was to visit Chandelier Caves, where you can surface in various air pockets surrounded by stalactites which is a very 'James Bond' ending to the cruise. What other liveaboard destination can offer such an interesting and varied week of activity?
The Boat and Cabins of the Palau Aggressor II
The Palau Aggressor and its identical sister ship in Palau, the Tropic Dancer, are sturdy big functional catamarans. They are spacious, steady in the water, and get the job done without being very elegant or luxurious. Guests spent time in the lounge/dining area where there were 2 small sofas and tables and chairs or on the large sundeck on 1 of the 2 hammocks or on the sun-loungers or sun chairs. A nice feature is that the lounge bar opens up to accommodate 360 degree seating so you can all sit around having a drink in the evening in an atmosphere of conviviality.
The cabins are 1 double and 1 single bunk, all with ensuite bathrooms. They are not the largest cabins you will ever come across but the beds are comfortable and the fact that the boat is at anchor each night means you have better chances of getting a good night's sleep. The boat was due for refurbishment shortly after my cruise, so maybe by the time you are reading this there will be many improvements.
The Diving Procedure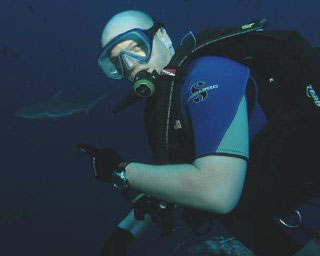 The large dive deck and winch-operated tender are some of this boat's main strengths. Tanks and gear are kept on the tender and filled there. So the dive deck is for donning wetsuit and booties and listening to the briefing before all filing onto the tender. The dive crew are friendly and attentive. It's all very easy. The 2 hot showers on the diving deck are a popular alternative to dashing into your cabin.
Half of the dive days involve 5 dives a day so at times it seems the bell-ringing to summon you for briefings never stops. All scuba divers are given a Nautilus lifeline, safety sausage, reef hook, whistle and diver alert so it is clear that safety is a priority. Some of the sites do have speedboat traffic so using your safety sausage is advised.
The Food and Dining Service
Catering mostly, but not exclusively, to American divers means the food is plentiful and essentially western cuisine. Breakfast is served buffet-style before dive 1, if you can handle diving after your choice from bacon, eggs to order, hash browns, toast, bagels, fruit, oatmeal, tea, coffee and orange juice.
Lunch is also buffet-style and dinner is served. You can expect soups, pasta, meat dishes, fish, french fries, rice dishes and more. Our chef paid heed to everyone's dietary requirements and displayed sufficient imagination to keep everyone happy. Between dives there is often a hot chocolate on the dive deck and some sticky sweet treats in the saloon.
The Final Word
As with all diving holidays, some dives are better than others. We had some great dives and some so-so ones. However, when you consider the variety of experiences we crammed into 1 week, there can only be room for amazement that Palau has so much to offer. I came away from this trip with memories of brilliant dives at Blue Corner surrounded by fish and the beautiful topography of Ulong Channel. The Jellyfish Lake and Chandelier Caves will also linger long in my mind. However, the experience of visiting the island of Peleliu and diving its shores will probably stay with me the longest.
For this all to happen during a 1 week liveaboard tour tells the story of why Palau is held in such high regard by scuba divers the world over. It's a fabulous liveaboard destination and everyone should taste it at least once in their lives.
Written by Gavin Macaulay, April 2015


---
CUSTOMER TESTIMONIALS OF DIVE THE WORLD
... Many thanks Pip. Thank you too for your efficiency and smooth booking procedure. Second time booking a trip through Dive The World and once again not disappointed! ... -- Fleur Hanekom, South Africa. [More customer reviews]