>
Newsletters
>
October 2015
>
Southern Sport Liveaboard Tour
Mexican Liveaboards Newsletter
Southern Sport Dive Trip Report
Click on an image to enlarge

It was shortly after those first few seconds of our first dive. I was just getting used to the surging watery environment and had been enjoying the immediate sighting of a large school of creolefish, being encircled by black jacks and white tips, when suddenly the waters cleared. A school of hundreds of yellowfin tuna came flying into view like a series of torpedoes.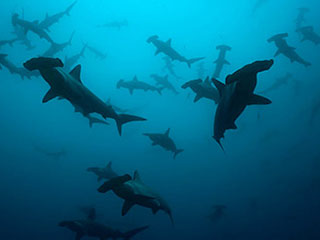 The tuna were instantly followed by silky sharks, Galapagos sharks, and wahoo. All these big pelagics joined in attacking their creolefish prey in a high speed blitzkreig attack.
I hung in the water, staring in wide-eyed wonder at this mesmerising scene until the tuna moved off into the blue, when the feeding frenzy was over. No sooner had we composed ourselves than more new sightings hoved into view. There was a school of scalloped hammerhead sharks which kept us enthralled before they were quickly replaced by some skipjack tuna being stalked by silvertip sharks.
Unsurprisingly, this was my favourite dive in the amazing Socorro Island region of Mexico, or 'The Revillagegidos' on the Southern Sport liveaboard. What an amazing destination! Not many places in the world promise such encounters with large pelagic fish, sharks and rays. We saw countless manta rays and even whale sharks and dolphins. Any single encounter could have been the highlight of a dive trip elsewhere, but in Mexico's Pacific liveaboard destinations, awesome is the norm.
The Boat
Southern Sport is a stable and practical vessel without being a luxury liveaboard. It has a spacious dive deck and a cheerful crew whose Mexican Cumbia music adds to the pre-dive carnival atmosphere.
The 2 main places to chill out are the saloon and the sundeck. In the air-conditioned saloon you can enjoy the TV and selection of videos. Guests can help themselves to a cool drink and relax on one of the couches. The sundeck has benches and mattresses for sunbathing and some shaded areas making it a place for all to take it easy and chat about the day's underwater action.
The Diving Procedure
2 RIBs are used for diving with the group split, in our case into English and Spanish speakers (most guests are from Mexico and the USA). The liveaboard guides are all bi-lingual.
Nitrox is available and recommended for the diving profile. Tanks are filled on the tenders making life easier for the divers who simply hop on and off in their wetsuits and masks. The tenders have no ladders for egress so expect some pulling yourself on board and the ensuing inelegance.
Back on the spacious, well-equipped dive deck you are greeted with a warm towel at your assigned spot before you make use of the toilet or showers.
The Cabins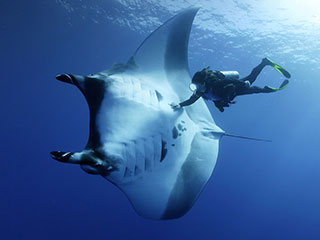 All the cabins are the same price so aim for cabins 3 and 4 if available. They are the best with more space, seaview windows and private balconies. They also have their own air-con as does cabin 2, however the others don't which can be disappointing if you are not a fan of cold sleeping temperatures.
The lower deck cabins are small and have no natural light. So there is quite a wide discrepancy in terms of cabin quality. All the cabins have towels, reading lights and smoke detectors, and the bathrooms have shower gel and soap.
The Food
Before dive number 1 you can have a light breakfast including drinks, cereal, toast and fruit. Your post-dive cooked breakfast is eggs with ham or chorizo. Lunch and dinner include local Mexican specialties like enchiladas, tortillas and quesadillas (if you know the difference!). You can also expect some soups and salads and desserts, with snacks available throughout the day.
How to Get There
Various US cities have flights to Cabo San Lucas including LA, San Francisco, Denver, Washington and Atlanta. There are domestic flights from the major Mexican cities. Due to the flight times you should plan to overnight in Cabo both before and after your trip.
Conclusion
For lovers of sharks and large pelagic species the Revillagegidos are awesome. There are not that many sites so you may make more than one dive each at several of the sites, but when they deliver such adrenalin-filled action, that's a plus! I would have loved to have visited between February and March to increase my chances of seeing humpback whales but early May was still a good time.
With a 5 mm wetsuit and hood, I was comfortable in the 24-25°C (75-77F) water and visibility was normally between 15 and 25m. The sea conditions were often choppy, especially with the surge and current at places like Roca Partida. The crossing took 24 hours and was a little bouncy at times. This underscored how it is not a liveaboard destination for everyone, but if you have a little bit of experience, are comfortable in different sea conditions and love sharks, dolphins, seals, tuna, mantas, whale sharks and the rest, then you are in for a special treat!
Written by Sheldon Hey, May 2015


---
CUSTOMER TESTIMONIALS OF DIVE THE WORLD
... The Dive The World website was very easy. Beef was really responsive. Very good service. The best thing was the super prompt replies ... -- Fernando Viloria, Mexico. [More customer reviews]