>
Dive Destinations
>
Indonesia
>
Togean Islands
Your Guide to Diving in Togian Islands
The Togeans
There are some places in the world that people don't seem to know about, yet when you go there you can't understand why. The Togians are such a place. Almost completely surrounded by the protective arms of central and north Sulawesi, Tomini Bay is reputedly the calmest deep water bay in the world. This is home to these undeveloped and remote islands.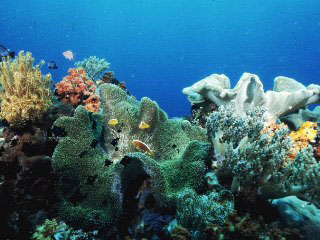 Scuba diving in the Togean Islands is fantastic but the charm of the place extends well beyond the impressive dive sites: Peaceful tranquility, clean sandy beaches, sparkling seas, blue skies and no crowds. As for the diving here, well there's an awesome array of reefs, stunning underwater topography and fish diversity that some of the world's better known dive destinations could only dream of.
Then there's the variety of reef formations - isolated coral atolls with sheer deep walls, fringing reef slopes, barrier reefs, 30 or so coral gardens, deep water features such as The Crack - an awesome swim through at 50 metres, muck diving and mangrove areas, as well as a Second World War American fighter plane wreck - a B24 bomber.
Una Una is great destination to sum up what makes the Togian Islands a special dive place - huge coral and sponge formations, reefs teeming with fish, excitement and plenty of deep water action. The good visibility here means you can spot huge schools of black-tail barracuda, thousands strong, forming vast shimmering whirlpool walls. Although we can't guarantee it, blue marlins have been seen dashing through the water, and if you see one of those you certainly will never forget this place!
The Togians receive very few visitors and there are only a small numbers of locals, so the reefs are in exceptional condition. If you are looking for an idyllic tropical setting with great diving right on your doorstep and little else to distract you, you've come to the right place. The Togean Islands are an excellent, and in no way inferior, alternative to other more popular Sulawesi dive destinations, no matter what your interest.
Dive Site Descriptions
B24 Bomber Wreck
On 3 May 1945, Sulawesi (then known as Celebes) and Borneo were under Japanese occupation during World War II. The 307th American Bomb Squadron was engaged in striking missions against these 2 locations. It was on one of these missions that this aircraft suffered engine failure and caught fire. As it was too far to return to base at Morotai Island, and the islands are densely covered in jungle - potentially dangerous to parachutists, the decision was made to crash land the plane in the sea at the Togean Islands in Tomini Bay.
Show more
All loose items were jettisoned on approach and, after skidding 50 metres, the plane came to a gliding halt on the sea's surface. All 11 crew escaped from the plane in life rafts, with cuts and bruises, and made it to nearby Togian Island, just to the north. The craft, however, lost its nose turret and 3 propellers in the landing, and sank about 2 hours afterwards, thus becoming the Togeans' best wreck dive.

The plane, 17m long by 22m wide, lies upright on a flat sandy bed with its cockpit to the north west, its right wing touching the sea bed and its left wing slightly elevated.

The wreck is in excellent condition and no artifacts have been removed. The right wing still has its remaining propeller intact, and you can easily see the machine guns mounted on the rear of the aircraft. Peer through the windows and you can make out the parachute harnesses; take a look at the cockpit and you'll see the captain's and co-pilot's chairs and all manner of electrical equipment, now forever silent but once alive with hurried life and death instructions from an historic time past.

The Togean bomber is now the congregating centre for hundreds of bigeye trevally, creating a never-ending circular wall of dazzling silver. The tail wings are refuge to some lionfish and batfish.

There are green tube sponges and barrel sponges, particularly at the rear of the aircraft. Some porous coral growth shows itself on the fuselage, and purple and yellow sea squirts and blue tunicates decorating the main wings.
Batu Gila
This dive site is a rocky ridge jutting out from a deep north facing wall drop-off, like the nose of a sunken Roman statue. The ridge is some 25m wide and 50m long, and lies at a depth of 28-42 metres. It is the most extreme northern point of this long reef, and therefore is more exposed to currents, has great visibility and is generally the best place to hang out in deeper water for spectacular big fish action.
Show more
Drop down onto this undamaged ridge of sponges and gorgonians and you'll soon be engulfed by legions of long-fin bannerfish and redtooth triggerfish, often seen together in massive schools.

Once you've gained your buoyancy control and taken a deep breath, take a good look deep down below, off the edge of the ridge. This is the best place to be when diving in the Togian Islands to see schooling scalloped hammerhead sharks - at the top of many a deep diver's wish-to-see list.

Also here are grey reef sharks, silvertips, manta rays, tuna and barracuda. Barracuda tend to move in large, spiralling schools. If you ever see a large school scatter in the blink of an eye, then you must know that something sinister and special may be approaching. Sure enough, out of the deep may come the endangered blue marlin - these majestic creatures are one of the fastest creatures on 5 fins, and can comfortably grow to a startling 3½m.

Batu Gila is just to the north east of Dominic Rock and north west of Lost Reef, 2 more of the Togian dive sites.
Dominic Rock
Not a dive site for sufferers of vertigo nor for the faint of heart, the north side of Dominic Rock features a drop off into the black abyss. Already at 40 metres, you can imagine the depths we are talking about here! Here there's a good chance to see mature eagle rays swooping past, grey reef sharks, and large big-eye trevally circling the nearby overhangs.
Show more
The rock is festooned with green branching cup corals, mauve, lime and cream shaded gorgonian fans, barrel sponges, purple dendronephthya soft tree corals, creamy wire corals, and yellow whip corals. Large black frogfish squat motionless on the rock and midnight snapper ar ever present.

Queensland groupers occupy the ledges of the other nearby boulders, barramundi stalk the territory, and fantail rays often come to life when scuba divers pass over, exploring the nearby area.

An altogether adventurous diving site, Dominic Rock lies at the northern most and deepest section of the reef.
Pasir Tengah
One of the best sites in Togean Islands diving, Pasir Tengah is a 3 kilometre wide coral atoll with non-stop vertical walls plunging down to depths of 400 metres. Just breaking the surface, the walls are adorned with huge red and green tube sponges, black branching sponges, gorgonians, leather corals, leaf corals, and black coral ferns. You can descend to any depth on any side and be greeted by passing packs of marauding pelagics, such as trevally of all types - big eye, 6-banded, yellowfin and bluefin, wahoo and Spanish mackerel.
In the depths you can often catch sight of white-tip and black-tip reef sharks and, if your luck is in, silky sharks. Common fish in the shallows are large schools of mid night snappers, yellowback fusiliers and reticulated butterflyfish, as well as Spanish dancers and a host of other colourful nudibranchs. One extremely lucky diver even saw a passing nautilus on a night dive - a rare find and a treasure indeed.
Taipi Wall
Taipi is a north to south running wall with many specatular overhangs, steps, jutting seams and points, cracks and crevices, many crammed full of rich sea fans and gorgonians.
Show more
On the sloping sandy shelf at the foot of the wall are dense patches of cabbage corals, and outlying coral bommies and boulders with table corals. The wall is covered with red and blue soft corals with their many-host shrimps and red cleaner shrimps, black coral bushes, green ascidians, tiger cowries, leaf scorpionfish, large crocodile fish, dwarf hawkfish, spottail dartfish, and numerous nudibranchs including the blue dragon.

On top of the wall is a small coral garden, where divers can enjoy their safety stop. Here are beautiful pink soft corals, gently swaying in the easy current. There are Haddon's sea anemones galore, with their commensal black and white saddleback anemonefish, Clark's anemonefish and anemone shrimp.

Bumphead parrotfish munch their way across the flats. Large red horned sea stars rest on the sand, with tube anemones, sailor's eyeballs (not the real thing!) and bi-colour blennies. There are often black-tip reef sharks lurking in the shallows too.

Taipi Wall is a relatively easy Togean dive site that you won't mind returning to again and again.
Una Una
A small volcanic island with fertile laval ash sand, Una Una is little visited and consequently has some spectacular and very healthy diving sites all around the island.
Show more
The jewel in the crown of Una Una sites has got to be The Pinnacle. In our opinion, this is the best dive site in the Togian Islands and one of the best we have ever visited - the teeming fish life here is breathtaking.

A submerged, large rock pinnacle on the east coast of Una Una, the walls here drop off to 60 metres on the east side and there are some absolute monster examples of black, gold and green tube sponges, vase sponges, cone sponges and barrel sponges. There are masses of hard corals, montipora sheet corals, acropora corals, and very little evidence of any human damage.

Circling the pinnacle near full moon and divers may be party to the spawning of millions of lantern tobyfish. These schools are so thick that it can cause you vertigo, and you literally cannot see anything else! Once you manage to escape the plague of toby fish, you have the opportunity to see frequent visits from turtles and eagle rays. Longnose emperors are residents here, as are harlequin sweetlips and midnight snappers. Other schooling fish that sweep by include yellowdash and 3-striped fusiliers. Crocodile longtoms roam the Togians open sea shallows.

Nearing the end of the dive, you'll no doubt approach the garden decorating the top of this pinnacle. Although evidence of bomb damage exists here, the fish life is still quite staggering. Every direction you turn there are more colourful fish - bumphead parrotfish, pyramid butterflyfish, redtooth triggerfish, red fire gobies, regal angelfish, orange anemonefish, dusky chromis, 8 banded butterflyfish, pink-tailed triggerfish, 6 banded angelfish ... the list is endless - all compete for your attentions amongst the mushroom soft corals, and acrapora elseyi corals.

Apollo is a patch reef on a sloping sandy bed at the south west side of Pulau Una Una, starting at 21 metres and running down south to 45 metres. The main reason to dive here are the enormous schools of blacktail barracuda that hang out here. There are literally thousands of these large fish, forming dense walls that can block out the light - a truly amazing sight. On the reef itself you'll find a domination of brown and green tube sponges and calciferous barrel sponges. There are Napoleon wrasse, black and white snappers, clown triggerfish, yellow-back and purple anthias, moray eels, as well as rainbow runners passing by in the depths.

Passing over the sand in the direction of the island, scuba divers might find panther flounders and also witness a sight they will never have seen before - thousands of Bennett's toby fish seemingly performing an elaborate dance of communication. This astounding sight is like the marine equivalent of the frantic scene inside a beehive - an experience you will never forget.
How to Dive the Togean Islands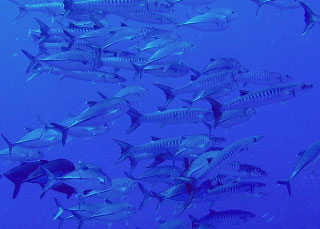 The islands are pretty remote so there is no chance of doing daytrips from Manado, but they do deserve a trip in themselves.
Although there are a number of dive resorts on the islands, diving the Togians nowadays no longer means a huge investment in time and energy to make it under your own steam to the islands. There are a number of liveaboard cruises scheduled to visit here, departing from the more easily accessible city of Manado.
The Togian Islands Diving Season
There is year-round diving in the Togian Islands. March to December is generally considered to be the best time to dive here since it is the dry season, but outside this time conditions are often excellent.

Reef Summary
Good for: Large animals, small animals, wall dives, underwater photography, reef life and health, visibility, value-for-money, advanced divers and snorkelling
Not so good for: Non-diving activities
Depth: 5 - >40m
Visibility: 20 - 40m
Currents: Gentle
Surface conditions: Calm
Water temperature: 27 - 30°C
Experience level: Beginner - advanced
Number of dive sites: ~30
Distance: 100 km south west of Gorontalo (10 hours)
Access: Togean resorts
Recommended length of stay: 7 or 14 days
Useful References

---
CUSTOMER TESTIMONIALS OF DIVE THE WORLD
... Using Dive The World just makes the whole booking procedure painless. Your agent Pip was very helpful and provided prompt answers to all queries ... -- Emma Gordon, UK. [More customer reviews]