>
Dive Destinations
>
Indonesia
>
Togean Islands
Diving in Togian Islands
The Togeans
There are some places in the world that people don't seem to know about, yet when you go there you can't understand why. The Togians are such a place. Almost completely surrounded by the protective arms of central and north Sulawesi, Tomini Bay is reputedly the calmest deep water bay in the world. This is home to these undeveloped and remote islands.
Scuba diving in the Togean Islands is fantastic but the charm of the place extends well beyond the impressive dive sites: Peaceful tranquility, clean sandy beaches, sparkling seas, blue skies and no crowds. Show more

Dive Site Descriptions for the Togians
B24 Bomber Wreck - On 3 May 1945, Sulawesi (then known as Celebes) and Borneo were under Japanese occupation during World War II. The 307th American Bomb Squadron was engaged in striking missions against these 2 locations. It was on one of these missions that this aircraft suffered engine failure and caught fire. As it was too far to return to base at Morotai Island, and the islands are densely covered in jungle - potentially dangerous to parachutists, the decision was made to crash land the plane in the sea at the Togean Islands in Tomini Bay. Show more

How to Dive the Togean Islands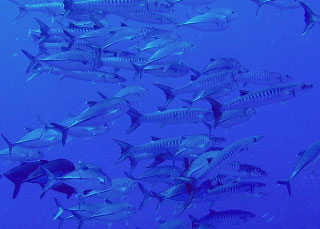 The islands are pretty remote so there is no chance of doing daytrips from Manado, but they do deserve a trip in themselves.
Although there are a number of dive resorts on the islands, diving the Togians nowadays no longer means a huge investment in time and energy to make it under your own steam to the islands. There are a number of liveaboard cruises scheduled to visit here, departing from the more easily accessible city of Manado.

Togean Islands Diving Season
There is year-round diving in the Togian Islands. March to December is generally considered to be the best time to dive here since it is the dry season, but outside this time conditions are often excellent.

Reef Summary
Good for: Large animals, small animals, wall dives, underwater photography, reef life and health, visibility, value-for-money, advanced divers and snorkelling
Not so good for: Non-diving activities
Depth: 5 - >40m
Visibility: 20 - 40m
Currents: Gentle
Surface conditions: Calm
Water temperature: 27 - 30°C
Experience level: Beginner - advanced
Number of dive sites: ~30
Distance: 100 km south west of Gorontalo (10 hours)
Access: Togean resorts
Recommended length of stay: 7 or 14 days
Useful References for Togian Dive Trips