>
Liveaboards
>
Aggressor fleet
The Aggressor Fleet
Highly-rated International Fleet of Liveaboards
Aggressor was founded in 1984 and is now owned and managed by avid divers Wayne B. Brown and Wayne Hasson. With over 3 decades of experience in the diving industry, the company is well established and "strives to promote sustainable diving and marine interactions world wide".
The fleet began with a single liveaboard, Cayman Aggressor, and has since expanded their fleet as their reputation became a household name among both liveaboard owners and divers alike. It now includes 22 liveaboard boats servicing 21 spectacular destinations and offers you over 30 different fantastic routes. The fleet has become synonymous with a high standard of liveaboard safety, operating procedures, excellent service and value for money liveaboard diving cruises.
Dive The World is proud to have partnered with Aggressor liveaboards since 2005.
What sets Aggressor apart?
Each liveaboard is privately owned. However, when you book your Aggressor diving tour, you will be assured that:
Your safety is of paramount importance
There is standardisation across the fleet
You'll receive excellent service
You are getting value for money
You can choose from a variety of destinations across the globe
Your bookings contribute to their chosen charitable partners
Book your liveaboard diving trips with Dive The World
Why should you book your diving cruise on an Aggressor liveaboard?
Your safety is their top priority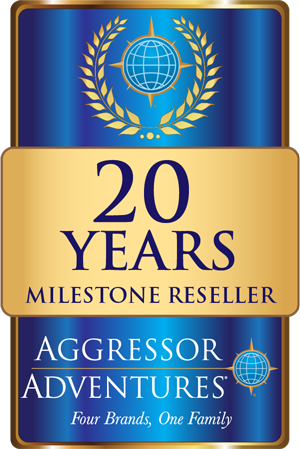 When you're out in the open ocean you want to know that everything possible has been done to ensure a safe and comfortable diving vacation. The company sets a high level of minimum safety standards for all the liveaboards in the Aggressor fleet. These requirements cover a variety of aspects for both the vessel on which you will be touring as well as the liveaboard crew.
Aggressor crews are professionally trained and hold the required licenses as per the country rules in which the vessel operates, and each liveaboard in the fleet is required to follow their Standard Operations Procedures (SOP). All dive instructors and divemasters hold valid certifications by internationally recognized dive certification agencies. Each liveaboard needs to have an extensive list of safety features and requisite yacht equipment to join the fleet. The liveaboards are inspected annually to confirm that both the required equipment is in place, as well as the crew are trained according to their standards.
Standardization across the fleet
Aggressor liveaboards sail to the top diving hot spots in a variety of often far-flung destinations. Although the scenery and the underwater life may be vastly different from destination to destination, scuba divers know that the standards across each the yachts will be similar. This assurance is the reason why many divers book multiple liveaboard diving trips with Aggressor liveaboards.
Top-notch service awaits you
The fleet prides itself on the high level of service that it offers divers, both above and below the waves. Each privately owned boat is responsible for recruiting their own crew and implementing the high service standards that are synonymous with Aggressor. Impeccably trained crew strive to provide all their clients with a seamless diving tour. The crew's knowledge and professionalism, together with the diving setup, allow for a relaxed diving experience.
Value for money liveaboard diving safaris
Divers who have experienced Aggressor dive holidays know that their money is well spent when they book an Aggressor trip. The luxurious features aboard the vessels, well-appointed cabins, fantastic service, and excellent diving facilities all contribute to the value of their trips.
Being divers themselves, the fleet owners know that the quality of food served onboard liveaboards is key to many a happy scuba diver. Aggressor employ professional chefs who endeavor to source the best fresh local ingredients as well as some imported favorites, which they turn into delicious buffet meals, offering their guests a wide selection and ample servings to keep them fueled for multiple dives per day.
Choose from 21 diving destinations
The fleet cruises to some of the best diving destinations across the globe where you can encounter a smorgasbord of marine 'must-see' creatures.
2 years after their first liveaboard began operating, a second liveaboard, the Belize Aggressor, was launched and offered diving cruises in the lower Caribbean and Belize. At the same time, the company started its franchise operations. Divers could dive Costa Rica and Hawaii with Aggressor by 1990. During this year the company prioritized the health of the coral reefs and began installing moorings at their dives sites to protect the reefs and marine life. Since then the fleet has gone from strength to strength and now spans world-renowned luxury destinations, such as the Maldives, Caribbean and Egypt, as well as locations that are considered more 'off the beaten track'. Palau, Fiji or Raja Ampat impart a sense of being a pioneer adventurer with a touch of luxury while you enjoy spectacular diving.
Watch this space for new and exciting Aggressor liveaboard destinations.
Your Aggressor liveaboard bookings make a difference
The company is committed to making a difference through their partners: Shark Savers, Women Divers Hall of Fame, and Oceans for Youth.
We are here to make your liveaboard diving dreams come true!. Tell us about your ideal diving vacation and we'll inspire you:


---
CUSTOMER TESTIMONIALS OF DIVE THE WORLD
... Brilliant and no hassle. Also good advice on the dive sites I should go to after I gave my brief of what I would ideally like. Ability to listen and understand clients needs is an art that not many companies have, but Dive The World sorted me out ... -- Nicholas Vettewinkel, UK. [More customer reviews]