>
Newsletters
>
November 2004
>
Learning to Dive
Scuba Your Guide to Diving in Phuket Newsletter
Scuba Diving – Getting Started
The magic of the underwater world is accessible to the vast majority of the population but only a small proportion take the opportunity to include this wonderful activity within their collection of experiences.
Once you develop an interest in exploring the worlds oceans you then need to get some information to get you started on the right track. This article hopes to provide you with some of that background information and help you along the road to a truly wonderful experience.
Virtually anyone who is in good health, reasonably fit, and comfortable in the water can earn a basic scuba diving certification. Once you can demonstrate the ability to swim 200 metres and you complete a bit of paperwork you can be on your way.
How do I get my PADI license?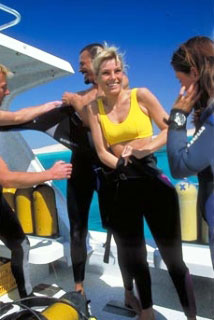 PADI stands for Professional Association of Diving Instructors and is by far the biggest certification agency for scuba diving in the world. Their market dominance is evidenced by the fact that for many people the name PADI is synonymous with diving and they are not aware of any alternative. However, there are many other accreditation agencies which provide equivalent scuba diving qualifications and there is no reason why you should not choose one of them.
All scuba diving operators, PADI and otherwise, recognise each others qualification which means that you will be able to use your new qualification the next time you go on a diving holiday to different diving destination. Some of the other accreditation agencies which you may encounter are:
NAUI - National Association of Underwater Instructors
CMAS - Confédération Mondiale des Activités Subaquatiques (Underwater World Confederation)
BSAC - British Sub-Aqua Club
SSI - Scuba Schools International
IDEA - International Diving Educators Association
PDIC - Professional Diving Instructors Corporation
YMCA SCUBA.
The remainder of this article is written primarily by reference to the PADI course structure. While almost all the major agencies operate similar structures you will need to confirm the specific by speaking to your local representative of the respective agency.
Learn at home or on holiday
There is most likely a diving school located close to your home or office which could provide some or all of the instruction you need prior to going on holiday – you will then be ready to enjoy the underwater world as a qualified diver. This is a personal decision which should be based on the consideration of a number of factors, including the following:
Convenience - will committing to a scuba course close to home make the experience more enjoyable for you or are your other commitments such that taking on another hobby would not be convenient?
Time – taking the course on a part-time basis at home will inevitable lengthen the time taken to complete the course. This is not necessarily a negative as many divers appreciate having the extra time to absorb some of the more theoretical aspects of the course and it also allows time to perfect the more demanding skills you need to learn.
However, if you are already confident in the sea and anxious to complete the course and start diving, it will probably work out quicker to complete the course over an intensive 3 or 4 days on location.
Language – although most languages can now be catered for in the major diving destinations you may find it easier to source materials in your native language in advance. Additionally it may be beneficial to have a native speaker of your preferred language to explain the more technical terms.
Cost
While we are all cost conscious and the expense must always be kept in mind, you will be entering an alien environment with it's own set of risks attached, for your own safety do not let cost be your primary deciding factor. The last thing you need is to find yourself being pushed through a course more quickly than you are comfortable with.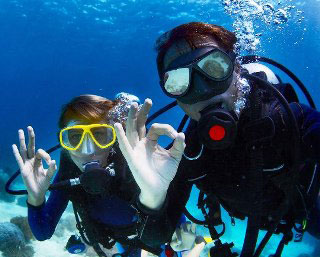 That said, the major dive destinations tend to be very competitive and you will probably not see significant differences in price. 2 of the major variables are the number of students per class and whether the course is a combination/referral course, i.e. part of the course conducted at home and the balance completed while on holiday.
Referral courses will always prove slightly more expensive than completing the course all in 1 place but this expense is offset by the fact that you spend more time in the water at your chosen destination.
Private versus group instruction is the other major factor affecting price. Group instruction is more economical and you have the benefit of having other divers learn simultaneously however the class progresses at a rate dictated by the slowest member and you lose the personal attention and security of knowing that you are the only student in the instructor's care.
The other benefits of private instruction are:
Your dive time will last longer as you only surface when you are ready, not the first student to empty their tank. You will have a wider choice of dive sites to visit and you will have more flexible start and finish class times.
A final consideration which is of great importance, to this writer at least, is the weather and water temperature. Recreational scuba diving is all about having fun and if the water is too cold then the fun factor reduces greatly. The bath warm waters to be found in the tropics are ideal and personally anything below 22 degree Celsius is for a braver heart than me (the author is often accused of being a diving wimp).
Which course – the options available.
There are basically 3 different entry level courses which can be a starting point for your new adventure, they are:
PADI Discover Scuba Diving (DSD) programme lets you experience the thrill of diving under the supervision of a PADI Instructor in ideal conditions, such as those found at a resort. During your 1 day adventure, you'll master some basic concepts and scuba skills before heading off on an open water dive. The DSD programme is not a certification course, merely an introduction to diving.
The PADI Scuba Diver course is a pre-entry level certification that is perfect for vacationers or people who only plan to dive a couple times a year, as it only takes a couple of days to complete. Think of it as a provisional license. As a sub-programme of the PADI Open Water Diver course, the PADI Scuba Diver rating allows you to get certified quickly and easily by minimising time constraints.
PADI Open Water Diver course, the most popular dive programme in the world! This is your ticket to a lifetime of intense adventure with PADI, the dive association that sets the standards in the global diving community. As a certified PADI Open Water Diver you have the freedom to dive with a buddy independent of a professional. The course normally takes 3 or 4 full days to complete.
Choosing your dive centre and instructor
Some of the factors that you should take into consideration in choosing your instructor include the following:
Certification body – ask to see the instructors certificates and ensure they are up to date. As already stated PADI is the biggest but has a number of equally proficient competing agencies.
Duration of the course – Given the 3 major courses available it should be possible to find a course to suit your personal time constraints but this is something you need to discuss with your instructor.
Extra costs – before you hand over any of your hard earned money ensure you know exactly what is included in the price. Books and materials, equipment rental and certification costs may not be included and can significantly alter the price, get confirmation in advance.
Testimonials – a personal recommendation from a friend is always a very good indication that the instructor is friendly and professional. However in circumstances where personal recommendations are not available ask to see testimonials from recent students as an alternative.
Equipment – often the state of the diving equipment at a dive centre reflects that centre's attitude towards professionalism and safety. Ask to inspect the equipment to make sure it looks in good condition and not old and tattered.
Language – the major dive destinations are home to a diverse collection of dive instructors of all nationalities. Once you request in advance it is usually possible to receive your instruction in your preferred language.
What equipment to buy
Scuba diving is an equipment intensive activity and you may find yourself overwhelmed by the array of equipment required. Breathing apparatus, compasses, dive watches and flotation devices are all an essential part of your journey into this alien world – but just how much do you need to get started.
Strictly speaking you should not need to buy any equipment as all should be available from the school providing your instruction. However a few items may improve your comfort immediately and should be considered a high priority to own. A mask and snorkel are relatively inexpensive and if they fit properly can eliminate a significant source of underwater stress. Similarly the acquisition of your own fins and booties should be among the first items on your list. The great benefit of these items is that even if you decide not to continue your diving career you can always use them for snorkelling.
You will not regret the time you invest to learn more about this wonderful activity so follow this link to learn how you can:
Start your scuba diving adventure today...

---
CUSTOMER TESTIMONIALS OF DIVE THE WORLD
... Dive The World linked me into [the dive school] in a very efficient way. I booked my diving only 1 week in advance of the trip. [Your sales staff] was able to confirm all bookings and pricing within a couple of days ... -- Nick Whittle, UK. [More customer reviews]