>
Newsletters
>
March 2008
>
Dive & Travel Insurance
Dive Trip and Travel Insurance
Are you Sure you're Covered?
"Most Divers Leave Home Under-insured"
More often than not, recreational divers are meticulous when it comes to planning a dive holiday: they'll spend hours assessing the pros and cons of alternative live-aboards, dive resorts or operators. They'll corral all the latest gear and gismos, from custom-made wetsuits to computers to cameras. It's a sizeable investment of time and money, so it's perhaps surprising that the majority of divers leave home without adequate travel insurance.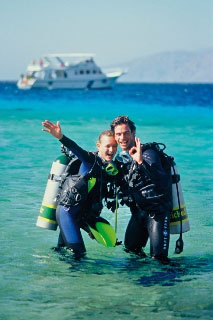 Travel insurance specialists, World Nomads recently commissioned research into the travel habits of divers, canvassing representatives of dive shops, tour operators, accreditation bodies and the dive media. According to Ian Jackson, Head of Research for World Nomads, "What really surprised us was the uniform consensus that the majority of divers were under-insured on their dive trips - particularly for equipment and emergency evacuation".
Typically, if they take out insurance at all, divers will opt for either a policy with an emergency evacuation provider or rely on 'regular' travel insurance.
"The trouble with this," says Jackson, "is that neither option covers everything. Many travel insurance policies don't provide for remote area evacuation or for hyperbaric chambers. Nor do they fully cover divers' extensive and expensive equipment. On the other hand, emergency evacuation providers do a great job of getting you out of a dire situation, but don't provide cover for additional medical expenses or for lost or stolen gear".
Jackson cites the example of a man who suffered internal organ failure that was directly attributable to the diving he'd been doing. His evacuation insurance got him to hospital, but didn't cover the cost of the additional necessary medical treatment or his repatriation home. "The bill came to $200,000", he says.
Some of the best dive sites are in the remotest corners of the world and just getting there can be an adventure - one that can wreak havoc on delicate camera equipment and other bulky dive gear.
And once you're there, even if you don't admit it aloud, there's that dark recess of your brain that frets about sharks, stingers, rogue currents, sinking boats, the bends, and all manner of underwater hazards.
It won't make all the scary stuff go away (and what fun would there be in that, anyway?), but knowing you have enough insurance to get you out of trouble can give you the peace of mind to get on with enjoying your dive trip.
So what should divers look for in an insurance policy when they're heading off on their dive holidays?
The Insurance Check List for Divers
Ensure your insurance policy provides adequate coverage for:
Cancellation: if you fall ill before trip departure or if your dive boat gets hit by a hurricane and your trip is cancelled. To claim, though, you have to buy your insurance policy when you buy your diving trip.
Lost or stolen gear: most travel insurance policies have a per-item value limit - make sure its high enough to cover your gear or choose a policy that allows you to increase the limit.
Emergency evacuation from remote areas: check that this clause covers SCUBA diving trips.
Medical expenses, over and above evacuation: check that your cover includes emergency treatment while away and transport to bring you home; remembering that insurance providers will usually insist on getting you home as soon as you are fit enough to travel.
Personal liability: diving is an adventure sport - accidents happen. If it's found to be your fault and someone decides to sue you, you want to be covered.
Look carefully at the policy's exclusions as well as its inclusions *. You may find that it's just not geared to the more 'extreme' nature of dive travel.
It's important to note that insurance policies generally will not cover you if your diving exceeds the limits of your personal certification (i.e. if you're a certified Open Water Diver and you dive to 60 metres and get the bends, you may not be covered), nor if you are not diving with an accredited operator.
And it goes without saying that you need to assure the quality and qualifications of any operator that's going to take you underwater!
Do you Offer any Diving Insurance?
World Nomads offers comprehensive insurance policies that are designed to accommodate the needs of independent adventurous travellers. You can increase the cover for expensive gear, you're covered for evacuation from the remotest dive site, and for the costs of getting you home the safest way possible.
"Our research has shown that divers tend to underestimate the importance of adequate insurance; they either don't take out enough cover or many don't even consider it", says Ian Jackson. As a result of the research, World Nomads is currently developing a dedicated dive insurance product that recognises that divers are a breed of traveller all to themselves.
Jackson explains, "Our policy is designed to be a one-stop solution for divers. It can be purchased on-line from anywhere in the world. You can also extend the policy if the diving's too good to go home, and even make claims on-line, from anywhere on the planet.
For the small cost of a policy in comparison to the overall cost of your dive trip - and the peace of mind it brings - taking out adequate insurance is just plain common sense".
Designed by travelers, for travelers, World Nomads covers more than 150 adventure sports and activities so you can explore your boundaries..