>
Newsletters
>
March 2008
Dive The World Newsletter
March 2008 Contents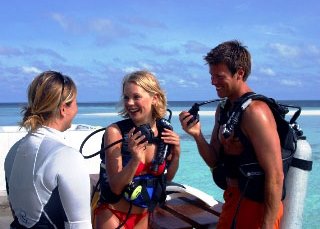 What is going on with the weather where you are?
As snow falls in the UK, a cold snap hits much of northern Europe, and floods ravage large sections of the USA, let's think about places where the skies are blue, the sand is fine and the water is warm and inviting.
This latest Dive The World newsletter has a varied mix of goodies just for you! From movie stars in the South Pacific, to defining the ever growing branch of scuba that is macro diving, and plenty in between. Have a quick browse through the articles and let your mind wander to the wonder of the underwater world.
News!
   Hot new destination: the Maldives
   Dive The World at the London International Dive Show 2008
   New resort options for you in Fiji
Features
   Our 2008 Dive The World Travel Club needs you!
   Is size important? - the wonder of macro diving
   Rock gods, movie idols... why Fiji is their new playground
   Is your insurance adequate? World Nomads take you thru' the nitty gritty
   Creature Feature: Barracuda
Diving News
The Maldives
In our determination to bring our customers only the best dive vacation destinations, we are delighted to tell you about our latest addition, the spectacular Maldives. Set in the Indian Ocean but remarkably accessible for tourists, the Maldives are famed for being an ideal destination for both honeymooners and diving enthusiasts.
Check out the diving here: Maldives dive sites
Or take a tour of the cruises you could join: Liveaboards in the Maldives
LIDS 2008
Dive The World recently had a very successful showing at the London International Dive Show. It was great to meet and chat to so many of you who dropped by our booth. We were very pleased with the interest that was shown by the visitors to this UK show.
Despite our hotel catching fire and quite a few problems with double-sided sticky tape, we enjoyed the show thoroughly and look forward to exhibiting at future events including DEMA, Boot and others. For more details: Dive The World at LIDS 2008
New products in Fiji
Fiji saw us send our intrepid investigator, Gavin Macaulay to Fiji to check out the locations and operators we currently recommend to ensure we are on top of the information, as well as to investigate other areas. In what was a very tough assignment he took in Savusavu, Taveuni, Viti levu and a liveaboard trip in the Koro Sea.
As a result there are some new additions to our Fiji line up. Check them out:
Uprising Resort - New and lively beachside resort near to Viti Levu's Shark diving.
Beqa Lagoon Resort - Long established Beqa Island dive resort with great food.
Paradise Taveuni Resort - Cute and classy resort off-the-beaten-track in Taveuni.
... and you can read Gavin's Liveaboard experience here: Fiji Aggressor II trip report
Dive The World Travel Club 2008 Sipadan Trip
After the success of our 2007 trip we are this year inviting you all to come and taste the wonders of Sabah, Malaysian Borneo in October 2008 with us! Our travel club is where like-minded divers can come together and dive with fellow divers from around the world, but leave all the organisation to someone else who knows the area.
Diving the world famous Sipadan and Mabul islands
Sepilok Orangutan Sanctuary
Visit Lankayan Island for more diving
All transfers and internal flights included
You'll be joined and accompanied by a Dive The World group leader plus other similar people like you. It's a cheaper package than you could find independently, you will be part of a fun group, our group leader knows the destination very well, and you get to make friends and win free goodies.
So if any of Sabah's wonderful diving and jungle activities are on your 'To Do' list then why not join this fun group with the:
Dive The World Travel Club 2008 Sipadan Trip?
Macro Diving
Many divers get to a point where they have seen many of the larger and more obvious marine inhabitants and they long to find new and exciting discoveries. This often leads to focussing on smaller targets, as they uncover a whole new world of amazing yet diminutive sea creatures.
Are we preaching to the converted? Or have you yet to consider this branch of scuba? Either way you should know more about the joys of:
Macro diving.
The Glamour of Fiji
Have you ever dreamed of hanging out in the kind of remote tropical idyll that the big stars choose to unwind in? Well Fiji is just one of those places. The list of celebs who call Fiji their holiday hideaway is long, varied and ever-growing. Want to know who rents out an island in the Koro Sea every year? Do you know what movie deals were done on the beach near Savusavu? Then read on and discover:
The Glamour of Fiji.
World Nomads Travel Insurance
Are you insured for when you head off on your dive trip? Are you sure? Amazingly most divers leave home under insured. World Nomads commissioned a report into the travel habits of divers and the results may surprise you. Let the experts guide you through the maze. Find out more:
Travel insurance: are you sure you're insured?
Barracuda
Swift and slender predators with jagged teeth and a lethal bite, is it any wonder barracudas are the subject of some fear among humans? Well, yes it is in fact. Barracudas are very widely distributed and the thrill of diving with these creatures is such that no misconceptions should get in the way of the joy of finding yourself surrounded by a huge spiralling school. Get to know these fish in our latest Creature Feature:
Barracuda.