>
Newsletters
>
March 2008
>
Celebrity Holidays in Fiji
Fiji Diving Holidays Newsletter
Hanging out with the Stars
Fiji is a destination which is becoming more and more associated with 'A list' stars. In the film the Truman Show, the father of Truman's love interest tells him their family are "moving to Fiji" as if to throw him off the scent since the Fijian islands represent a distant getaway where they could not be tracked down. It is this allure that calls to celebrities when they want their little piece of South Pacific paradise, far from the glamour and clamour of their very public lives back home.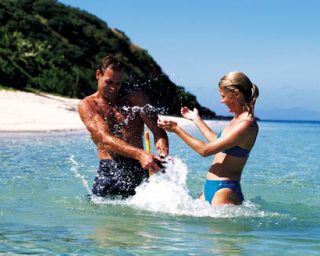 Some stars choose to visit the country as tourists while others hold Fiji so close to their hearts that they have made the country a second home of sorts. Mel Gibson owns Mago, a remote island in the Lau Group of islands in the east of the country, and he charters a plane from Nadi to take him and his ever-expanding brood to their own little gem of an island. Here they are literally thousands of miles away from the madness of Hollywood or New York, and there is not a paparrazo in sight, not to mention a cop with a breathalyser.
There is a deluxe resort in Vanua Levu, in the north of Fiji which specialises in wellness (including colonic irrigation). It is owned by motivational self-help guru Anthony Robbins. He is a former janitor and has obviously been hugely successful to the point where he is a millionnaire many times over. He still maintains an interest in sweeping corridors clean, albeit a different kind of corridor.
Robbins played the role of himself in Shallow Hal featuring Jack Black, a film from the almost flawless Farrelly brothers. Lovers of comedy will know them from classics such as There's Something About Mary and Me, Myself and Irene. They are also the geniuses that gave the world the modern masterpiece of humour, Dumb and Dumber. Peter Farrelly is fond of staying in Jean Michel Cousteau's resort in Savusavu, not far from Anthony Robbins' place, and it makes you wonder whether the Shallow Hal deal was done over a fresh coconut drink looking out over the South Pacific.
If so, Jodie Foster, another Cousteau guest, may have been strolling by in the shallows as she is a fan of Fiji as a great destination for her and her children to come and play in safety and in the carefree environment of an exclusive resort where they cannot be disturbed.
Dropping down from 'A list' a little, we can see that one-time pop princess Britney Spears and one-time husband of aforementioned one-time pop princess Kevin K-Fed Federline had a glorious honeymoon on Turtle Island, which cemented their bond of love for weeks to come. The newly weds also enjoyed a day's river rafting in Pacific Harbour on inflatable rafts where the local guides were surprised to see Britney allegedly display a couple of inflatables of her own.
Wakaya, an island noted for its diving, to the east of Viti Levu is the Number 1 destination in Fiji when it comes to celebrities. Tom Cruise and his taller ex-wife Nicole Kidman used to be regulars here when they wanted a little sun, sea and seclusion. Following in Nicole's footsteps is fellow antipodean actor Russell Crowe, who no doubt values the absence of snap happy photographers and gossip reporters.
One of Wakaya's best loved patrons is death-defying animal of rock, Keith Richards who regularly books the whole island for him and his entourage to take over. One can only imagine the parties that go on during these times since it is not easy to think of Keef hopping into bed at 9 pm after a relaxing massage and a cup of cocoa. Indeed he was recently reported to have been hospitalised having fallen from a tree on Wakaya Island, so it is heart warming to think that a man of his advanced years can still take pleasure in tree climbing, although it is not known how high he was when he fell.
So Fiji continues to attract the stars of stage and screen. As a scuba diving destination it provides all the seclusion and tropical surroundings any big name could want. You too can have your Pacific beach moments but, unlike in Hawaii, you'll not feel like you are in the USA. Fiji's people are warm and welcoming, whether you are a plumber or a pop star, a farmer or a film star, which is why many people from all walks of life will continue to make Fiji their dream holiday destination.


---
CUSTOMER TESTIMONIALS OF DIVE THE WORLD
... Thanks! All your service was top notch ... It was an overall very enjoyable experience ... And got me involved in the world of diving! ... -- Sang Lee, Ipoh, Malaysia. [More customer reviews]