>
Newsletters
>
January 2014
Scuba Diving Vacations Newsletter
January 2014 Contents
2014 is upon us. What lies ahead in your life during this next 12 months; romance? prosperity? fun? Luck plays a part but you can guarantee some fun for yourself by making plans for an awesome diving holiday. Dive in to our latest newsletter and remind yourself what you are missing: gorgeous scenery, fascinating creatures, new friends and lasting memories. Life's what you make it ...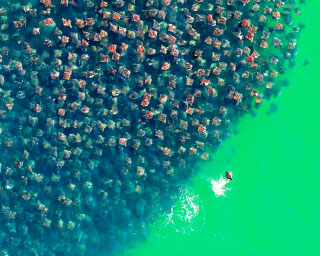 Dive News:
• What's new at Dive The World? Come and see
Features:
• What's coming up on the diving horizon?
• Are you a single traveller?
• Belize Trip Report: Belize Aggressor
• Creature Feature: Nudibranchs
Diving News
Dive The World: Your first stop for specials
If you are looking for special offers, early bird deals and last minute discounts on diving vacations, then Dive The World has got to be your first stop. You now have access to the most complete and up-to-date source of special offers on diving packages anywhere.
Check out the specials on our blog. All discounted liveaboard trips, including last minute specials, are highlighted in yellow on our cruise departures calendar or on the individual boat departure schedules on our liveaboards website.
New Dive Destination: Mexico
We are very excited to introduce our newest destination - Mexico! If you think Mexico is just about tequila, sombreros and Mariachi bands playing 'La Cucaracha' then think again. Mexico is home to some of the most mind-blowingly exciting diving on the planet.
Take a liveaboard into Mexico's Pacific waters and treat yourself to a smorgasboard of marine megafauna. Likely animal encounters include sharks, dolphins, seals, whales, whale sharks and big schools of fish. An exaggeration? No way Jose! Check it out for yourself. Read more about diving in Mexico.
There are a few different options for you in Mexico. The biggest name is Socorro and trips to these islands are breath-taking in the extreme. The Sea of Cortez also provides a fascinating liveaboard itinerary. For lovers of great white sharks, the special cage diving trips to Guadalupe Island are the realisation of a dream - seeing these huge predators up close in crystal clear water. Check out our Mexico liveaboard options.
New Dive Destination - Cenderawasih
One of the hottest 'new' spots on the planet is Cenderwasih Bay in Indonesia. Incredible images of multiple whale sharks near the surface have helped spread the word about this new frontier. No crowds chasing a single whale shark at these dive sites - sometimes the whale sharks outnumber the divers!
Add to the whale sharks, several World War 2 wrecks and some fascinating muck diving and you can see the attraction. More and more liveaboard safaris are venturing there. Go now and impress all your friends with your pioneering spirit!
New Dive The World Liveaboards
Check out what products we have brought online since the last newsletter:
Maldives: We are delighted to bring some improvements to our list of recommended Maldives liveaboards. Out go those who have failed to maintain the high standards our customer expect and in come 3 fab new additions:
Scubaspa Ying - Ideal for couples where 1 dives and the other loves pampering. Scuba diving and spa treatments in perfect harmony and on a beautiful liveaboard.
MV Leo and MV Virgo - From the Constellation fleet come these 2 new liveaboards which are already a big hit for customers in the low to medium price range. Great service and professional staff make these 2 standout choices for 2014.
Komodo: Mona Lisa and Mangguana - These are 2 new Komodo liveaboards that we think will fill an important need. Lots of people have restricted time and want more flexibility when in Indonesia. So these 2 boats fit the bill: You can join any day and stay for as long or as short a time as you wish.
Galapagos: Estrella Del Mar - When visiting as special a place as Galapagos it seems a bit of shame to some to only join a diving liveaboard cruise and then leave the country. There is so much to be seen above the waves here that we have listened to your needs and added an affordable non-diving liveaboard safari to our line-up of Galapagos options.
Estrella del Mar makes cruises from 3 to 7 nights around the central islands of the archipelago. Your naturalist guide will take you to some of the most fascinating spots and show you the vast array or stunning wildlife. Add this to your Galapagos liveaboard experience for an all round holiday of a lifetime.
Dive The World Operator of the Year Awards
Ladies and Gentleman, The secure briefcase has been unlocked and the envelope opened. We can now announce to an eager world, the winners of the prestigious Dive The World Operators of the Year for 2013. (drumroll)
The Liveaboard Operator of the Year is ... Humboldt Explorer, Galapagos.
The Dive Resort Operator of the Year is ... Mabul Water Bungalows, Malaysia.
(music, tickertape, flash photography etc) Congrats to these 2 operators in recognition of outstanding service to our customers. These awards are the result of many comments from customers all over the world about all aspects of their dive holiday experience, from accommodation to food, diving safety to staff service. In other words, voted for by you, our beloved customers!
Featured Articles
What's Coming Up
Here we take our usual look at what lies ahead in the next few months. We can give you ideas of where to go if you are planning a dive vacation for the first part of 2014. Where is it high season? Where are there good liveaboard or resort offers? Let us give you a few recommendations and lead you to diving Nirvana!: What's Coming Up
Single Travellers
Do you take diving holidays solo? It can be hard to organise friends, so more and more people take the plunge on their own. It's easy to meet people when partaking a shared passion so you are seldom alone for long. However, single supplements can raise their ugly head and hit your wallet hard. Want a guideline as to how to avoid these charges? What destinations are best for the single dive traveller? What resorts or liveaboards have the best policies? We answer your questions here: The Single Traveller
Belize Dive Trip Report
Have you dived Belize? Ever stopped to wonder what the diving is like there? Well we sent one of our intrepid reporters along to find out. Hopping aboard the Belize Aggressor for a week-long trip would prove to be an eye-opener for him. We also get a first-hand reaction to the world famous Blue Hole, which didn't excite the emotions you might belize it should!: Belize Aggressor Dive Trip Report
Creature Feature: Nudibranchs
Many non-divers happily live their life in complete ignorance of the existence of nudibranchs. However to divers, these are a fascinating addition to the marine world. Smatterings of colour littering the sea floor like diamonds in the rough. How much do you know about nudibranchs? I bet we can teach you and thing or two in this illuminating creature feature article: Nudibranchs