>
Newsletters
>
February 2018
Scuba Diving Packages Newsletter
February 2018 Contents
February is the traditional month of love. Millions across the globe celebrate romance, friendship and admiration on the 14th. Way back when, it was celebrated as a pagan fertility ritual which was later abolished by the Pope in favour of Saint Valentine's Day. Today it is synonymous with the chubby cherub Cupid shooting arrows of love and with a plethora of candy, cards and gifts. So what can Valentine's Day mean for scuba divers who cherish the oceans and sustainability?
During this month of romance, let us inspire you to give the gift of new experiences and shared time with your special loved one in 2018. We include many exciting diving packages to help you find the perfect romantic getaway. You may be bowled over by Mabul Water Bungalows and diving world famous Sipadan (like our colleague Jim). If adrenalin-fuelled dates are more your thing, find out where you can experience exhilarating tiger shark dives.
In this special month we also give you a sneak peak into your friendly Dive The World partners as we celebrate 15 years of being your diving buddies. Pour a cuppa, get comfortable and take some time out to be inspired for your 2018 scuba travel adventures.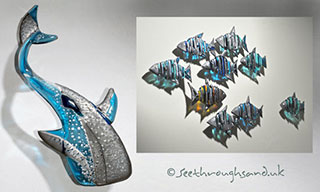 Dive News:
Exciting developments on the Dive The World website
New Dive The World liveaboards
Sea Through Sand
Features:
What's coming up: Diving highlights in the coming months
Dive The World is 15 years old!
Tiger sharks - here kitty kitty
Read our Malaysian trip report on Mabul Water Bungalows
Diving News
New website features
Check out our new and improved liveaboard search feature! The results look different. Now we give you more detail on the boats including key facilities and features. Plus we list the departures within your range of search. We are also adding filters to the search results so you can easily find the features you really want from a liveaboard.
Some of these features are mirrored in our new style of presentation on each liveaboard and resort page. Now you can quickly scan the top of each page and see important information such as: nitrox, Wi-Fi, promotional videos, special offers, our trip reports and some of the most interesting facilities and services in the 'At a glance' section.
Our boat schedules have been improved too. You told us you wanted more detail on each specific trip so now we give that to you. Our improved 'More Info' feature now includes more information on the trip highlights, diving environment and detailed day-by-day itinerary. So now you can get much more of a flavour of each cruise before you send your enquiry.
We now accept Bitcoin. It may be having a roller-coaster ride in terms of value right now but crypto-currencies are here to stay. If you want to pay for your scuba diving package iwith Bitcoin - no problem!
New Dive The World liveaboards
We have turned the new product spotlight onto the Maldives. We're delighted to share with you the range liveaboards that have recently been added to our lineup for your Maldive diving cruises.
Maldives: Carpe Novo Explorer, Eco Blue, Maldives Aggressor II, Blue Voyager, Soleil II, Theia
See Through Sand
If you're looking for a unique gift for a lover of the ocean, we recommend gorgeous custom-made fused glass art, crafted by friend-of-Dive-The-World Beth Tierney. This medium is an ideal way to represent the marine world as the light filters through the glass in much the same way as it does underwater. Every piece is hand-made and unique. Commissions are taken and items can be shipped worldwide. Check out the gallery of beautiful pieces, including seaside inspired panels to specific marine creatures at See Through Sand

.
Featured Articles
What's coming up
What does romance mean to you? For some it's all about luxurious accommodation, fabulous food and spa treatments, for others it's about journeying to the unknown and experiencing new encounters. No matter your preference, we can guide you to booking the perfect diving getaway package with that someone special in your life. See which specials are on the horizon or where your favourite creature is likely to be over the next couple of months… What's coming up ….
Dive The World is 15 years old!
Cheers to us - Dive The World is 15! To celebrate this milestone we're giving you a sneak peak into 2 of the characters that have made it all possible. Find out where Sheldon and Gavin's favourite dive spots are, which creatures have captured their hearts and which ones feature on their 'yet-to-see' lists. It's all here in … Celebrating 15 years ….
Tiger sharks - not so deserving of their reputation
Despite how the media inevitably portrays sharks, the statistics are favourable for diving with these substantial predators. Read on to learn more about diving with the 'feline' shark that elicits excitement and adrenalin like few other marine encounters…Diving with tiger sharks ....
Check out our resort report on Malaysia's Mabul Water Bungalows
If your ideal scuba vacation dream package includes turquoise waters surrounding a tropical island... If you long for luxurious cottages perched on stilts over crystalline shallows.... If you wish to have world-famous sites (as seen on Blue Planet II) on your doorstep, then be inspired to book your coveted holiday by checking out our ...Mabul Water Bungalows trip report... .


---
CUSTOMER TESTIMONIALS OF DIVE THE WORLD
... Yes this is the 5 or 6th trip we have booked through Dive The World and the team is great ... -- Mary Sue Roger, UK. [More customer reviews]