>
Newsletters
>
February 2018
>
Mabul Water Bungalows Resort Report
Sipadan Scuba Diving Newsletter
Mabul Water Bungalows Trip Report
I was very excited to visit Mabul Water Bungalows when I got the nod to pack my bags, my mind was full of all the creatures I had read about in the Sipadan/Mabul area!
Although I had been on plenty of liveaboards in my time, I was not that personally familiar with the experience of a dive resort. So to be going to a place where resorts are king and staying in arguably the finest of them was a treat indeed.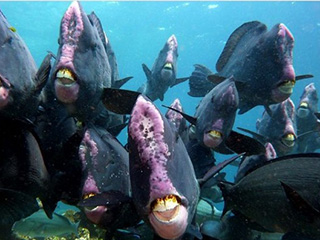 As omens go, a pod of dolphins accompanying us on our first speedboat ride to Sipadan on a glass-calm sea, was as good as it gets. We certainly enjoyed a fabulous few days' diving. We encountered big stuff like innumerable turtles, reef sharks, white tips, bumphead parrotfish and the most enormous school of silvery jacks imaginable.
To complement the big stuff we also saw a huge array of smaller critters. With my nose close to the substrate, I ran into a million nudibranchs, scorpionfish, ribbon eels, juvenile sweetlips and mantis shrimps. Thinking about it now, it is extraordinary how many different species I encountered – wow!
The Diving - Mabul and Kapalai
Sipadan scuba diving is the big drawcard here, but I was blown away by Mabul. I thought it would essentially just be the place where the resorts are stationed. However, the diving there was everything and more that I had read about.
On arrival day I did 2 house reef dives and on days 2 and 5 there were more dives around the island. The sites included a rocky outcrop, sloping coral reef, a drifting wall dive and a site below the oil rig of Seaventures Resort. That's quite a range of dive sites.
What I was not prepared for was the amount of larger creatures I saw here. I also came across triggerfish, parrotfish, giant moray eels, turtles, and adult sweetlips. I remember seeing a large pufferfish munching through the tricky spines of a sea urchin. There was always something going on in all the nooks and crannies. What an array of life!
The local dives sites were only a few minutes away so we were back at the resort after each dive. It's a lovely thing to be back on terra firma and dried off within a few minutes of surfacing from each dive.
Sipadan Scuba Diving
As for the main event, Sipadan came with a big billing and it certainly did not disappoint. Sipadan is a 20 minute speedboat ride from Mabul, but we didn't stay on the boat between dives. Instead we went ashore onto the island itself during surface intervals.
There were only 4 divers on our boat on day 1. We visited West Ridge where the visibility was great and swarms of little fish darted around in the sun-drenched corals of the shallows. It took a while for the big boys to show up. First a whitetip reef shark; next a turtle, and before we knew it we were surrounded by sharks, turtles, and a kaleidoscope of vibrantly coloured reef fish. It was difficult to know where to look.
We went on to visit Sipadan's top sites like Barracuda Point, White Tip Avenue and Coral Garden. It is difficult to remember where we saw what. The sights, much like the sites, merge and blend with each other. I saw numerous turtles and sharks on every dive. On some dives we ran into the mega-school of jacks, on another the bumphead parrotfish barrelled through, on others still we saw schools of batfish. There were also banded sea snakes, butterflyfish and triggerfish to watch out for.
I concluded that Sipadan fully deserves its reputation as being among the world's finest dive sites.
The Diving Service
I found the Mabul Water Bungalows staff and service around the diving process to be relaxed but professional. I was impressed with the friendliness and English language skills of the divemasters who were all Malaysian.
Speedboat rides took us to all the dive sites with no more than 10 divers in the boat at any time. Backrolling or giant stride were the 2 means of entry, even though the backroll involves quite a drop.
Sipadan Permits
Sipadan scuba diving is hugely popular but the numbers there are restricted. 120 permits a day keeps a lid on the number of boats and fins around this special island. The guarantees for days at Sipadan vary from resort to resort. I had 5 diving days with 2 at Sipadan. I felt lucky although most divers at the resort seemed to enjoy a similar ratio. Ultimately, it simply depends on how the cards fall during the time of your stay.
The Resort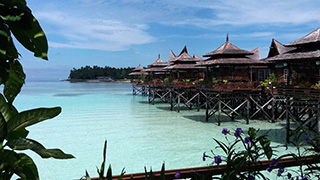 Mabul Water Bungalows and SMART resort are under the same management. Although separate resorts, they work in conjunction. As a guest at Mabul Water Bungalows, I was welcome to walk about SMART resort; use the pool and bar.
Mabul Water Bungalows is the more high end of the two, with beautiful stilted wooden cottages over the shallow sea. It also has a house reef to explore by simply stepping off the resort's wooden steps. It is a gorgeous resort with a long jetty leading from the beach to the cottages. The common parts are well-maintained and festooned with hanging baskets and flower pots. In all, they have created a lovely atmosphere.
The cottages have air-conditioning, private bathrooms, and large and private balconies from which you may even see turtles up close. The décor is ethnic and contemporary. You can enjoy the satellite TV with plenty of channels and Wi-Fi access throughout the resort. The resort has a large restaurant, dive center, and souvenir shop.
The Food
Dining at Mabul Water Bungalows is buffet-style and starts at 07:00 hrs with breakfast. Lunch is at 12:00 hrs and dinner at 19:00 hrs. All 3 are open for 2 hours, so there is no need to rush to be at the front of the queue. Normally meals involve 4 main dishes with rice and noodles, typically including curries and vegetable stir-fry style dishes. Breakfast features eggs, toast, rice porridge, ham and sausage. You will find plenty of cakes and fresh fruit. So there seems to be plenty of choice although it may be a little limited for vegetarians and vegans.
Getting There
I flew into Tawau, the nearest airport, from where I was picked up and transferred for 1 hour by minibus to Semporna. Semporna is a scruffy port town where boats leave for the resort at 10:00, 12:30 and 16:30 hrs. Only if you make the first boat transfer can you get to the resort in time for diving on the first day. To make the last transfer you shouldn't plan to land any later than 14:40 hrs.
My flight didn't arrive until 5 pm so I overnighted in the Promenade Hotel in Tawau which was a fine hotel and good value for money. I was picked up there next morning at 08:00 hrs and made the first speedboat transfer which got me to the resort in 40 minutes.
Conclusion
I had an awesome time at Mabul Water Bungalows which was a beautiful place to stay. The diving in both Sipadan and Mabul exceeded my expectations. It was simply spectacular and gave me many memories to last a lifetime.
If you want to check out this unique dive destination for yourself and you are looking for a stylish comfortable resort, then I would certainly recommend Mabul Water Bungalows.

---
CUSTOMER TESTIMONIALS OF DIVE THE WORLD
... Pip timely responded to all of my questions and gave thorough answers. Pip was very responsive to my questions. This was our first live aboard and the "Know before you go" was very helpful ... -- Traci Edwards, USA. [More customer reviews]