>
Newsletters
>
February 2018
>
Celebrate 15 years
Dive The World Newsletter
Celebrate 15 years
Dive The World, the most established, online diving specialist travel service, is celebrating 15 years of making your diving vacation dreams come true! We want to celebrate it with you, our diving buddies, by sharing a little more about the owners and show our appreciation for your support over the years.
How it all started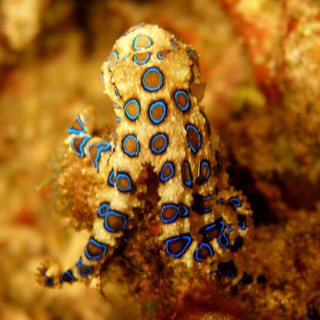 Back in the day of the internet boom Dive The World's founding partner, Sheldon Hey, embarked on a new and exciting career. He combined his passion for diving and business skills and Dive The World was born in 2002.
For the past 15 years Dive The World has been the online 'go to' resource for all your diving holiday needs. We are a diving travel business that has been built by a team of scuba divers through hard work, dedication and a love of the ocean and all its creatures.
15 years on, what do we offer you?
From small beginnings, our website has continued to evolve and now offers you a wealth of information that guides you to booking the lowest priced diving holidays guaranteed.
If you want to know more about diving in a specific destination? We have that covered in our Dive Destinations - Scuba Diving Sites pages.
Do you have a preference for liveaboards or is a resort vacation more your style? We offer both.
Need some additional insight on how to get to your selected destination? Go to our various 'How to Get There' sections.
If you want to learn more about a specific creature? Head to our Creature Feature pages.
Interested in learning more about our personal diving experiences at the various liveaboards and resorts we offer you? Take a trip down our memory lane via our Trip Reports pages.
After scouring our pages, if you are spoilt for choice and you're still trying to choose between a couple of enticing destinations, contact us for professional, personal advice and assistance for booking your perfect diving vacation. They will promptly share their wealth of experience with you and make your diving vacation booking a breeze.
'Meet' our partners
To mark an amazing 15 years of working in an industry that is our passion and to celebrate helping you to make your diving dreams come true, we would like to give you a sneak peak into Dive The World's managing partners. Are they enigmatic as the weird and wonderful sea creatures you have to enter a submarine to observe or are they colourful and flamboyant as the many reef fish that populate the pristine reefs of the Bahamas? We'll let you decide …
Founding partner and General Manager, Sheldon Hey
Sheldon, as Dive The World's founder and GM, we know you're an extremely busy guy (especially as you're working around the clock to roll out our new and exciting website features), so without further ado let's take a giant stride into our interview and dive right in.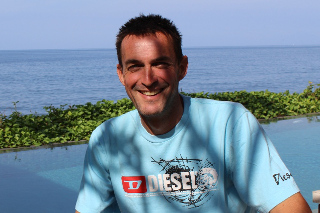 Q: As a highly qualified, seasoned diver who's had the privilege of diving across the globe, what diving advice would you give your younger self when you first embarked on your diving career?
A: Well, a couple of things. Firstly I think that experience is far more important than training certificates. The popular scuba certifications, such as PADI, are not very rigorous in their standards. Gaining a wide range of experience in a series of small steps will turn you into a far more competent and safer diver. Secondly, I found that my own enjoyment of diving has grown with my knowledge of the underwater world. I get more fulfillment from visiting a new region if I know something about the marine life there. So I always research a little about a place beforehand and during a trip, to gain more knowledge of local species etc. That way, every trip is special and unique.
Q: We know that you enjoy the big, bad and ugly as well as the minute, if you had to select your favourite creature, which one would you pick and why?
A: Difficult question to choose just one … but I'll go for the blue-ringed octopus. The first time I saw one (at Gili Banta, Komodo) I couldn't believe how tiny it was, having previously only seen close ups of the creature in books and on the internet. It's amazing how nature has combined something so deadly poisonous with something so bright, cute and colourful … a bit like my choice in women really.
Q: You've chosen to live in sunny South Africa and support the Durban based non-profit, Sharklife; what drew you to this particular organisation and motivated you nominate it as a Dive The World chosen charity?
A: I met the founders, who are really friendly guys, dedicated to the protection of sharks in general but specifically to the population of bull sharks at Protea Banks, an area off the coast of southern KwaZulu Natal, which receives very little other protection and is exploited by uncaring and uneducated "sport" fishermen. I think it is a worthwhile cause, and they need support.
Gavin Macaulay, Managing Partner
Diving in Malaysia provides an abundance of diving environments and creatures, it was also the entry point for a new life adventure for our Managing Partner Gavin. Gavin we're eager to share your diving story with our readers.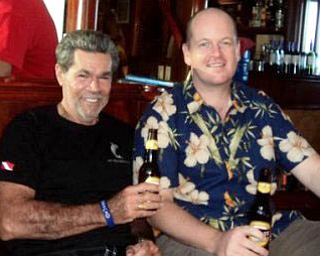 Q: Having lived in Malaysia for a number of years, which are your top 3 Malaysian dive sites? Of course you need to share with our readers why they made your top picks.
A: All the world-class diving Malaysia has to offer is in Borneo and it really isn't difficult to name the top 3. Sipadan Island / Mabul, Layang Layang and Lankayan.
Sipadan remains an amazing and somewhat unique destination. The biomass of marine life around Sipadan Island itself is very impressive and Mabul with all its critters and macro life is the perfect partner. Together they are awesome.
I was right beside a massive school of hammerheads within the first 10 minutes of my first dive at Layang Layang, years ago. That was a first for me, so will always have a special place in my heart. Lankayan is a lovely little island with really nice, easy diving all around: baby sharks in the shallows, turtle hatchlings being released, jawfish everywhere - perfect for a few relaxing days.
Q: Almost all divers have a must see wish list. By now you must have ticked many, many boxes. Which creature was on your list and simply took your breath away when you first encountered it and which marine animal has been elusive and currently number one on your must see list?
A: First time encounters are special, breath-taking moments. My first manta ray (Komodo), whale shark (Thailand), mola mola (Indonesia), tiger shark, great white (South Africa), sea lion (Galapagos) are all fond memories. My first octopus just after doing the open water course was a moment of great excitement.
However, there are some things you spend ages waiting to see and then finally see them. Lembeh in Indonesia gave me loads of those like flamboyant cuttlefish, pegasus, fingered dragonets, stargazers… My first visit to Lembeh really revived my love for diving.
Contrary to Sheldon, a blue-ringed octopus is still on my list. I have done plenty of dives in places they are found, even on dives where others have encountered them, but I have yet to clap eyes on one myself. It is frustrating but also good to have a list and there are still plenty of creatures on mine.
Q: Since arriving in Malaysia you've wed a beautiful lady and together, you are now the parents of an inquisitive little guy. Where do you dream of diving with your son one day and why this specific location?
A: I love the idea of diving with my son one day. To watch him discover things underwater for the first time would be great. I would love him to experience the Galapagos. I spent 2 weeks there and there was something magical about it. Just to be in a place so pivotal to man's understanding of the natural world was a thrill. I read up all the Darwin I could before the trip. The weather was perfect, the diving immense and the land tours fascinating. I would love to see my family experiencing something similar, something genuinely life-enriching.
Thank you!
Our whole team would like to thank you for coming on this journey with us. We value and appreciate your feedback, please do contact us directly with suggestions on how we can improve our website or the service that we offer.
We look forward to many more years of providing you professional service to ensure you experience numerous amazing diving adventures. We offer our loyal customers a range of incentives and discounts - ask us how you can make your $$$ stretch to more diving destinations.

---
CUSTOMER TESTIMONIALS OF DIVE THE WORLD
... A prompt reply is always appreciated ... Good website! ... All the info you need to choose the dive centre ... -- Ilkka Tuohiniemi, Finland. [More customer reviews]