The waters of Ari Atoll are among the best in the Maldives for encounters with big marine life, in particular whale sharks and hammerheads, and manta rays. The shallows are dominated by pinnacles which act as magnets to fish, and by channels in which predators can hunt.
There is a huge number of excellent dive sites in the region, such as the world famous Fish Head and Maaya Thila. Here you will see big schools of snapper, large groups of grey reef sharks, eagle rays, and even occasionally a guitar shark. The pinnacles are also home to smaller marine creatures such as frogfish and zebra morays. At Rasdhoo, lucky divers get the chance to spot hammerhead sharks in the inky abyss. This is an early morning dive, but fortunately so is the nearby Manta Point, a manta ray cleaning station – what an incredible combo trip!. The house reef is a great place to spot turtles, leopard sharks, as well as a myriad of tropical reef fish.
The dive centre´s professional crew will take you on daily dhoni dive boat trips to the best dive spots in North Ari Atoll. There are over 40 different sites within 25 minutes ride, so these excursions are suitable for beginners, newly-qualified, as well as more experienced scuba divers. You can join the morning trip (08:30 am - 12:00) or the afternoon trip (2:30 pm - 6 pm). There are 2 dive boats, both of which carry up to 20 divers. They are equipped with radio, life jackets, flag, oxygen and medical kit, and along with all the scuba equipment and snorkelling gear. Drinking water, tea and coffee are available onboard.
The inner atoll waters of Ari are a great place to try scuba for the first time. You could take a non-diver package and book a "try-dive" (PADI Discover Scuba Diving), or learn to dive in 3 days and earn your full diving certification (PADI Open Water Diver). The diving centre has a classroom, coffee bar, lounge, shower, WC, wi-fi, and a range of branded dive gear and accessories.
Ukulhas and Accommodation
Shaped like a pearl, Ukulhas is a small island and one of the top locations in the northern region of Ari Atoll (Alif-Alif) in terms of natural beauty. It is located 70 km east of Male and surrounded by coral reefs. The 2 km long eastern shoreline features an unbroken stretch of beach of snow-white sand gently washed by turquoise waters from one of the most beautiful lagoons of the atoll.
We offer accommodation and diving packages with full board accommodation and daily diving trips included. There are 3 participating 3 star hotels available where you can stay in these packages, all of which are the same price - Olhumathi, Island Home and West Sands. Olhumathi View Inn is a guesthouse with a fitness centre and private beach area. Guestrooms and family rooms feature free wi-fi and flat screen TV. The onsite restaurant serves both local and international cuisine, as well as vegetarian meals on request. Beach BBQs and romantic dinners are also available. Island Home Inn has a garden with a children's playground, as well as family rooms. All guestrooms offer garden views and there is a sun terrace with table tennis. West Sands Guest House is a beachfront property with a garden and shared guest lounge. Water sports are popular here.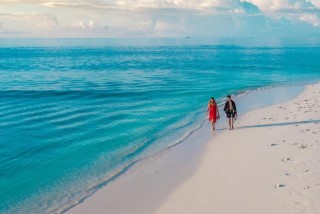 Facilities: free in-room wi-fi, satellite cable TV, private bathroom with toiletries, TV/coffee, room service, shuttle service, restaurant (special diet meals upon request), barbeque, scuba diving facilities, beach (free beach towels, parasols and sun beds) and water sports, bicycle rental. The island is an award winner for its environmental friendliness and is well known for its cleanliness and well-maintained waste management and recycling system.
A range of water sports are on offer, but scuba diving and snorkelling are rightfully at the top of the list. Try your hand at water skiing, sea canoeing, windsurfing, and big game fishing, or join a sunset cruise or dolphin and manta spotting tour. There is also a public fitness gym on the island, and a health care centre.
There are several convenience stores, as well as restaurants and cafes in Ukulhas offering a broad range of Maldivian, Indian, Thai, western and eastern cuisine. Seafood is most prominent, in a variety of sweet, sour, hot and spicy flavours. Try a local dish such as garudhiya fish soup or a succulent chili, lemon and onion curry.
Package prices per person based on twin share basis (valid until 30 November 2021):
3 nights / 6 dives - US$ 850 / non-diver US$ 575
4 nights / 8 dives - US$ 980 / non-diver US$ 725
5 nights / 11 dives - US$ 1,290 / non-diver US$ 875
7 nights / 13 dives - US$ 1,550 / non-diver US$ 1,175.
Package prices include: accommodation in 3 star hotel, continental breakfast, lunch, dinner, return transfers - Male to hotel (1 hour each way), dives, scuba equipment rental (incl. dive computer), divemaster, tanks and weights, all taxes.
Prices exclude (mandatory, unless customer provides own): None.
Optional extras: alcoholic drinks, soft drinks, full range of PADI dive courses and programmes, nitrox for enriched air-certified divers (US$ 32 per dive), dive insurance. Unless otherwise stated, all the listed items need to be paid on arrival (USD cash or debit/credit card).
PADI dive course/program prices per person (valid until 30 November 2021):
Discover Scuba Diving (2 dives / 1 day) - US$ 160
Open Water (5 dives / 3 days) - US$ 780
Advanced Open Water (5 dives / 3 days) - US$ 600
Course/program prices include: scuba equipment, dives, training, book and certification, all taxes.
You might enjoy viewing our video library which shows some of the marine life you will encounter when diving in the Maldives.
Your Additional Needs: through our partners we can also help you with hotel bookings and travel & diving insurance.
Why is Dive The World the best way for you to book your vacation?
We are the best price you will find. Dive The World's Lowest Price Guarantee - If you can book the same package elsewhere online, at the same time, then we will beat that price.
Free dive insurance for first time customers - you are covered for diving accidents on your trip.
Book now, pay later - You book, we hold the spaces and you confirm with a payment later.
Only pay when you are ready - We won't demand your credit card right away. You pay only when you are comfortable.
24 hour cancellation window - After confirmation you have 24 hours to book flights. Any problems you can cancel.
Loyalty Bonuses:
- Once you complete a simple QA form, as a returning guest, you are entitled to a 5% discount in any of our worldwide destinations!
- Make 5 dive bookings with us and receive 10% off the price of your 5th booking from Dive The World's Gold Range.
- Free booking amendments.
Refer a friend - recommend us to your friends and claim a discount voucher of up to US$ 100.
Quick personal communications with our independent agents - we will get back to you right away with full details of our recommendations based on our experience.
Charitable donations - By booking with Dive The World you are helping us to contribute to our chosen charities that help protect the marine environment.
You have a bigger choice - we match your requirements against hundreds of options before making the recommendations that suit you.
You're not being used to fill our boats - Your satisfaction is our priority. We want you to get what you expect at the best price. Also if things go wrong with the operator they will want to keep us happy more than a customer they will never see again. So we will represent you.
See our Terms & Conditions including Cancellation Policy page for more details on these benefits.