>
Dive Destinations
>
Hawaii
Your Guide to Scuba Diving in Hawaii
Kona Big Island Scuba Adventures for Sharks, Mantas and More
...Highlights: shark action, manta rays, dolphins, turtles, schooling fish & big pelagics...
...Hawaii's diving environment: healthy reefs, caverns, beginner and advanced divers...
Hawaii, the most isolated archipelago on the planet, and has no continental shelf. This means the drop-offs here are close to shore and genuinely abyssal. The dive sites often feature shallow reefs flats and walls meaning divers of all levels can enjoy the wide variety of habitats.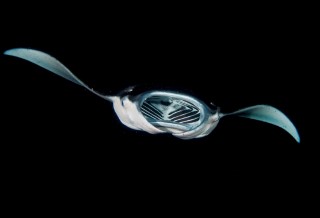 In the Aloha State the best diving is concentrated around the westcoast of Hawaii's big island, Kona, the focus of 1 week-long liveaboard diving cruises. Typically the visibility here is excellent, often in excess of 100 ft (33m), and the reefs are flooded with sunlight. This relatively young volcanic island offers topography including exposed lava shores, underwater lava tubes, rugged pinnacles and archways. Kona means 'leeward' in the Hawaiian language so it is no surprise that the surface is often glass-calm along this coastline, making it a delight to roll into its warm, clear water.
Living within this dramatic seascape is a vast array of marine species. Many you will not have seen before since over 20% of the fish species are endemic to these islands. There are many smaller creatures to spot including frogfish, lobsters, moray eels, octopus and a variety of crustaceans. More common larger species to sight are manta rays, eagle rays, turtles, dolphins and barracuda. The sight or sound of humpback whales may also be a feature of your Hawaii scuba diving experience.
Sharks are often present too. Oceanic whitetips, blacktips and hammerheads are more frequently seen. However the line-up of possible visitors, depending on your luck is a long one: Galapagos, tiger, sandbar, blacktips, mako and even great whites. You won't see them all! What you will see is a beautiful tropical coastline, ever-changing reefscapes, some wonderful photographic opportunities, a mix of large and small marine creatures, and innumerable new species.
Dive Site Descriptions
Keahole Point/ Manta Theater
One of the highlights of any Kona diving trip is the manta night dive. It can take place in at least 2 different dive sites along the northwest coast of Big Island. one is Keahole (Keauhou) Point. Using lights to attract plankton, oceanic manta rays are lured in for a sunset feast. This site is sometimes called 'Manta Theater' and when the performance begins the audience observe in awe. Huge mantas swoop elegantly in towards the light, scooping up as many of the tiny organisms as they can. Sometimes they barrel round and round to the delight of the onlookers. Normally there are multiple mantas present, with as many as 12 seen on a single dive. Divers normally watch from the rocky sea floor while snorkelers look down from the cheap seats.
Au Au Crater
This is one of the most dramatic dive sites at Big Island, Hawaii. Au Au is a submerged volcanic crater has seen the collapse of its oceanside edge. It has been described as being like an aquarium, so varied is the marine life. As you cruise around in the shallower sections of the reef at around 30 ft (9m), you can spot myriad nudibranchs, lionfish, frogfish and dwarf eels. There is also a cleaner shrimp station so you can get some pics of them crawling on your hands or even in your mouth./p>
Toward the deeper sections and where the crater gives way to a steep drop-off, the marine life changes. A variety of butterflyfish flit around the top of the wall including ornate, raccoon and millet-seed. Also Tinker's butterflyfish, normally seen at greater depths, are present in large numbers. Turtles and jacks are commonly sighted and, if your luck is in, this can be a great place for eagle rays and sharks. The most common shark species at Au Au Crater are hammerheads and oceanic whitetips.
Kalokos Arches
This is a fantastic example of the lava tubes that make diving in Hawaii so unique. At the time of the site's creation, the outer surface of a lava flow cooled to a crust, while beneath it the flow continued, ultimately becoming a hollow tube. Now what is left of these tubes is a number of arches and swimthroughs which provide shelter for sponges, corals and an array of marine creatures.
This is one of the most northerly of the Kona dive sites. This is a great place, not only for photographs of you and your buddies swimming through the arches, but also for spotting and identifying flatworms and nudibranchs. Spotted eagle rays and turtles are often seen here too.
Turtle Pinnacle
Also known as Turtle Heaven, there can be little debate as to the star of the show at this Big Island dive site. This is a cleaning station, with a maximum depth of 18m, where green turtles come to be groomed and have little parasites and imperfections picked from their carapaces. They can remain perfectly still during the process, making them excellent photographic subjects. These cleaners are Kole Tang (Ctenochaetus strigosus), a type of surgeonfish particularly partial to the algal growths on turtles' shells. The tangs get an easy meal and turtles benefit by leaving with smoother shells which reduces drag as they swim through the water. Spinner dolphins occasionally pass by in the blue, while moray eels and octopus are common in the crevices of the reef.
Tubastrea Tunnel
Located quite far out at sea from the village of Miloli'i towards the southern end of the west coast, this site is far enough from shore to make it mostly for liveaboard divers alone. The reefscape here is an ever-changing series of canyons, swim-throughs and ridges. The tunnel that gives the site its name is a navigable lava tube that stretches for around 40 ft (13m) in length and is decorated with a lot of beautiful pink, orange and yellow tubastrea coral. You can expect excellent visibility here. Water temperatures are often a little cooler than elsewhere, at around 75˚F/24˚C. Look out for green turtles and the 3 resident frogfish on the reef, as well as sharks in the blue.
More Great Kona Dive Sites
Other sites generally considered to be among the best dive sites in Hawaii include 3-Room Cave, a lava tube stretching some 200 ft (60m) with 3 large chambers. Outside the chamber are schools of reticulated butterflyfish and green turtles while inside you can see pufferfish, myriad nudibranchs and a number of species of lobsters. Black Coral Forest features a thicket of black coral trees starting at 90 ft (27m) acting as home to longnose hawkfish and viper eels. Catacombs is a shallow coral garden with a series of arches and swim-throughs where light shines down in shafts through openings in the tunnels ceilings. Manuka Bay is frequently selected as a night dive with residents such as dragon eels, frogfish and flame angelfish (Centropyge loriculus). Paradise Pinnacle is a renowned seamount of black sand where crocodile eels, cleaner shrimp and hairy hermit crabs are among the marine life. Wall's Wall drops to a depth of 150 ft (45m) and is one of the many reef's edges where butterflyfish abound. Here are innumerable pyramid and Thompson species.
How to Dive Kona, Big Island
Our Hawaiian liveaboard trips focus on the west coast of Big Island and venture far from the reach of the Kona day boat diving operators to South Point - the southernmost tip of Hawaii. It is therefore only possible to see these sites onboard a liveaboard yacht.
Since Hawaii has a very low number of liveaboard operators, availability is often an issue. We recommend you book 12 months in advance to avoid this problem.
The Hawaii Diving Season
You can dive at Big Island all year round. The ocean water temperature is cyclical through the year, peaking at 27°C (80°F) in September and falling to 24°C (76°F) in March. A 3 or 5 mm wetsuit is recommended, and for repetitive diving you may also want to bring a hood. Being sheltered on the leeside, Kona's surface conditions are usually calm; the exception being during short-lived winter storms. With few river outlets and almost no coastal sand to spoil water clarity, visibility is consistently greater than 100 feet. Visibility is consistently greater than 100 ft (30m) throughout the year (no seasonal variation). The Pacific currents can be strong at the more exposed sites.
The weather is tropical and very consistent, with cooling winds and only minor temperature changes throughout the year. There are 2 seasons: summer from May to October and winter from November to April. The summer temperature at sea level is 87° F (30.5° C) in August, while the winter temperature is 81° (27° C) in February. However, Big Island has several climate zones due to its tall mountains (over 13,000 ft/4,000m), and you can experience tropical weather at sea level and snow at altitude on the same day! The rainy season runs from December to May (December is the wettest month), but most of the rain falls in the mountains and valleys on the windward (northeast) side of the islands. For more details on the climate of Kailua-Kona and Big Island, visit the Weather Atlas website

.
Humpback whales frequent Hawaii from January to early May. Tiger sharks are common residents in the summer months.

Where is Hawaii and How Do I Get There?
Review our map below showing Hawaii's location in the world.
Hawaii is an isolated group of 8 major volcanic islands and 124 islets in the central Pacific Ocean. The islands lie 2,397 miles (3,857 km) west of California and 5,293 miles (8,516 km) east of Manila in the Philippines. The state capital is Honolulu, located on the island of Oahu. Our liveaboard diving cruises depart from Kailua-Kona on Big Island.
Hawaii is well connected, with direct flights to Kona International Airport (KOA) from the USA (most popular hubs are Los Angeles, San Francisco, Seattle, Denver, Phoenix, Oakland and Portland), Japan and Canada. It's also possible to fly in to one of Hawaii's other international airports such as Honolulu or Maui from New Zealand, Fiji, Samoa, Taiwan, Australia, South Korea, or Philippines, and then catch a domestic flight to Kona. Airlines that operate flights to Hawaii include Air Canada, Air New Zealand, Air Pacific, Alaska Airlines, Allegiant Airlines, American Airlines, All Nippon Airways, China Airlines, Delta, Hawaiian Airlines, Japan Airlines, Jetstar, Korean Air, Philippine Airlines, Qantas, United, and Westjet.
Hawaii is one of the 50 states of the United States of America and as such visitors must comply with the entry requirements as detailed on the Homeland Security

website.
Reef Summary
Depth: 5m - >40m
Visibility: 20m - >30m
Currents: Can be strong
Surface conditions: Usually calm
Water temperature: 24°C - 27°C
Experience level: Intermediate - advanced
Number of dive sites: ˜50
Recommended length of stay: 7 days
Useful References


---
CUSTOMER TESTIMONIALS OF DIVE THE WORLD
... Quick and professional, adequate help and information. Very customer friendly! Sheldon was a grat person to talk to. He went out of his way to help me. Thank you for all the help and hopefully we talk again ... -- Olga Shudofsky, Netherlands. [More customer reviews]