>
FAQs
>
Myanmar
Diving Burma
Frequently Asked Questions
All Myanmar liveaboard operators have their pick-up points in Thailand; usually either Khao Lak or Ranong. For departures from Khao Lak you should fly into Phuket and take the operator-provided transfer to the boat. For departures from Ranong, you can either fly to Ranong or fly to Phuket and arrange your own land transfer to Ranong. If you are already in Myanmar, you can meet your liveaboard in Kawthaung.
>
Do I need to apply for a visa to visit Burma?
Details can be found in our tourist information section.
Is there a fee to pay to dive in Burma and the Mergui Archipelago?
Yes there is a fee that varies from US$ 200-250, depending on the cruise length. It is a combination of border, diving and entry fee and must be paid in cash to Burmese authorities in new US dollar bills. We will inform you of the exact amount before you travel.
Please note that at the entry point to Myanmar it is not possible to buy US dollars or to change money. The fee must be handed over to the authorities before entering Burmese waters, so please be prepared.
I have a visa for Thailand. Might I have problems coming back to Thailand?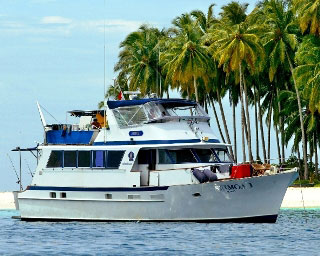 Yes, it might be a problem. You will leave Thailand and your passport will be stamped on exit and re-entry. If you are from a country that is granted a visa on arrival then this is no problem.
If you are citizen of a country that isn't allowed a visa on arrival in Thailand then please make sure you have a visa that permits multiple entries into Thailand. We recommend you contact the Thai Embassy in your country to ensure you are in compliance with all necessary visa requirements. If you are in this category and have entered Thailand with a single entry visa or a standard tourist visa, you must apply for a re-entry permit. This cannot be done in Ranong so must be done in advance in Phuket or Bangkok. Note also that immigration offices are closed on Saturday, Sunday and public holidays.
You will need 2 copies of your passport front page and last entry stamp in Thailand or last valid visa, and 2 passport size photographs. We recommend you check all the latest prices, rules and requirements for yourself before your trip.
Will we set foot in Myanmar during the trip?
Apart from a short stop in Kawthaung for immigration control, all of your time will be spent around the waters of the amazing Mergui Archipelago. The terms of your entry permit are restricted to just visiting and diving this region.
Can I stay and travel in Burma after the cruise?
No, you cannot do so under the entry permit granted for the diving Burma cruise. At the end of the trip you will return to Thailand. If you wish to visit Myanmar you must apply for a visa at the Burmese Embassy in your country or in Bangkok. There are also specialist travel agencies that can help you arrange this.
Why do you not recommend any resorts in the country?
Really there is only 1 dive resort in the Mergui Archipelago and staying there will limit your diving to just a few spots. Plus the best diving is far from the resort's island. Further, a resort stay follows the same travel regulations as a cruise so you are not permitted to visit the Burma mainland either. After your stay you would have to return to Thailand. The only way to really get to experience the full wonder of the beautiful islands of the Mergui Archipelago is by liveaboard.
Burma is a tropical country and the weather is affected by monsoons. The dry and cooler season is from November to March, then hot from March to May. Rain is common between June and October.
What is the best way to dive Burma?
The best way is without doubt by liveaboard. The best scuba diving in Burma is found in the Mergui Archipelago which includes more than 300 islands, and around Burma Banks which requires a minimum 7 night trip. Most of the best diving involves distances well beyond the scope of regular resort daytrips.
Is the diving similar to the Similan Islands?
In some areas there are indeed similarities. However, the more exposed and remote sites in Burma tend to be subject to currents that can be strong, making it more common to see pelagic fish and oceanic sharks. One distinct difference is that in Myanmar it is not common to see too many other liveaboards in the water, since it is a much larger area and there is less boat competition than in the Similans.
Where will we dive - Similans? Burma Banks?
Not all the boats go to the Burma Banks, only the longer cruises, so please check the itinerary to see if the trip you are interested in includes Burma Banks. The boats which depart from Phuket or Khao Lak will include a combination of diving around the Similan Islands and the Mergui Archipelago. Those that depart from Ranong usually dive only in Burma. See the specific itineraries for more details.
Is the cruise suitable for non divers?
Non-divers are welcome on all liveaboard cruises. For those who enjoy boat life it is an unforgettable experience, cruising in the Mergui Archipelago. There are untouched islands with wild sandy beaches, clear water with great marine life and plenty of good snorkelling opportunities. However, do not expect too many island visits or islands with lots of activities. Most of the islands are deserted and overgrown.
Is it difficult to dive in Myanmar?
Some areas such as Burma Banks can provide quite challenging dives, especially when the current is flowing. We recommend you take your advanced and deep diver specialty courses before going on the trip. Advanced courses are also available on each boat. Use of a dive computer and surface marker buoy are also strongly recommended. Also keep in mind that Myanmar is remote and evacuation can take up to 1 day, so please dive well within your limits and always within no decompression limits. Please also arrange your own diving insurance.
What are the diving conditions like?
The diving season is limited from November to the end of April, the tropical dry season, so it is likely that you will enjoy sunny skies, especially from mid-January to mid-April. Between November and mid-January thermoclines are common and visibility ranges from 15-20 metres, due to the high concentration of plankton that also attract mantas and whale sharks. Around this time the water temperature drops and is normally between 24-28°C.
Following this, conditions improve again to their optimum in February with visibility over 25-30 metres and water temperatures between 27-30°C. Currents can be strong during Full and New Moon.
When is the Peak Season for tourism?
The tourist season follows the diving season from November to the end of April. Remember that you will be returning to the west coast of Thailand and it is also Peak Season there too.
What are the languages spoken?
English is commonly spoken in Myanmar. The boat crew is from Thailand and the diving crew are usually from many different countries. If language is a problem for you, let us know and we will suggest you the boat that best matches your requirements.
The US dollar is the most common, along with the Thai Baht. Remember that the border/scuba/entry fee must be paid in new US dollars notes. During the brief time on Kawthaung, US dollars and Thai Baht can be used for shopping. We suggest to take sufficient cash with you since it will be very difficult change money and find an ATM once you have left Thailand.
What credit cards are accepted?
Some boats accept VISA and Mastercard, but you must check with us. It is advisable to have cash with you for trip expenses not included in the trip price. These include diving fees, any on board purchases from the shop plus any gratuities. Note that American Express and Diners Club are rarely accepted and normally only at big hotels.
I am a solo traveller. Will a single supplement need to be paid for the liveaboard?
If you are diving on a liveaboard in Burma as a single traveller, you will normally pay the normal price per person and share a cabin with another guest. Otherwise you can reserve a double or twin cabin for yourself if you pay a single supplement. Each boat has their own policy, ranging from a supplement of 50% to 90% of the published price. Of course, you may be lucky, find that your cruise is not fully booked and end up having a cabin to yourself, but you can not rely on that happening. Check with us for advice on which boat best suits your needs.
What communications will be available on board?
Burma doesn't have a proper mobile network and where mobile phones are used, the service is provided by Thailand providers. All boats have satellite phone and fax and radios to communicate. Internet is never available.
No, it is not generally necessary to take any vaccinations to visit Burma, but you should always consult your own doctor before any such trip. The boats have a limited pharmacy and medic first aid kits on board. Wearing long sleeves and trousers at dawn and sunset can help to avoid mosquito bites. Keep in mind that Burma doesn't have a real medical system or hospitals. Serious cases need to be evacuated to Thailand and the journey could be long and expensive. Please come on board with your own medical, diving and travel insurance and be sure that they cover accidents that happen in Myanmar.
Why is Burma now called Myanmar?
The Junta that ran the country decided a few years ago to abandon the old name and changed the country name from The Union of Burma to The Union of Myanmar. Burma remains the common name to refer to this country.
What about the moral and political implications of visiting this country?
Myanmar is a country that has been dogged by recent crises that have negatively affected both its reputation and its tourism industry. Previous causes for concern centred around the brutal rule of the military junta. More recently it is the plight of the Rohingya people, in areas near the border with Bangladesh, that make people think twice about visiting.
Obviously the reports we hear of in the news contain distressing details. Even though the areas where these issues arise are very distant from regions of Myanmar (particularly those that divers visit), this creates a moral dilemma for many.
It is worth noting that during a Burma cruise you won't see much of the land and have only very limited contact with people. We only offer Myanmar diving on liveaboards that are operated out of Thailand. We do not offer any land based tourist activities in Burma. We do not consider that scuba divers who pay an entry fee contribute in any meaningful way to supporting the government.
Those wishing to make a difference should lobby and pressure their own governments into action and devote their well-intentioned energies to where the problem lies rather than areas of insignificance. Your trip won't change the situation there but at least it might help the southern border population a little. Keep yourself informed about the situation in the country as occasionally the Thailand-Burma borders shut down without warning.


---
CUSTOMER TESTIMONIALS OF DIVE THE WORLD
... All my questions were answered promptly, helpfully and with a lot of patience. The booking was completed very efficiently and with minimum fuss ... -- Shajeev Wanigasekara, Sri Lanka. [More customer reviews]