>
Newsletters
>
March 2006
Dive The World Newsletter
March 2006 Contents
A warm hello to all who read the Dive The World newsletter. We hope this finds you well and enjoying 2006 so far. If so, why not make it better by thinking now about planning an unforgettable dive trip. If not, then cheer yourself up with a dip into some warm equatorial waters.
News!
   New destinations - Koh Samui
   Phi Phi Islands re-launch and new luxury resort
   North Sulawesi offer
   Mataking wreck sunk
Features
   How to get started in underwater photography
   Mucking around in Lembeh
   The silent suffering of fish
   Creature feature - Komodo dragons
Diving News
We are delighted to announce the launch of our new Koh Samui section on our Thailand website. Check it out here: diving in Samui. To complement what we offer in the west coast we can now organise diving breaks on Samui Island where you can stay near Chaweng or Lamai Beach and dive the best that the Gulf of Thailand has to offer.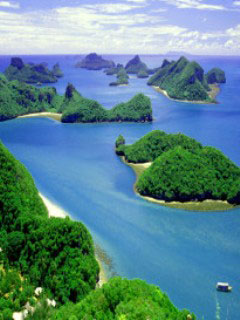 Speaking of the west coast, Phi Phi Island is getting back to its former glory after suffering badly from the 2004 tsunami. You can see what is what in our newly re-launched Phi Phi diving section featuring the wonderful new Phi Phi Island Village Beach Resort and Spa where luxurious seclusion is the name of the game.
Our new liveaboard cruise, the North Sulawesi Aggressor has a special deal on for later in the year - so if the wonder of Lembeh's incredible muck diving is on your 'To Do' list then check out the 'Mucking around in Lembeh' article below.
Other news and muck diving enthusiasts and fans of wreck diving will be excited to hear that Mataking Resort have just added a great potential new artificial reef to the diving that surrounds the island by sinking the cargo ship, the imaginatively named 'Mataking I' just off the beach. It is expected that it will not take long for this to become home to the thousands of creatures that live in the area.
Getting Started as an Underwater Photographer
We have all seen them - having their cameras passed to them from the dive boat as they bob on the surface before a dive - or excitedly checking out their pictures on the boat journey home as you twiddle your thumbs - underwater photographers! Fancy having a go? Just maybe you will find that the learning process is in fact a lot of fun and the results will give you endless hours of pleasure and memories of dives that live on long after your wetsuit has dried out. But don't just dive in blindly. Get some top tips from an expert. Here our very own amateur snapper Gavin Macaulay talks to the renowned photographer Matt Oldfield of underwater image experts Scubazoo. Underwater photography ...
Mucking Around in the Lembeh Strait
We recently sent our resident stargazer Paul Flaxman off on a liveaboard trip to Lembeh to prove to him what all the fuss was about. When experienced divers report back from Lembeh about the sheer number of incredible sights they have seen it really is time to take notice. Assisted by the sharp eyes of expert dive guides you will find that the black sand seabed not only makes spotting the critters easier but also provides a great background for your photos. Read on for a personal account of a Lembeh Strait trip and to hear of the great offers available on the North Sulawesi Aggressor. Muck diving in Lembeh ...
Fishy On A Dishy?
"Oooh I love fish" you often hear from divers sitting on the deck on a warm evening, before they sprinkle their plate with lemon and salt and wolf down a fish fillet with a cold beer. It's a funny way to show love when you eat seafood, or order extra anchovies on your 12' pizza. We, as divers, spend a lot of time marvelling at the beauty and behaviour of sea-life, then back on dry land we treat them as no more than a belly-filler. "But it's only a fish and feels no pain, right?" Wrong! The pain and suffering of fish ...
The Komodo Dragon!
"Here be dragons!" wrote seafarers in days of old as they cruised past the earthy brown islands of Komodo and Rinca. On the beaches and cliff edges they would spot the forked tongue and body armour of the imposing Komodo dragons. So what do we know about these magnificent beasts? Are they dragons? Are they venomous? What slithers down these lizards' gizzards? Well, they won't eat you but you can see them when you visit the area by Komodo liveaboard. So read on to educate yourself about the awesome Varanus Komodoensis. Komodo dragons ...