>
Newsletters
>
March 2010
>
Diving Celebrities
Scuba Diving Vacations Newsletter
Celebrity Scuba Diver Watch
If you're a celebrity watcher, then you have probably found that spotting them scuba diving is as rare an event as searching for the elusive sunfish. The good news is the demand for action movies requiring technical diving to spice up the danger is resulting in celebrities taking to the ocean and getting PADI certified on a regular basis. Many of them become avid divers, escaping to exclusive liveaboard and resort dive vacation destinations whenever they get the chance.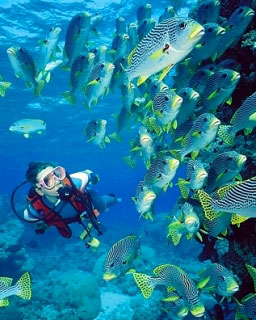 You may have heard the unauthorized acronym for PADI's pre-dive safety check: 'Bruce Willis Ruins All Films' which hasn't put Bruce Willis

off enjoying scuba diving. And Gene Hackman gives an authoritative introduction to the SSI Wreck Diving course video with a message to leave the wrecks the way that you found them.
The director of 'The Abyss', James Cameron has logged over 3,000 diving hours, "I'd always go on a diving trip," he said. "Film making is insanity. The ocean is where I go to regain my sanity." He continues, "I learned to scuba dive in a pool. It wasn't until I moved to California that I ever even scuba dived in the ocean. But I just loved it. I loved this idea that there was this alien atmosphere right here on planet Earth."
Tiger Woods finds peace from his fans when diving under the waves saying, "The fish don't know who I am." Woods is a full Cave Certified Diver and also asserts he became a Master Scuba Diver on a Marines Special Forces training week at Fort Bragg where he learnt to hold his breath for up to 4 minutes. While on holiday in Belize, Tiger spent most of his time diving and having the time of his life, "The waters are incredible! I have been diving in many places and Belize is definitely top notch. The Blue Hole is spectacular. The water was so clear everywhere we went."
Sandra Bullock used scuba diving as a way to conquer her fear of water, "I don't like being under water, that's why I learned to scuba dive years ago ... to conquer the fear. When I get to the base [ocean floor] scuba diving I'm fine, it's when you are treading water and you don't know what's below. I love when you get to the peace of scuba diving."
Celebrity Dive Destinations
Anthony Robbins in addition to being a world renowned peak performance coach to the stars, is an enthusiastic scuba diver. He owns the Fiji PADI 5-star Namale Resort. Fiji is a good place to hang out with the stars. Celebrities such as Peter Farelly (of the Farelly brothers': 'Dumb and Dumber' and 'There's Something about Mary' fame) and Jodie Foster have been known to vacation nearby and enjoy Fiji's crystalline waters.
Other celebrity sightings include Gwyneth Paltrow who celebrated her 2nd wedding anniversary vacation scuba diving in Sri Lanka with her husband Chris Martin from 'Coldplay'. Always in the news, Paris Hilton found that scuba diving got her hormones raging after lessons in Maui and couldn't wait to get out of the water before kissing her boyfriend Doug Reinhardt. Samuel L. Jackson trained in the Bahamas for his role in Deep Blue Sea; Hawaii is where Claire Danes was spotted diving, not sure of the location Geri Halliwell hoped to spice up her vacation with a scuba diving lesson, and Denise Richards

took scuba diving lessons on holiday in Malibu with her 2 daughters.
Scuba Stunts
A famous NAUI certified diver, Kevin Costner star of 'The Guardian' was a little concerned during the rescue sequences, "Well it could quickly rise up to 6-8 feet waves and a lot of times people could be up to 60-70 yards away from you and with all the equipment you have on ... look I'm not trying to be over-dramatic with it, but you weren't in a courtroom. You were out there ... for 10-12 hours, so you get tired too ... you're in the middle of the night and there's a helicopter above you and its windy. There's a moment when we might have to use everything we have to get out of a spot and it won't ever be on film. But that was one reason to work hard and try to train". He goes on to say he took his responsibility of portraying the real-life rescue swimmer's heroics accurately.
Jessica Alba has featured in many diving movies, both with scuba gear and as a barely clad free-diver. Alba learnt to dive when she was 13. Speaking about filming 'Into the Blue', "They were showing me what a scuba tank was. I grabbed it and I was like, 'Just tell me what you want me to do.' I was the only one that had been certified." Granted, Jessica is pretty good at looking gorgeous doing what she does, but her stunt double Mehgan Heaney-Grier claims to have performed some of the free-diving stunts in that movie.
An actor who can literally handle the pressure and insists on doing his own stunts, Tom Cruise says "I like all different kinds of sports - hockey, football, sky diving. I like horse riding, mountain climbing and scuba diving." Adding "I've always liked excitement and enjoyed being scared". Not as scared as his director at the prospect of losing his investment on one of the more dangerous stunts.
Jason Statham also likes to do his own stunts and experienced diving on a whole new level when training for 'Transporter'. As he explains, "I used to do diving years ago but you have to hold your breath for about 2 seconds. You dive in and you come straight to the surface so I actually learned to scuba dive for the first one with a good friend of Luc [Besson]'s who's probably the best person you could ever learn to scuba dive with. A little bit unorthodox in his teaching techniques."
He went on to say, "The scuba diving was pretty difficult, since I had never done that before. On my first dive, he took me down into a dark cave. Then he turned off the flashlight and pulled off my mask just to see what I'd do! In a dark cave under the water. On my first dive! That was a lot of fun."
Giving Diving a Good Name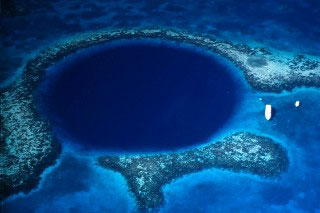 'Fools Gold' presents a great incentive to go diving: hot bods, aquamarine water, blissful island living and plenty of diving scenes. Star Matthew McConaughey

says "I'd take the sea over space ... it's a different frontier. You've got two-thirds of the Earth is water, 95% of that is unexplored. You don't know when accidentally you could come across something."
Kate Hudson overcame her fears of being under 40 feet of water for 'Fools Gold', "It was pretty scary because at the time I was only just getting certified and behind me was a manta ray. And it's like the size of a dining table!" Speaking of her first shark encounter, "My heart beat so fast when I first saw a reef shark - I was so scared. Of course, it couldn't have cared less about me. When I'd calmed down, I saw that sharks are graceful and the way they move is amazing."
The upshot was that Kate has developed a love of diving saying she now carries her certification around in her wallet. Despite being a celebrity Kate's enthusiastic response is shared by many ordinary people, "Once you get down there, it's just incredible. I mean, to be able to do my first dive on the Great Barrier Reef is mind-blowing. The sea life is phenomenal. It was like being in a whole other world. Now I'm in love with diving; I can't wait to get back in the water."
Sean Connery's

wreck diving feats in the Bahamas with killer sharks were a major feature of 'Thunderball' which was one of the first underwater movies to give sharks a bad reputation, but hopefully 'Transformers' star Isabel Lucas can start a new trend to protect our sea creatures. A proud ambassador for Protect Our Coral Sea

, Isabel took to scuba diving on her expedition with the Whaleman Foundation

to raise awareness for minke whales.
Edward Norton cares about conserving our marine heritage saying, "While diving in the Caribbean last fall, I saw some of the sea fan devastation partially caused by a fungus blown over from Africa. Now I'd like to see the large predators back in their historic role at the top of the food chain." He often visits his father who is involved with reef conservation in Bali, Indonesia and says "we get these opportunities to go diving with a lot of his marine science teams and things like that. Our whole family scuba dives."
Captains of Industry
Since retiring, Bill Gates now has ample time and millions of dollars to spend on his scuba diving passion. Often joining his Microsoft co-founder, Paul Allen on The Octopus, the 8th largest yacht in the world. With 60 highly qualified permanent crew on board including Navy Seals, the yacht boasts a 10-man submarine, 2 helicopters and 7 boats.
For those celebrities who want to escape the paparazzi on their scuba diving vacations, Richard Branson might have come up with the perfect solution at his own personal Caribbean 'Necker Island'. He has purchased an underwater plane called the 'Necker Nymph' to offer certified divers the experience of soaring with dolphins and whales under the sea. The 3-seater plane has an open cockpit, requiring passengers to don full scuba gear, excluding scuba tanks which are mounted on the plane. They can then whizz along at up to 5 nautical miles per hour, descending up to 40m (with the usual ear-clearing procedures one hopes).
If you're looking to spot celebrity divers this is a good place to start, but hiring the 'Necker Nymph' will cost about US$ 25,000 for a week on condition that you have also booked the 'Necker Belle' liveaboard catamaran and pay for your accommodation, setting you back up to total of US$ 325,000 for 1 week!
So, your scuba diving could take on a new dimension with the opportunity of buddying up with an A-list star. Chances of this happening are best on the Great Barrier Reef, in the large variety of Indonesia's dive spots or Fiji's Koro Sea. Even if you miss the celebs on your diving vacation, the magnificent coral formations and marine life will put stars in your eyes.