>
Newsletters
>
November 2012
>
Miss Nouran Red Sea Liveaboard Cruise
Red Sea Liveaboard Diving Newsletter
Brothers and Elphinstone Tour with Miss Nouran
I have been lucky enough to experience hundreds of dives so far but I had never visited the Red Sea before. I was to finally get my opportunity to explore this well known destination in September of this year.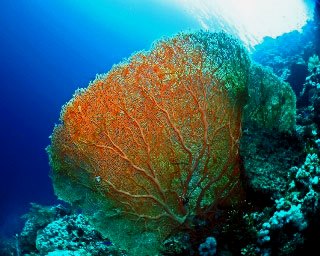 Before the trip I wondered if this area's popularity stemmed from the fact that Egypt is just a short flight away from Europe. Would the wonderful stories about the diving here be true or would it be overcrowded? And how would the Red Sea compare to other well-known dive destinations?
I found the answer to all my questions when I joined a Red Sea liveaboard cruise on M/Y Miss Nouran for a 6 night trip to Elphinstone reef and the famous Brother Islands ...
The Diving in the Red Sea
All-in-all it was an excellent week of diving with healthy corals, impressive biodiversity and awesome visibility. Day 1 was spent at Abu Dabbab where we enjoyed our first experience of the Red Sea marine life and explored a wreck called Heaven that was sunk almost 10 years ago. Day 2 we dived the famous Elphinstone Reef where highlights included a grey reef shark and a long-nose hawkfish hiding in a gorgonian fan.
On day 3 we entered The Brothers marine park for 3 days of awesome diving. There were only 4 other boats there which was a huge relief as I'd been concerned that the dive sites would be over-crowded.
On Little Brother I was awed by the healthy corals and sponges, and there were vast numbers of bright orange anthias, colourful parrotfish and angelfish. Deep diving here gave me my first encounter with thresher sharks. On Big Brother a thresher shark passed right past my nose which was an incredible moment! We also saw grey reef sharks, large schools of tuna and barracuda and Napoleon wrasse were spotted on almost every dive.
Diving on the pristine reefs was only surpassed for me by 3 fascinating wrecks. Numidia and Aida were fantastic subjects for my underwater photography, but my favourite was the El Mina with ammunition and guns still visible. The Red Sea is a photographers dream and I have many amazing memories that will stay with me for years to come. I felt as if I was diving in a giant aquarium with the visibility always at least 25 metres.
• Watch our Red Sea scuba diving video
The Miss Nouran Vessel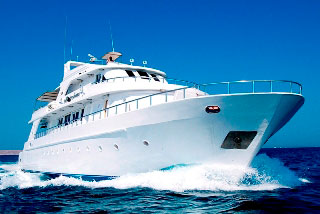 It became obvious to me when I saw all the liveaboards lined up at Port Ghalib that stiff competition here keeps the standards high. Miss Nouran is great value-for-money with spacious en-suite cabins that have a queen sizes bed plus a twin size bunk. I was pleasantly surprised to find that a bathrobe is provided which came in very handy, especially after the last dive of the day. The only minor complaint I had was that there are only 2 sockets in the cabin - 1 per passenger, so that made it a bit tricky to keep all my electrical appliances - laptop, batteries etc - fully charged. Also I found the air con unit to be a bit noisy.
On the main deck is located the dining area with 2 large tables where meals are served buffet-style. The dive briefings were also held in this area and the maps were shown on the flat screen TV. The dive deck is also on this level and has plenty of space for all divers. Above this deck is an open-air shaded area, 2 more cabins, the wheelhouse and the crew's accommodation. Up another level brings you to the sun deck with comfortable cushions for lounging on.
Diving Facilities
The boat was only half full on my trip so there was more than enough space on the dive deck, but even when full you can gear up in comfort on this boat. The only issue I had was that there were no proper rinse tanks for camera housings. There are only 2 tanks which are small and located on the lower deck away from the dive deck. There is no camera table either.
There are usually 3 dives a day. On one day we did a night dive but you need to bring your own torch for this as they are not available for rent. Free nitrox is provided for enriched air certified divers and the crew were very attentive and helpful. The engineer even fixed my regs for me when an o-ring split.
Dining Onboard
Food is served buffet-style with between 4-6 choices of mainly Western dishes per sitting including plenty of fresh vegetables, grilled fish and seafood. We were also treated to a few local specialities including dried camel meat, and 'mashi' which is aubergine or courgette stuffed with rice, vegetables and spices - delicious! Fresh fruit is always available, along with other snacks too.
Get There and Away
There are several itineraries to choose from on Miss Nouran. My trip departed from Port Ghalib, visited Elphinstone and the Brothers and then returned to Hurghada. All the guests flew in to Hurghada and we were then taken by air-conditioned minibus on a 3 hour drive to Port Ghalib. It was a pleasant journey with a sea-view on one side and desert-view on the other.
Onboard the boat there was hardly any travelling at night so we could enjoy a peaceful night's sleep. This was great as we were woken up very early each morning to be the first ones on the dive sites. Sunrise is at 5.30 am and I really enjoyed getting up early and exploring the underwater delights of the Red Sea.
To Conclude
The Brothers marine park is well preserved which means there is a huge abundance of reef fish, the corals are in pristine condition and I saw the biggest Gorgonian fans ever. An added bonus of Egypt liveaboard diving for me is that there is almost no trash to be found on the dive sites. Excellent!
Written by Ricardo Rossi, October 2012