>
Newsletters
>
October 2015
>
Costa Rica Tourism
Dive The World Newsletter
Costa Rica - An Incredible Vacation Destination
Costa Rica may not be first travel destination you consider, when planning your next vacation, but there are plenty of reasons why it should be. The renowned scuba diving hotspot, Cocos Island, has long been recognised as the destination for scuba diving enthusiasts. Few other places can boast huge schools of fish, countless sharks including innumerable hammerheads, as well as a line-up of chunky pelagics. However, there is much more to Costa Rica than what goes on below the surface…
What to do, where to go?
The official Costa Rican tourism website, Essential Costa Rica

is a great source of information on how to get there, where to go, what to do, where to stay, entry requirements, tips for travellers etc. However, allow us to whet your appetite with a few choice details about this, one of the happiest countries on earth…
Monteverde's Cloud Rainforest and Arenal Volcano National Park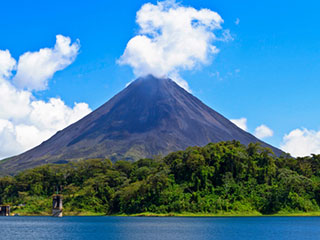 Monteverde's Cloud Rainforest and Arenal Volcano National Park are close to the top of every nature lover's Costa Rican bucket list.
The Monteverde Cloud Forest Reserve has over 13 km of trails to be explored amid lush tropical vegetation and is home to an impressive array of wildlife. There are over 100 species of mammals, 400 species of birds, and 1,200 species of amphibians and reptiles. The reserve is one of a very small number of habitats which support all 6 local wildcat species: jaguarundis, margays, oncillas, ocelots, pumas and jaguars. You may also spot the endangered 3-wattled bellbird and the amazing quetzal.
Comprising primary rainforest, the Arenal Volcano National Park encompasses 4 different life zones and harbours a magnificent amount of flora and fauna. Almost 75% of the total 850 species of birds in Costa Rica are here. Other fascinating creatures include sloths, coati, white-faced capuchin monkeys, deer and snakes, including the infamous fer-de-lance, boa constrictor and parrot snake. Activities include horseback riding, trekking, canoeing, white-water rafting, waterfall rappelling and canopy tours.
San Jose's museums and more
The starting point of your adventure may be the capital city of San José which is home to a long and impressive line of museums. They include: the Museum of Costa Rican Art, the Gold Museum, and the Costa Rican National Museum. It is also worth visiting the architecturally resplendent National Theatre, both to admire the building itself and take in a performance.
UNESCO Heritage Sites
Costa Rica's cultural heritage has been acknowledged by the establishment of no fewer than 4 UNESCO world heritage sites, all of which deserve a visit. They are Precolumbian Chiefdom Settlements with Stone Spheres of the Diquís, Area de Conservación Guanacaste, La Amistad National Park, and of course… Cocos Island National Park.
Endangered Species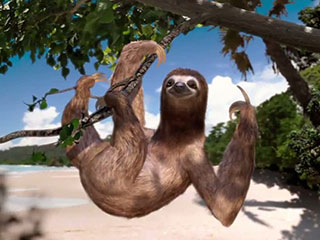 Images of Costa Rica and pictures of amazing wildlife go hand in hand, thanks largely to the protection afforded by the country's vast national park system. There are more than 250 endangered plant and animal species including the jaguar, manatees, the leatherback turtle and blue macaws.
Other species of note include the Central American Squirrel monkey which, weighing in at 2 pounds, is the country's smallest primate. Also on the vulnerable list is the American Crocodile which, thanks to the benefit of its protection, has been taken off the endangered list. For the ideal crocodile photography opportunity, stop at the bridge over the Tarcoles River and watch the spectacle on the riverbanks below.
If you want to get your hands dirty, volunteer at San Miguel's Costa Rican Animal Rescue Center in the town of Turrúcares. Here you can help with the cleaning, nurturing, reporting on and feeding of a range of local species. Check out more on volunteering in animal rescue in Costa Rica

.
Nicoya Peninsula
If you are on or near the Pacific Coast then check out the palm-fringed coast of the Nicoya Peninsula. The soft-sand beaches and crystalline waters look straight off a tropical postcard. The area is a popular region for romantic hideaways, spiritual retreats and secluded spas. There are rivers and mountains to explore and of course, as always in Costa Rica, wildlife to marvel at, particularly nesting sea turtles coming ashore to deposit their eggs.
Is there anywhere else to dive other than Cocos Island?
Cocos Island is without doubt the world-class diving destination in Costa Rica but there is more to the country's underwater heritage than this scuba diving mecca. For example, Caño Island is worthy of special mention. Lying 20 km offshore this marine biological reserve is a great place to witness excellent coral reefs in visibility stretching up to 30m. While the reefs are awash with a glittering array of colourful reef fish, there are plenty of big boys in the area too. These include sharks, rays, wahoo, whales and marlin.
The Okeanos Aggressor and Wind Dancer are our recommended liveaboards to dive Caño Island during the months of January to May each year.
If you are looking for a unique destination with a multitude of travel experiences and activities to choose from … think of Costa Rica!
Useful References


---
CUSTOMER TESTIMONIALS OF DIVE THE WORLD
... Friendly and polite staff who were always willing to answer any questions and help in any way they could. Everthing was well organised from scuba equipment to hotel pick up and transfer back to hotel after dives. Extremely professional on all levels ... -- Phil Ryan, Ireland. [More customer reviews]