>
Newsletters
>
June 2016
>
Dive Vacations in the Americas
Dive The World Newsletter
Focus on Diving Vacations in the Americas
Dive The World was born in Asia, but our staff are from all over and we like to adopt the kind of world-view that our name suggests. So in recent times we have been pushing further afield to get to know more diving destinations.
This has seen us grow out from our base and give our customers the opportunity to really 'dive the world', as one look at our world map shows.
We now have a plethora of countries in the Americas to recommend for dive vacations.
As ever, diving destinations vary greatly and it really pays to be informed as to what type of diving you can expect. If you think all dive sites are the same and that the Caribbean will look like Komodo, you would be way wrong.
So here we focus on just a few of the many awesome places you can dive in the Americas:
Galapagos - THE bucket list destination
Costa Rica - Diving, adventure and culture
Cuba - The ocean's 'Garden of Eden'
Diving a world heritage site - Galapagos
We have yet to meet a diver who has not dreamed of a liveaboard diving vacation to the Galapagos. For those lucky few who have had the privilege, they would jump at the opportunity to visit this World Heritage site again.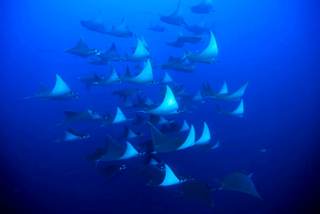 Diving Wolf and Darwin islands can only be done via a liveaboard cruise. These remote islands are a must visit as part of your complete Galapagos diving experience. Schools of hammerhead sharks, pods of dolphins, manta rays, sea lions, penguins and marine iguanas are the 'stars of the show', with many other cast-members that will perform on the marine stage at Galapagos. Don't be put off by the remoteness and possibility of choppy seas and strong currents. Your temporary discomfort will be rewarded with the most amazing underwater encounters that will live with you forever.
Earlier this year, diving enthusiasts celebrated when the President of the Republic of Ecuador announced that the Galápagos Marine Reserve is to be extended. The reserve will now provide protection to marine life in an area of approximately 40,000 square kilometers. A significant addition to the marine park legislation, is that now about a third of this marine reserve is a designated 'no-take' area, providing further protection to the marine life. The marine reserve, and the new 'no-take' zones include the islands of Wolf and Darwin - considered to be the crown jewels in the Ecuador diving treasure chest.
Galapagos is not just a destination for 'as-many-dives-as-possible' enthusiasts. There are vacation options for mixing some diving daytrips and overland activities, and there is also a range of non-diving liveaboards where island visits and other overland activities will keep you royally entertained.
Diving, adventure and culture - Costa Rica
Costa Rica is recognised as a top 3 Americas travel destination for its combination of nature, adventure, culture and world class diving.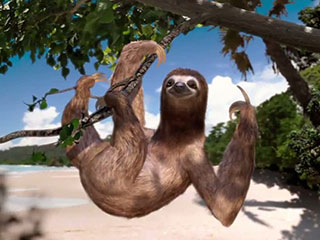 There is a plethora of reasons why 2.66 million visitors travelled to Costa Rica in 2015. Costa Rica offers travellers diverse habitats and eco-systems, a well-developed national park system, providing a safe haven for rare and endangered species, as well as a nation rich in culture. The nation dubbed as the 'Switzerland of Central America', has achieved what most countries aspire to - they have invested in education and peace to maintain democracy and sustainability.
The highlight of your trip will undoubtedly be your world-class diving experiences. One simply cannot visit Costa Rica without a reservation for a liveaboard trip to Cocos or Cano islands (limited places are often fully booked, so be sure to confirm your diving cruise well in advance.)
Diving Cocos Island is a surreal experience. It is however best to plan this trip when you have achieved a certain level of diving experience and skill. Marine life is vast in numbers and they have become accustomed to living in the safe waters of the national park and many casually swim in close proximity to scuba divers. Your diving tour can include over 20 dive sites, however a very special site, Bajo Alcyone, deserves special mention. This site is a submerged seamount and is frequented by battalions of hammerhead sharks. The thrill of this experience is indescribable.
Isla del Caño is a completely different diving experience compared to Cocos Island, however it is no less enticing. Diving this biological reserve offers a multitude of dive experiences as well as opportunities to dive with an interesting, mixed assortment of fish, sharks, and even whales.
After you have satiated all your diving desires be sure to explore the nature and culture of this incredible country. Stunning beaches, interesting museums, year round festivals, and an abundance of national parks will meet the interests of every traveller.
The ocean's 'Garden of Eden' - Cuba's Jardines de la Reina
Many of our beloved dive vacation destinations are being affected by our changing weather patterns. However, a little known diving destination has been heralded as the ocean's 'Garden of Eden'.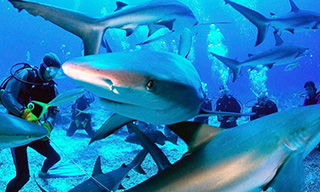 When Christopher Columbus named this area of Cuba, Jardines de la Reina or Gardens of the Queen, little did he know that the true beauty lies below the ocean's surface. What is even more astounding is that scientists believe that the area has not changed all that much since the time when Columbus sailed these waters.
The remoteness of the area, the protection afforded to it by the Cuban government, (including limiting the number of divers who have the privilege to visit the area), as well as the unique eco-system, all contribute to the rich biodiversity and adaptability of the coral reefs and the marine life.
It is little wonder that Jardines de la Reina is the current trending vacation destination in the diving community. If varied dive sites in warm waters, healthy corals and diverse sea grasses, abundant fish species in prolific numbers, as well as 6 types of sharks is what you are looking for in a dive destination, then a liveaboard diving trip to the Gardens of the Queen Marine Park is for you!
The experienced Dive The World team can assist you with all things related to your Americas diving vacation adventure. If you want to know more about these destinations or any other far flung dive spots, just get in touch and we'll make it happen!


---
CUSTOMER TESTIMONIALS OF DIVE THE WORLD
... Dive The World's strengths are great communications leading up to the dive holiday, good follow up on dive insurance, post-dive hotel options and generally answering any questions arising. Just keep up the good work, please! ... -- Mal Hartland, England. [More customer reviews]