>
Newsletters
>
July 2017
Scuba Diving Travel Newsletter
July 2017 Contents
As the world continues to go mad and descends into chaos, how about a little positivity and joy? Well OK then... here we are with our latest newsletter to elevate your mind above the mundane!
Can you imagine what it is like to go fluorescent night diving? Imagine seeing a seahorse in a new light. Nothing entertains like novelty, and even the most jaded diver will find fluorescent night diving a new and fun experience. We also take you on a Maldives scuba diving cruise on one of the most sumptuous liveaboards around and we take a closer look at the dreaded scorpionfish!
For many of us, vacation time is on the horizon. What have you got planned? Is it not high time you got reacquainted with the underwater world? A diving vacation is like no other - relaxing, stimulating and a great way to make new friends. To give you a helping hand we feature a few ideas about where you can travel to over the next few months and beyond ...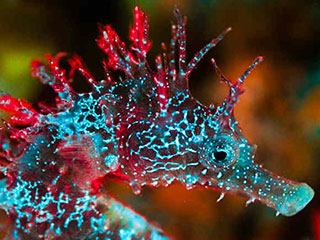 Dive News:
• What has been going down lately at Dive The World?
Features:
• Where is the best diving over the next few months?
• Fluorescent night diving - we shine a light on it
• Scorpionfish - a sting in the tail?
• Check out our Maldives dive trip report on Scubaspa Ying
Diving News
New website features
We have recently launched our Affiliate programme which means you can make money through your association with Dive The World.
Do you have a blog, website or Facebook page? If so you can add our liveaboard search box and/or advertising banners to it. When a visitor comes through to us from your platform and books a diving travel package, you make money!
It's simple - if we make money, you do too! Sign-up Now! - it's quick and easy.
New liveaboard boats
Indonesia: SY Adelaar, KLM Mari, Weta Molas, KLM Kira Kira
Thailand: Manta Queen 5 and Manta Queen 6
Galapagos: MV Majestic Explorer
Red Sea: MY Blue and MY Blue Planet I
Featured Articles
What's coming up
Do you have vacation time to fill over the next few months? When did you last go diving? Don't waste your precious time off. Make sure you have a memorable and relaxing break.
Here are a few top tips from the world of scuba diving in… What's Coming Up ....
Night diving with fluorescence - trip the light phantasmagoric!
You like night diving? Here is a whole new view of the reef at night with eye-popping colours and detail you won't believe. Watch as creatures of the reef come to life in vivid neon colours and patterns you have never seen before. Stare in wide-eyed amazement as seemingly standard sights shine and glow in such bizarre hues, you'll think your air was spiked!
Tune in, turn on and drop down with our look at… Fluorescent Night Diving ....
Scorpionfish - voracious reef predators
Do you know all about scorpionfish? Can you differentiate between species and avoid their dangerous defence mechanisms?
Address your ignorance and don't feel a bit of a prick! Find out more … Creature Feature: Scorpionfish ....
Check out our Maldives liveaboard safari report on the amazing Scubaspa Ying
Why are people raving about this liveaboard? What is so different? And will the Maldives live up to expectations for this first-timer to the Indian island atoll nation?
Elliott Hey went for a liveaboard dive trip to the central atolls of the Maldives on board one of the most impressive liveaboards around. Surprise, surprise he had an amazing time! Read all about it in our …Scubaspa Ying trip report ....

---
CUSTOMER TESTIMONIALS OF DIVE THE WORLD
... Dive the World did an outstanding job of finding the best dive resort for me and everything they promised was met. I highly recommend them and would most definitely use them again. Everything was perfect! ... -- Luis Garcia, United States. [More customer reviews]