>
Newsletters
>
July 2017
>
Scubaspa Ying Liveaboard Tour
Maldives Diving Safaris Newsletter
Scubaspa Ying Liveaboard Trip Report
Click on an image to enlarge

A Maldives diving safari had long been on my 'To Do' list and so many friends and colleagues had raved about it, so I was very excited to be stepping on board the gorgeous the Scubaspa Ying for a week diving the central atolls.
Wow! The week did not disappoint? By the end of the trip when I lay down to rest, what flashed upon my inward eye were memories of encounters with manta rays, schools of eagles rays, a mighty whale shark up close, nurse sharks and stingrays buzzing around me, and getting lost in big schools of fish. What a trip!
Diving the Maldives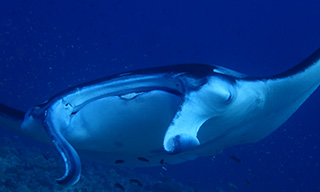 There were many highlights to this diving safari. We had an awesome encounter with a single manta at Rangali Madivaru and then at Moofushi we saw several manta rays swooping majestically around us. On another dive we saw a huge school of some 30 eagle rays!
At the Maamigili Beru area of Ari Atoll we, and other boats, came upon a whale shark swimming near the surface. I managed to lose the crowds and keep up with the big fish as it swam effortlessly on its way. Great to see it so close up.
We had a night dive at Alimathaa Jetty where innumerable big nurse sharks and stingrays were foraging around the shallow reef. It is feeding that create this spectacle, which is not great, but it does make for a pretty thrilling experience.
Among the best channel dives were Miyaru Kandu & Golden Wall in Felidhoo Atoll. Here we hooked into the reef and watched the big fish action! Jacks and tuna plus whitetips and grey reef sharks cruised by our grateful eyes.
The Boat Features and Facilities
I was excited when I arrived in the Maldives, especially when I caught my first sight of my Maldives liveaboard... the mighty Scubaspa Ying! After a 10 minute dhoni ride she came into view in all her splendour. Like an oligarch's yacht, she was magnificent with big spacious cabins and well maintained common parts. So luxurious…
Matt the manager showed me around the boat which can take up to 44 guests and 29 staff! There's a maximum of 22 divers and the rest can do treatments in the 3 spa rooms. On this particular week the boat was half full with 20 divers from Ukraine, Switzerland, Korea, Australia, Russia and England. The atmosphere on our trip was laid back, quiet and calm.
Food
Breakfast each morning consisted of lots of fruit, pancakes, eggs, cereals, tea and coffee. Lunch was beef, chicken, white fish, vegetables, salad, tuna steak, and fruit. Dinner was variety of pasta, sushi, steaks, chicken, vegetables, curry and pizza. Weirdly, coffee and tea were only free in the morning, but water was free all day. The alcohol was quite expensive.
The Cabins
Scubaspa Ying's cabins are unreal. You can forget you are on a boat. No pokey bunk beds here. It is more like a deluxe hotel room. Mine had a large bed and lovely ensuite bathroom. It even had a minibar. Everything was perfect.
Spa Treatments
After a few days of amazing diving I thought I would treat myself to one of their famed spa treatments. It is a unique selling point of this operator that they are basically a floating spa for divers and non-divers alike.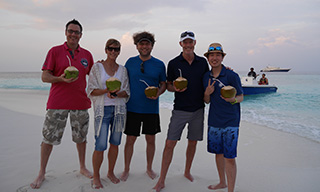 Scubaspa Ying is more than just a liveaboard for diving the Maldives. It's perfect for couples where one dives and the other wants to be pampered. I had a wonderful Balinese massage for an hour of which I slept through most. I felt like a new man afterwards.
The Diving Procedure
Diving is from the accompanying dive boat, known as a dhoni. It had loads of space on board to kit up and was well equipped, making the diving procedure a breeze. I enjoyed free nitrox on every dive. The dive crew were all super helpful, handed us bottles of water to keep hydrated, and looked after our every need.
The general consensus among the other guests was that Scubaspa Ying was the highest quality liveaboard they had ever been on. That was certainly true for me. I felt lucky to be on such a fantastic boat with an amazing crew and in such a magnificent destination.
Coming home
Once back in Male it was a quick 10 minute dhoni cruise back to port. From there it is but a 2 minute stroll to the airport. My flight was 6 hours later, so I booked a day pass at a nearby hotel so I could chill out until nearer my departure time. A nice relaxing way to end the trip.
Summary
Overall, I had a splendid time and met some fabulous new friends. The diving was thrilling and the experience on board was very relaxing. I would highly recommend Scubaspa to anyone visiting the Maldives. A big thanks to all the crew on the Ying, and to the marine life of the Maldives for creating such a truly memorable experience.
Written by Elliott Hey, May 2017


---
CUSTOMER TESTIMONIALS OF DIVE THE WORLD
... It is pretty easy to book with you as your offers are clearly described on your homepage. Your offers seem to be good value for money and I think you check the operators regularly and therefore guarantee high quality scuba holidays ... -- Florian Berlinger, Switzerland. [More customer reviews]