>
Newsletters
>
October 2003
>
Introduction to Muck Diving
Mabul Diving Newsletter
How about Muck Diving?
Personally I had never been much of a fan of the smaller stuff that scuba divers look for underwater. Give me schools of chevron barracuda, manta rays, hammerhead sharks and throw in the occasional whale shark and I will be happy, I'm easily pleased! I have been what might be described as an adrenaline diver and while the clownfish are fascinating I have always had an eye in the blue for the larger fish.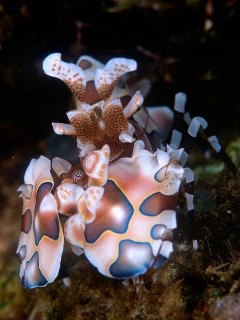 In recent years a new form of diving has become popular among divers wishing to extend their scuba experiences. Muck diving describes the activity of diving on sandy bottoms in search of the smaller and more elusive creatures of the ocean. If underwater macro photography is your thing then you will no doubt already be familiar with this activity.
As a recent discovery, for me, muck diving was a pleasant surprise. My first true muck dive was to take place just off the shore of Mabul Island in Sabah, East Malaysia. I had just spent a few days diving at the famous dive sites of Sipadan Island and had cut my stay on Sipadan short so I could try out muck diving.
During our briefing we were told that the first dive would take place on Paradise I & II in the bay off Mabul Island. The maximum depth for the dive would be 14 metres with an average of only 6 metres, we were told to expect visibility of 10 metres or less falling to zero if the bottom muck was disturbed and the biggest thing we could expect to see was a lionfish. Where is the adrenaline in this? Get the boat and take me back to Sipadan immediately, but the divemaster just smiled and told me to give it a try and anyway the next boat to Sipadan Island would not be until the following morning.
As I descended to the sandy floor and looked around at the apparently barren landscape I thought that 45 minutes of this would seem like an eternity. In the first 2 minutes of our dive the divemaster signalled for us to come and see an elusive seahorse, I say elusive because I thought that was excessive to have me spend 3 minutes staring blankly at the grasses before the wonderful creature finally revealed herself to me. This was a first for me and many more firsts were to follow. When we were finally signalled to surface I looked at my dive computer and could not believe that we had overstayed our planned dive time by 10 minutes.
Throughout the dives the DM maintained a constant twanging with his tank banger as he introduced us to one new creature after another. During this first dive we were introduced to the spinney seahorse, a longhorn cowfish and hiding in the sand was a spotted duckbill. A number of old tyres had been tied together and provided shelter for an amazing variety of marine life. The tyres were home to a small school of razorfish swimming in vertical formation and among the tyres the brilliant orange of a frogfish could be seen. Muck diving is a fascinating new addition to my scuba dive experience and many new entries were recorded in my dive log. The next day the exploration of the smaller side of marine life continued and I came to the realisation that there is more to scuba diving than just the big stuff.
A scuba trip to Sabah, Malaysia allows you to combine one of the finest macro diving destinations in world, Mabul, with the internationally-acclaimed sites of Sipadan. Malaysia scuba diving vacations certainly offer everything the warm water dive enthusiast could wish for.


---
CUSTOMER TESTIMONIALS OF DIVE THE WORLD
... The speed at which it was arranged was fantastic. I think I only booked it 2 weeks before I arrived so short notice is no problem. ... -- Rob Payne, United Kingdom. [More customer reviews]