>
Newsletters
>
October 2005
>
An Introduction to the Burma Banks
Burma Banks Scuba Diving Newsletter
Laughing All The Way To The Banks
Following food offerings to the gods and firecrackers to ward off evil spirits we were on our way to the Mergui Archipelago.
The ceremony takes place every time the boat leaves port and the Thai crew including the captain wouldn't leave without this ritual, except for 1 time, according to the tour leader ... "We just couldn't get hold of firecrackers". The result: high seas, bad visibility, flooded cameras, engine problems etc. The gods would have been pleased this time and the deafening noise was enough to scare Godzilla back to the depths!
After a pleasant overnight cruise from Phuket we arrive at the Surin Marine National Park about 80 kilometres due west of Ranong Province on the west coast of Thailand.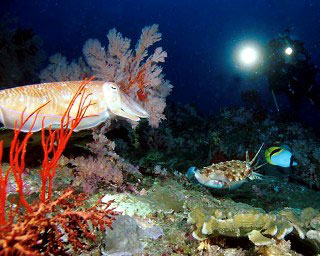 The 5 granite islands here sit in 135 square kilometres of water and the local dive sites are as diverse as they are interesting. Koh Tachai features a series of multi-level reefs, each different in formation and resident marine life. Further south lies the rocky outcrop of Koh Bon Island with regular manta ray sightings especially between February and April when upwelling currents concentrate planktonic food near the surface. The dive site here is in a large bay, dropping to about 25 metres and it's on the outer edge where these magnificent creatures can be admired as they glide past. Patience is the secret I was told, so I positioned myself behind a large boulder which also protested me from the moderate current. 10 minutes later the first manta glided over me and it sure was worth the wait.
Next day we cruised on to the Thailand / Myanmar border to clear customs at Ranong and cross over to Kawthaung on the southern tip of Burma.
Burmese authorities opened their borders to foreign visitors in 1997. The Burma Banks cover 150 square kilometres and are about 200 kilometres west of Ranong. The majority of dive sites at the Banks are fairly level broad plateaus with minimum depths of 21-24 metres making for rather short bottom times unless you are diving on nitrox. Waters surrounding the Banks range to 300 metre depths and currents can be quite tricky and strong here, especially along the drop-offs. Down-currents can occur but rarely last more than a few minutes. Stay close to your buddy or group and bring a decent safety sausage with you - becoming separated from your dive boat this far from land could be disastrous.
Silvertip Bank is one of the shallowest dives at 18 metres and covers around a square kilometre with the western edge dropping to 45 metres. I started my dive descending to about 36 metres and found some of the nicest soft coral; plus large barrel sponges. Keep an eye on the open water - predators like rainbow runners, dogtooth tuna, and jacks can make regular patrols on the drop-offs. A very friendly potato cod followed me as I worked my way up the slope to complete my dive on the shallower plateau where the other divers were interacting with other potato cods. For a moment I felt I was back at the Cod Hole in Australia! Surely those gentle giants would have been handfed before or would otherwise not be so friendly ...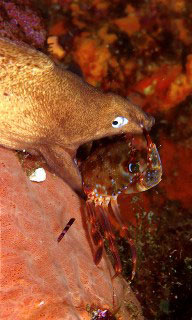 Western Rocky 80 kilometres offshore is one of the southernmost dive sites. The most stunning element is a tunnel which runs through the large rocky island devoid of vegetation. The entrance starts at the southern part at about 20 metres depth leading 36 metres to the 2 narrow exits on the northern side.
The cave hosts dozens of lobsters and sometimes sleeping nurse sharks are found here. It's a good idea to check the cave exit first from the other side to ensure it isn't blocked by large amounts of sand which the current can bring in.
Travelling north, we arrived at North Twin Island with an average depth of 20 metres. There are numerous scattered large boulders here and batfish are commonly seen flying in formation between them, whilst a whole range of reef fish shelter on the elk and staghorn coral on the tops. Unfortunately an outbreak of crown of thorns sea stars has consumed many of these corals, but there are still plenty of healthy colonies.
Another great spot is Shark Cave with a great swim-through between 2 rock formations. The walls were alive with creeping and crawling macro life and I burnt up a whole roll of film on 1 dive! Due to the good conditions we had 2 dives here, including a night dive. I took my time framing a tiny glass shrimp busily moving a cowrie shell and after a few minutes I discovered my arms were covered with small reef shrimps! They quickly hopped off once I moved ... I did notice a tickling sensation on my hands at the time, but was concentrating hard on the action through my viewfinder ...
One of my favourite dives of the trip was Black Rock; this stark pinnacle jutting out of the ocean is just large enough to circumnavigate in a leisurely dive. The western side drops sharply to 40 metres and is carpeted with vibrant soft coral hosting marine life such as anemones with porcelain crabs, cuttlefish, dark spotted moray eels, octopus and clouds of baitfish so thick you feel lost swimming inside them. It was around 5 p.m. and feeding time for some of the creatures out there. As I watched a reef crab feeding on a piece of jellyfish, I noticed a moray eel emerging from its hiding place. With enormous speed it snapped the crab up right in front of my eyes and camera before twisting back to the burrow with its prey. What a great action shot and story to tell back on board!
Only a few Burma liveaboards visit the Burma Banks and Mergui Archipelago. But just imagine - you may be one of the very first to dive a new adventure because more sites wait to be discovered ...
As Marcel says you can be there too with Dive The World on one of the few excellent liveaboards that run trips to Burma. Choose from our Burma liveaboards, all of which offer great comfort and service at a variety of prices.


---
CUSTOMER TESTIMONIALS OF DIVE THE WORLD
... I would second what people are saying about sharks - don't go to Mergui for sharks. But the diving was amazing - saw a whale shark. We saw like 7 mantas at Black Rock too ... The hard coral was what really amazed me. I had only seen Pulauan and Carribean coral before - the only word for them is microscopic, compared to Burma. Brain corals the size of a small house. (I'm not kidding). Mushroom corals (what are they really called? I have no idea) the size of houses were common ... Also don't go to Mergui for the viz - the reason the coral grows so well is there's lots of food in the water! But there was enough viz to keep me oohing and aahing for a total of 17 days, between the snorkeling and the diving ... -- Taxgeek, USA. [More customer reviews]