>
Newsletters
>
September 2006
>
Fish on the Diver's Menu
Scuba Diving Trip Newsletter
Open Letter to Dive Operators Worldwide
By Sheldon Hey
Ever wondered where all the schools of big-eye trevally have gone? Where are the huge swirling vortexes of barracuda that we all loved to be engulfed by? What about the vast herds of marauding bumphead parrotfish that we gazed at as they munched their way across coral grazing fields? Or those impossibly large Napoleon wrasse that we used to frequently encounter on our diving trips of yesteryear?
Well here's the bad news - they have all gone. I'm afraid we've eaten them all. And they won't be coming back unless we do something about it.
Now for the good news - we can do something about it and we can bring them back. It's really simple - just stop eating them! If you're a dive operator or work in a resort or on a dive boat, then you are in a unique position to make a real positive impact on the situation. Cut out fish and seafood from the menu. When the buying stops, fishing can too!
You don't believe your efforts will make a telling difference? Well consider this: Let's suppose that on a typical 4 day liveaboard dive trip, a boat chef buys in 10 fish. Over the course of a 6 month season, by taking fish off the menu, he'd be saving the lives of 365 fish, plus an equivalent number of squid and countless shrimps and crabs. Over a 5 year period, given the growth rate of fish populations, that would equal 139,000 fish for each 500 square metre patch of reef - imagine the dive sites if they were enriched by that number of marine creatures!
If you're scuba diving on holiday, your actions can make a big difference too. Even in a small tourist resort destination such as Phuket in Thailand, if every tourist said "No" to fish just once when on holiday, that small action would save the lives of 4 million fish per year.
The size of the fishing industry is simply a direct function of supply and demand. We can help maintain stocks of fish by declaring and protecting no-take marine protected areas. But we all must also help reduce the demand for caught fish, as it is clearly unsustainable at current levels - hence the lack of big schools of fish worldwide.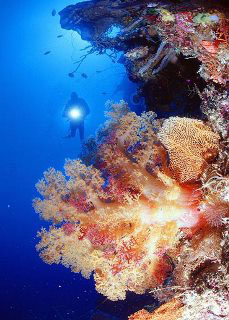 You don't need to get into a negative mindset about the changes required to your dive operation. You can really put a positive spin on it. Tell your customers about why you no longer offer fish and seafood, how you are trying to preserve the marine environment and the lives of sea creatures for their enjoyment. Most divers are environmentally aware, at least on a rudimentary level, and would understand and welcome your efforts. You never know, your good work and passionate commitment may even gain you some free publicity once word gets out.
So what are you going to offer your guests if you take seafood off the dinner plate? That's easy too. Replace fish with vegetable options. Doing this will not only keep those 'difficult-to-please' and 'awkward-to-cater-for' vegetarians happy (an ever-growing segment of the market), but will improve the health of your meat-eating guests. Remember meat eaters can enjoy vegetable dishes too - the only vegetable dishes that meat eaters don't enjoy are the ones cooked by chefs that don't know vegetarian cooking - let your imagination run wild, not just endless stir fried vegetables.
As dive operators and dive professionals we are all supposed to be proud ambassadors and guardians of the marine environment. You wouldn't sell sea shells and corals in your resort or on your boat, would you? So why sell fish and seafood? What's the difference? They are all equally your valuable assets. By providing fish, you are supporting the very industry that is systematically destroying the marine environment and accelerating the collapse of fish populations and fish species worldwide, in the deep oceans and on coral reefs too - in fact the very same fish that your customers come to see, but underwater. A cynic might say that dive operators serving their guests fish on scuba diving trips is like wildlife enthusiasts going on safari and eating cheetah cutlets and wild dog stew, or Greenpeace activists munching on whale steaks as they make their way across the South Pacific on Rainbow Warrior II!
So I ask you now to take a moment to consider what you can really do to help re-instate our fish populations on our treasured coral reefs. Make a positive contribution and protect the marine life and all our livelihoods - bring back the days when your guests gaze in amazement at the enormous schools of fish and vibrant reefs. Return our reefs to the time when rare and endangered large fish species can be regularly encountered and divers will be sure to come back for more!