>
Newsletters
>
September 2008
>
Princess Haleema Maldives Liveaboard Trip
Dive The World Newsletter
Maldives Diving Onboard the Princess Haleema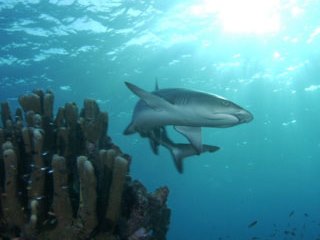 I was a little late as I transferred to the Princess Haleema on a beautiful Maldive day in April and had delusions of grandeur when it seemed as if the other guests had formed a welcome line for me.
It was, however, a taster of what was to come on the trip, because rather than my humble self, the focus of attention was on a couple of manta rays circling the liveaboard.
It's not often that you start seeing incredible marine life before you even reach a liveaboard, so my expectations understandably grew.
The Diving in the Maldives
The Maldives dive sites that I was to visit from the Princess Haleema fully lived up to my expectations and my favourite dive was at Maaya Thila, a smallish outcrop of about 30 metres or so in diameter. It involves spiralling your way slowly upwards after a straightforward descent.
But not moments after we started our descent I had a great barracuda cruise mere inches in front of my face. A mean sight to encounter up close in the dark. As I approached the wall I saw a turtle feeding and a little lower down on a ledge, a nurse shark taking a rest. As if this wasn't enough, a free-swimming honeycomb moray eel was out scanning the reef in search of a choice dinner morsel.
Only 2 minutes into the dive, and still at only 16m, I could already log it as great dive. But then 2 white tip reef sharks started to dart in and out of our torch light beams and as we moved along the wall they kept on looking for prey.
They seemed to follow us, with the 2 constantly breaking into the light. As we got to the top of the pinnacle however, we realised that it was in fact not the same 2 white tips, but 20 or 30 different ones criss-crossing the thila. The turtle action also continued and I watched a hawksbill for 5 minutes trying to extract a red tooth trigger fish from a crack by giving the trigger's caudal fin all it's worth. What a dive!
Another highlight was seeing a school of 12 or more hammerheads cruising below as we did at Maaya Fushi, if only I had a bigger lens on my camera to capture it all!
The Princess Haleema Boat
The Princess Haleema is a very well maintained and spacious liveaboard especially inside the roomy cabins with features like extra storage space and skylights removing any sense of limited space.
The upper deck hosts 2 suites with sweeping panoramic views, complemented by en-suite facilities, which not only features a shower, but a whirlpool bath too. Plasma screens and DVD systems complete the plush offerings of the suites.
Diving is done from the dhoni where all gear is stored and tanks are filled. It means there is always plenty of room as well as peace and quiet on the mother ship.
Relaxing on the Princess Haleema means chilling out in the breezy saloon enjoying the TV, DVD and music centre or the well-stocked library. There are also plenty of charging spots as well as a camera room and, with mobile phone coverage almost all the time, you can call, email and browse at your leisure while enjoying a drink from the bar or an espresso.
The Food
Although the cuisine aboard the Princess Haleema is nothing short of inspirational, if you're not a fan of Italian food or fish, you might want to have a chat with the tour leader or chef for some alternatives.
Most meals had salad, pasta and fish on the menu, topped off with fresh fruit and freshly made dessert. Superb oven-fresh baked rolls were the stars of breakfast and a spinach risotto served on the second day was pure divinity.
Meals are enjoyed on the rear deck, offering almost 40m² for your dining pleasure in the space usually allocated for the diving deck. On the Princess Haleema of course, this space has be assigned to the diving dhoni.
Overall an Excellent Trip
All said the trip highlights included a great boat, knowledgeable and interested staff, scrumptious food and exhilarating diving. The Maaya Fushi night dive counts as my best night dive ever, with so much action that I was at a loss sometimes as to what to film or look at first.
From the moment you board until you disembark, the Princess Haleema is a gracious host and you will be in good hands in the lap of luxury.