>
Newsletters
>
April 2012
>
Bali's MPAs
Bali Scuba Diving Newsletter
Bali's Marine Protected Areas
There are 2 official marine protected areas on the beautiful island of Bali, Indonesia. They are:
Bali Barat
The Bali Barat National Park, also known as the West Bali National Park, is found in the north west of Bali and covers an area of 190 km². 70 km² of this is protected coastal areas and comprises coral reefs, shallow waters and deep coastal waters. Several islands are also included, one of them Menjangan Island has recently become a well-known Bali diving spot. Bali Barat was declared a marine park in 1982 although is has been a protected area for many years.
Wildlife
In 1941 the park was officially declared an Indonesian National Park in order to try to protect Bali's only endemic bird – the Bali minah or starling. However numbers continued to diminish and in 2001 there were just 6 birds left. A captive breeding and re-introduction programme has helped to increase numbers in the last few years, and a similar programme exists on the island of Nusa Penida.
More than 160 species of birds can be found in the park and over 200 species of plants. Animals include macaque monkeys and the black monkey which is very timid, deer, wild boars, leopard cats, wild cattle known as banteng, iguanas, pythons and squirrels.
Marine life is abundant within the reserve thanks to its protected status and fishing ban. There is also a high bio-diversity of species. Most of the reefs are healthy and there are many species of both soft and hard corals along with sea fans.
Rules of the Park
There is a small area of the park that can be explored by hiking. Some of the coastal area can be visited as a diver or snorkeller.
There are 2 park offices for visitors to buy a permit (IRp 25,000 pp) and arrange a guide. One is in Cekik in the west, the other is in Labuan Lalang on the north coast from where you can take a boat to Menjangan Island.
Hiking and walking should be kept to the trails and can only be done with an official national park guide.
Your hotel may be able to arrange a boat trip to Menjangan Island in advance, otherwise you can arrange when you arrive.
Staying the night is not permitted inside the park except at the only resort located on the Prapat Agunug peninsula. Camping is also prohibited, however there is a campsite at the park office and headquarters in Cekik.
Bali's World-class Diving
The seas around Menjangan Island provide a real diving treat with excellent wall dives and healthy, colourful reefs with various sponges and sea fans. Some areas are shallow enough for snorkelers too. You will likely see nudibranchs, moray eels, parrotfish, a variety of reef fish, jacks, rays, sharks and turtles. From time to time large pelagics are encountered such as whale sharks, manta rays and whales. Diving here occurs all year round.
Getting There
You can get to Bali Barat National Park from the ferry port Gilimanuk, there are buses from Denpasar or Singaraja, and ferries from Java to Gilimanuk. For Menjangan Island you need to hire or join a boat from Labuhan Lalang and the journey takes 30-40 minutes.
Your Contribution
By visiting Bali Barat National Park and purchasing a permit you are directly contributing to the on-going protection of the area. These funds will help ensure that this unique place and its wealth of resident flora and fauna will continue to be preserved.
Nusa Penida MPA
Almost 21,000 hectares of waters around the 3 islands of Nusa Lembongan, Nusa Penida and Nusa Ceningan were declared a marine protected area in 2010.
Preserving The Rich Coastal Eco-systems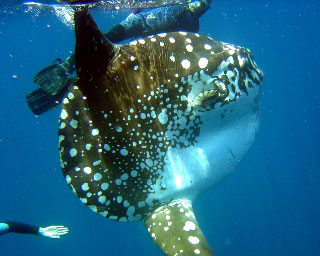 The Coral Triangle Centre (CTC) facilitates Nusa Penida MPA along with the Klungkung District Government and the local community to protect the area from destructive fishing and monitor the reefs and marine life. The ecosystems include coral reef, mangroves and seagrass beds and are home to 576 fish species, 298 coral species, 13 mangrove species and 8 seagrass species. Patrols of the water are carried out by the navy, police and the community.
Zone Management
The established management zones inside the MPA are:
Core zone - all activities except research and education are prohibited.
Sustainable fisheries zone.
Marine tourism zone.
Seaweed farming zone.
Holy zone – no boat parking in front of temple.
Harbour zone.
Special zone – allows tourism activities from 9 am to 4 pm, and fishing activities with small rowing boats and small nets from 4 pm to 9 am.
How Your Contribution Helps
A permit fee of between US$ 5-15 is scheduled to be introduced in 2013 which will help finance the management of the MPA. This means diving tourist get to directly help fund patrols and enforce fishing laws, and monitor the health of the reefs and fish.
Bird Breeding And Re-introduction Programme
The Friends of the National Park Foundation (FNPF) began a captive breeding programme for the endangered Bali starling at Nusa Penida in 2004. The chicks are hatched, raised and then released. By 2010 there were estimated to be over 100 birds in the wild.
Nusa Penida's Exciting Drift Diving
Nusa Penida offers thrilling current-washed diving and is therefore better suited to experienced divers. There are a couple of beginner sites, however. There are more than 20 sites with the opportunity to dive with turtles, eagle rays, manta rays, white tip and grey reef sharks and sunfish or mola-mola. Large schools of fish such as trevally and sweetlips can be found along with macro critters, beautiful hard and soft corals and healthy sea fans. You may also be lucky enough to see a whale or dolphin.
Getting To Nusa Penida
You can do a diving day trip to Nusa Penida from mainland Bali. If you prefer, you can stay at a Nusa Lembongan dive resort on the neighbouring island which has a range of accommodation. There are public boats from Sanur, Kusamba and Padang Bai.
Community Based MPA's in Bali
Bali also has 4 small MPAs that are community based and are in the process of developing zones and management. 2 are in the north east of Bali - Penuktukan MPA and Les MPA - and 2 in the north - Bondalem MPA and Pemuteran MPA.
Future Protection
It is good to know that already some of the rich waters of Bali enjoy protection and preservation, and that more areas will be added in the near future. As a tourist on a Bali diving vacation you get to directly help fund the on-going protection and conservation of this marine wonderland.