>
Dive Destinations
>
Indonesia
>
Sangalaki Island
>
Sangalaki
Sangalaki Island Diving Vacations
Travel and Tourist Information
People often talk about 'Hidden gems' yet when you find them they are either not at all hidden or not at all gems. Sangalaki is very much both.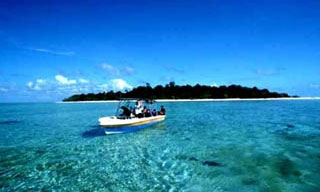 Although Sangalaki is not as hard to get to as it seems, many choose to cut their travel time down by a couple of hours and therefore miss the chance to discover this amazing spot.
Sangalaki is a tiny island in the middle of nowhere (yet only a hop, skip and jump from the tourist hubs of Kota Kinabalu in Malaysian Borneo and Singapore) with only one resort which means you and only a few others will have the wonderful privilege of diving in its waters full of manta rays.
• View a map of Indonesia

The rest of this page contains information about:
Got a question?
Have a look through our Frequently asked questions
How to Get There
Sangalaki is part of Indonesia and you will need to fulfil that country's entry visa requirements. Please note the border crossing from Tawau in Malaysian Borneo is not one which currently issues visas on arrival so please ensure that you obtain a visa prior to your trip.
No matter what route you take, the speedboat ride to Sangalaki is not included in the price and the cost of US$ 350 return per boat, will be divided by the number of passengers. Customers must pay the fare to the resort representative in US dollars in Berau or Tanjung Batu.
Flight - Boat Transfer
Via Singapore and/or Indonesia - the simplest method
Silk Air flies direct from Singapore to Balikpapan in Indonesia everyday. If you catch the 07:55 hrs flight on a Tuesday, Wednesday and Thursday you can avoid overnighting. Flights to Balikpapan are also available from Jakarta and Bali with Bouraq Air.
From Balikpapan it is a quick 1 hour flight to Berau with Kalstar Air (~US$ 180 return), departing 11:00, 12:00 or 17:00 hrs. A Sangalaki representative will greet you off the Singapore flight in Balikpapan and will give you onward tickets to Berau. You must pay the representative in US$ on arrival in Balikpapan. In Berau you will meet a Sangalaki representative and the speedboat.
Via Kota Kinabalu in Malaysia
Most people come via Kota Kinabalu direct from Australia, Thailand, Hong Kong, Singapore and Kuala Lumpur.
The recommended flights are with Malaysia Airlines (www.MalaysiaAirlines.com

) to Tawau from Kota Kinabalu, or there are several direct flights from Kuala Lumpur to Tawau with Air Asia (www.AirAsia.com

) (07:20-10:05 hrs & 17:20-20:05 hrs) or from Johor Bahru ( 07:50-10:35 hrs).
The important thing is to connect with the ferry (except Sundays and public holidays) from Tawau to Tarakan in Indonesia, a border crossing for which you will need a pre-arranged visa. These run at 09:30 hrs and 12:30 hrs, take 3 hours, and cost RM 100 (~US$ 21) each way. We can arrange to reserve seats but you will need to pay for the tickets at the ferry office.
In Tarakan you can be met by a representative of Sangalaki who will take you to your hotel. You will need to overnight in Tarakan: Bahtera Hotel 4 star - $35 per room per night, single, double or twin and includes transport to and from jetty or airport. Then you have a choice between ferry or flight:

- The ferry to Tanjung Batu (3 hours, US$40 return), you must pay to the representative. He will have the tickets for the ferry to hand. The morning ferry will take to Tanjung Batu from where a speedboat will transport you to Sangalaki.

- The flight with Kalstar Air (07:55-08.35 hrs or 13:15-13:55 hrs) arrives in Berau, where a Sangalaki representative can take you to the resort speedboat which takes you 1 hour down river to the sea, from where it is 1 hour to Sangalaki. The flight costs RM 250 return (~$65). Again, this can be arranged for you but you must pay in Ringgit to the representative in Tarakan who will have the airline tickets in hand.
Departure from Sangalaki is the day before your flight. This means that you can make morning dives on the day you leave and then overnight in Berau, before continuing your onward journey.
Sangalaki's Climate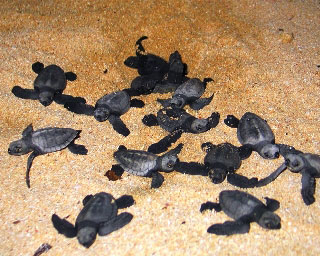 Lying just 2° north of the equator, the climate in Sangalaki is equatorial all year round, i.e. sunny, hot and humid, but this is tempered by the offshore location and cooling sea breezes. Temperatures vary from 28-31°C.
There is a wet season and a dry season. The wet season usually falls between December and March, and the dry season runs for the rest of the year. But in the tropics its very common for hot and dry days in rainy season and tropical downpours in dry season!
Sightseeing and Adventure
Sangalaki is one of those places where the lack of 'activities' is a strong point. Your well-being is in fact second to that of the turtles that come ashore to nest. Often guests are treated to the wonderful sight of the hatchlings making a break for the sea. Circling eagles swoop down to end the hopes of a few as the majority make it out past the shore-lapping waves.
A day-trip to snorkel in the freshwater lake teeming with non-stinging jellyfish is another experience which will stay with you forever.
Interested?
If you're keen to dive with the large schools of manta rays of Sangalaki, then click below to check your options now for:
Be sure to book in plenty of time to avoid limited choice! The best diving opportunities are booked by repeat customers who book well in advance to ensure their reservation!


---
CUSTOMER TESTIMONIALS OF DIVE THE WORLD
... Your website allowed us to look at multiple options since we were open to going anywhere in Asia. We were able to get information from someone who loves diving and has been to these places and could give us accurate information for making a comparison. Your correspondence was professional and well organized. Plus, we saved money! ... -- Tamara Johnston, Guam. [More customer reviews]