>
Dive Destinations
>
Indonesia
>
Sangalaki Island
Your Guide to Diving in Sangalaki
The Manta Ray Expressway
...Highlights: manta rays, turtles, great macro life/ marine diversity...
...Sangalaki's diving environment: drift diving, beginner and advanced divers, off the beaten track...
Just over the border from Sabah, Malaysia in Indonesian Borneo is the island of Sangalaki - a superb dive spot that can be visited by liveaboard where big numbers of manta rays frolic all year round. Many destinations claim that mantas are frequent visitors but few can truly lay claim to having resident mantas all year round, and so many of them! Most locations may hold encounters with mantas if you're lucky, but when you're scuba diving at Sangalaki, luck is not a pre-requisite. Nature is on your side, guaranteeing reef manta rays at almost every site.
In the waters around Sangalaki there are numerous manta cleaning stations - cleaner wrasse are found aplenty here, which obligingly clean all the grime and parasites off the skin and gills of the manta rays. Mantas gather here for their regular cleaning sessions. If you head out to one of these cleaning sessions, you have quite an experience in store for you. You'll find yourself eye-to-eye with the mantas as they are generally inquisitive and quite friendly by nature and will probably approach you.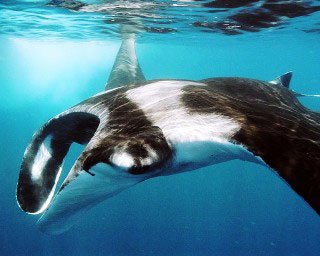 The manta rays are found in huge numbers at the dive sites off the island's east coast, namely Manta Avenue, Manta Parade and Manta Run. Usually, you'll find these graceful creatures near the surface with their gills wide open as they feed on the rich plankton to be found in these waters. The mantas can also be found cruising the seas or less often foraging for sustenance down on the sea beds. They may not be huge oceanic manta rays but you will have no complaints if you find yourself in the middle of 6 or 7 mantas swooping all around you.
Another highlight of Sangalaki diving is the site known as Jellyfish Lake on nearby Kakaban Island - the sight of thousands of jellyfish floating around you has an almost other-worldly beauty to it, and you need have no fear of stings while snorkelling here (you can't dive in the lake). There are 4 different varieties of jellyfish in the lake situated in the middle of the island. With no access to the open sea, the jellyfish here have had no encounters with their natural predators and as a result have lost their sting.
When you consider the other attractions of the area: Whale Shark Point, big fish action at Maratua and Kakaban, great macro diving at the nearby islands of Derawan and Samama, and the possibility of seeing tiger sharks at Pulau Sambit, it is clear why many people believe the diving in Sangalaki to be "a one-stop shop" without rival in the region. It's like being in several great dive destinations at once - manta rays, macro, enormous numbers of green turtles and sharks, Jellyfish Lake and splendid wall dives, a winning combination.
Dive Site Descriptions
Coral Gardens
Almost every dive location in the world seems to have a site named Coral Gardens. The island of Sangalaki is no exception and its 'Coral Gardens' is located west of the island. At its deepest, this dive site is just flat sand where you'll find a number of goatfish nosing around. Above the seabed though, it is a gradual incline of shelves full of hard and soft corals.

You'll find acropora corals and mosaic corals, among which are a rich variety of reef life such as anthias, damsels, snappers and triggerfish. Other favourites to be found are cuttlefish, flat worms, sea stars, cushion stars, sea cucumbers, feather stars, frogfish and lizard fish.
Show more
How to Dive Sangalaki
If you want to be on the doorstep of the most amazing manta dive sites, then we recommend a liveaboard cruise.
The Sangalaki Island Diving Season
Being only 2 degrees north of the equator means that Sangalaki isn't really visited by a monsoon season so the diving and weather conditions are steady and fine throughout the year. There are 2 seasons in Kalimantan, the Rainy Season which runs from December to March, and the Dry Season which lasts the rest of the year, however since this is the tropics, those seasons do not count for much. The air temperature is a constant 28-30°C year round. And with the Derawan archipelago being located offshore, light sea breezes ensure that the islands do not suffer from the high humidity of the mainland.
Water visibility in Sangalaki ranges from 8-30m but averages about 20m. If can fall as low as 25-30 feet (8-10 M.) or be in excess of 100 feet (30+ M.). Kakaban and Maratua tend to have slightly better visibility than Sangalaki because they are further offshore. Likewise, Sangalaki usually has better visibility than Derawan. Sea temperature is a fairly constant 28°C year round.
The manta rays, turtles and stingless jellyfish can be seen all year round. The whale sharks are most commonly seen in the mornings over the period of each new moon, but have been seen at other times of the month. They can be seen around Derawan but move to Talisayan between mid-May and mid-September due to the southerly winds.

Where is Sangalaki and How Do I Get There?
Review our map below of Indonesia, showing the location of Sangalaki in Kalimantan. Here, you will find information on how to get to the ports of departure in Indonesia, from where you will cruise to Sangalaki.
Reef Summary
Depth: 10 - >40m
Visibility: 10 - 30m
Currents: Moderate
Surface conditions: Can be choppy
Water temperature: 28 - 30°C
Experience level: Beginner - advanced
Number of dive sites: 50
Recommended length of stay: 6 - 8 days
Useful References


---
CUSTOMER TESTIMONIALS OF DIVE THE WORLD
... Your service was fast and polite. I like having a large number of boats available in one place instead of needing to contact several different operators. Website description of the boat etc was accurate ... -- Johanna Vuorte, Finland. [More customer reviews]