>
Dive Destinations
>
Oman
Your Guide to Diving in Oman
Pelagic Adventures on the Arabian Peninsula
...Highlights: whale sharks, manta rays, whales, dolphins, turtles, schooling fish & big pelagics...
...Oman's diving environment: healthy reefs, beginner and advanced divers...
Oman is blessed with a 3,000 km Arabian Sea coastline and is renowned as one of the most welcoming, tourist-friendly countries in the region. The land is a series of rugged mountainous landscapes, oasis-dotted deserts, lively towns and beaches that stretch forever. These days the underwater world is become better known as an equally fascinating place to explore.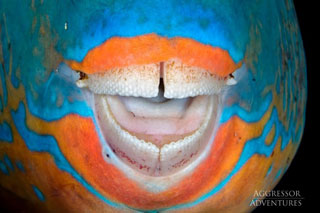 The diving is concentrated in 2 distinct areas: the northern region that includes the Daymaniyat islands off the coast of Muscat and the southern region where the Hallaniyat islands are the focus. An unforgettable Oman liveaboard diving cruise could focus on either of these regions or include them both on a transit trip between the two.
The crystalline waters of Oman are rich with marine life big and small, and more than 1,000 different types of fish and shellfish are home in the Arabian Sea and Gulf of Oman. The largest species include humpback whales, sperm whales, dolphins, whale sharks, mola mola, mobula and manta rays, king mackerel and tuna. Strict fishing limits and the creation of expansive marine parks means the fish life such as tuna and king mackerel are in abundance. There are also turtles, moray eels, angelfish, stingrays, lobsters, crayfish and a variety of nudibranchs. There are many species in Oman found nowhere else in the Arabian peninsula. Strict fishing conditions and large marine parks ensure that this valuable treasure is protected.
Dive Site Descriptions
Daymaniyat Islands
Easily accessible from the capital, Muscat, the UNESCO protected Daymaniyat Islands Nature Reserve lies about 70 km off the coast. This string of 9 rocky, beach-fringed islands is the most popular scuba diving location in Oman. Over 22 dive sites surround the islands in the form of shallow coral reefs, caves and caverns, swim-throughs and sloping walls.
Most dive sites here are shallower than 30m and the region lays claim to over 100 species of hard and soft coral. It is estimated that 10% are endemic to Oman. The islands are an important nesting site for migrating birds and the hawksbill and leatherback turtles that hatch here. Commonly sighted marine species in addition to turtles include leopard sharks, moray eels, sting rays, giant king fish and clownfish.
Marine biologists have recorded over 280 different species of fish in these waters. Encounters with the biggest of them all, the whale shark, are possible too especially during the cooler months. Dolphins and humpback whales are not guaranteed, but do appear regularly to the delight of those lucky enough to be diving here. The humpbacks and other migratory species are attracted by the plankton-rich water and the location of these islands on their migratory routes.
Show more
Many destinations have a dive site called Aquarium and it may not always be deserved. However the density of fish here makes the comparison fully merited. Thousands of fish will fill your field of vision: schools of snappers, jacks, red-toothed triggerfish, batfish and barracuda. Whale sharks may also put in an appearance, if you can see them through the schools of fish in the foreground. Also look out for leopard sharks, moray eels, cuttlefish, turtles, seahorses and countless nudibranchs. This site lies just outside the boundary of the nature reserve, but surely benefits from the reserve's protective measures in place, such is the boundless quantity of marine life.

3 Sisters is a popular site of the eastern side of a bay on Police Island. With a maximum depth of 18m and normally mild current, it is suitable for all levels of divers. You will fin along a boulder-strewn sloping wall which is colourfully decorated with hard and soft corals. There is a small cave to check out at around 12m which is full of sweepers enjoying the sheltered stillness of the water. As you make your way up to the shallow top of the reef there is impressive table coral coverage and a lot of marine life including moray eels and nudibranchs. Throughout the dive you may see triggerfish, batfish, turtles, leopard sharks, and and if your luck is in, mola mola!

On the west of Qesmah Island is Garden of Eden, a celebration of colour and coral. Normally your profile will see you start on a steep wall and a series of boulders bedecked in soft corals in hues of yellow, purple, pink and orange. The site then plateaus out to an area with healthy table, boulder and cauliflower corals. All around this coral-tastic tableau, fish will surround you. Snappers, groupers, batfish, angelfish are a few of the many species you may see here. Stingrays and leopard sharks can also be found resting motionless in sandy channels.

Sira island is a site known for having reliably excellent visibility and large numbers of fish. This is quite a small rocky reef which is really a series of sloping walls and valleys. The coral coverage is fantastic and worthy of mention are the black coral trees and blue coral bushes interspersed with corals of yellow and white. The list of creatures to see here is long and typical of the area. It includes eagle rays, leopard sharks and turtles. There are also a number of troughs in the sloping wall where the shelter attracts little schools of batfish and sweetlips.

Other dives sites in Daymaniyat
Hayut Run is unusual for the area since it takes the form of a drift dive, when sufficient current is present. Mostly this is a shallow sloping coral garden. Look out for turtles, leopard sharks, sting rays, moray eels and stonefish. Titto's Run is a shallow site where brown soft corals proliferate and myriad colourful little fish play. This is a good site for spotting some of the more unusual fish species such as the endemic Oman Anemonefish (Amphiprion omanensis). Clive Rock is a site with a wall that becomes a shallow plateau and is heavily populated by fish. Expect to see enormous schools of snapper and fusiliers plus countless little damselfish and butterflyfish in the shallows. Doc's Wall is an opportunity to identify local species such as Jayakar's seahorse (Hippocampus jayakari and the Arabian flame hawkfish (Cirrhitichthys calliurus) as well as eagle rays and cowtail rays.
Other northern Oman dive sites
Beyond the reaches of the Daymaniyat Islands Nature Reserve are a number of other excellent dive sites that may, depending on the season, be on liveaboard itineraries in this part of Oman. Offering something a little different, such sites promise awesome wreck diving, huge submerged boulders, spectacular soft corals, giant eagle rays and whale sharks. More amazing, and less common, visitors include bull sharks, tiger sharks and even orcas! Dive sites in this area are Bandar Khayran (including the Al Munnassir Wreck and Turtle City), Fahal Island and Um As Sakun.
Show more
Bandar Khayran
A mere 25 km from Muscat, the dive sites of this area are popular among both liveaboard guests and daytrippers. Profiles here range from shallow coral reefs and swimthroughs to little walls that drop from the shallows to around 25m. The most renowned site here is the Al Munassir Wreck, an 84m long British Royal Navy landing craft sunk in 2003 at around 30m depth. Despite its youth it is already heavily colonised by encrusting sponges and hard and soft corals. Seahorses and nudibranchs are among the most sought after sightings. Large numbers of fish now call this artificial reef home. Look out for giant honeycomb moray eels inside the wreck and sting rays in the sand. Turtle City is located next to the Al Munnassir wreck. Both hawksbill and green species are present in impressive numbers in this shallow sheltered cove. Mermaid Cove is a rocky bay where pristine and vibrant colourful hard corals abound. This site often enjoys excellent visibility so you can spot turtles, lobsters, pipefish and nudibranchs throughout the reef. Seahorse Bay is a site where you may spot seahorses, although they are not as numerous as the name suggests. More frequent encounters can be expected with clownfish, anemone shrimps and moray eels. At any of the Bandar Khayran dive sites during the right season, a mighty whale shark could hove into view.

Fahal Island
Also known as Shark Island, this is only 4 km from Muscat and a popular day trip site for divers and snorkellers. Each side of the island offers something different. One has a healthy coral garden where eagle rays and turtles are commonly sighted. The other has a wall featuring beautiful soft corals. All varieties of coral found in Oman are present around Fahal. Schools of blacktip sharks, barracuda, eagle rays and mobula rays are often seen around the island and even whale sharks may appear. Unusually, the whale sharks can be seen here resting on the sea floor. There is also a cave swimthrough and a tugboat wreck to investigate.

Um As Sakun Island
Um As Sakun is a series of underwater rocks, with the 2 largest breaking the surface. Flocks of migratory birds are often perched upon them or flying in large numbers overhead. This is a less-visited site since it is really at its best during the hotter summer months. That is when the shark sightings peak. Unusual species can be seen here when the conditions are ideal, including bull sharks and even tiger sharks! They are often encountered in the shallow water making the experience even more intimate.
Hallaniyat Islands
This collection of 5 islands lies off Oman's southern coast. While there are many established dive sites here, it is such an off-the-beaten track destination that new sites and wrecks are still being discovered. One of the main drawcards is the range of big creatures that you can encounter here. There is a resident population of humpback whales; not something many places can claim. Sperm whales and dolphins add to the spectacular cetacean count, while manta rays, mobula rays and vast schools of fish also make this area one of the best kept secrets in scuba diving.
Show more
These islands can be visited on daytrip boats from the southern cities of Sadah and Mirbat but also via liveaboard. The Hallaniyat Islands, also known as The Khuriya Muriya islands, are one of those destinations where the time of year can greatly affect your experiences. If humpback whales are top of your list then you should aim for the January to April period. Manta rays are present throughout the year but November and December are particularly good for encounters with oceanic mantas. Year round creatures include barracuda, leopard sharks, mobula rays, giant catfish, huge Spanish dancers and various moray eel species. Unusually this area has both hard coral coverage as well as kelp forests; 2 ecosystems that seldom go together. There are also several wrecks to explore including the wreck of a British ship, which was sunk by the Germans during World War I.

Hasikiyah Arch is located just off Al-Hasikiyah island. Your dive here will begin by descending down 2 fingers of stone, entering into a sheltered cavern filled with glassfish. There are also sandy channels to explore. Look out for honey-comb moray eels (Gymnothorax favagineus), octopus, schools of sweepers, leopard sharks and eagle rays.

Gotta Qibliyah is an interesting site located off the coast of Al-Qibliyah. Here there is a wall with a triangular entrance to an arched cavern. Off the wall in the blue there may be lunar fusiliers, malabar grouper and summana grouper. Inside you may run into lobsters and some moray eels, including dragon morays (Enchelycore pardalis). If you turn off your torches halfway through this dive the natural light will guide you to the exit.

Angry Grouper is a topographically diverse site just off Al-Hallaniyah. Normally your dive will begin by descending close to a pinnacle carpetted in soft corals where a sandy channel in the lee of the current can give you a moment to rest and keep an eye out for stingrays. As you move around the nearby ridges you will be finning over bushy black coral. Leopard sharks are common here, as are groupers although we cannot guarantee their mood.
How to Dive Oman
Oman has a long coastline, with Daymaniyat and Hallinyat being at opposite ends of it. The only way to get to see it all is from the luxury of a 7 or 10 night liveaboard cruise.
The Omani Diving Season
Diving in Oman possible throughout the year. However, there are regional variations. In Damaniyat the water temperature is 30+°C from May to October but falls to a low of 23°C in February. Due to the plankton blooms that attract big fish and sharks, the visibility is normally 5-15m, but can reach 25m with favourable conditions. September/October is usually the best time for visibility here. Currents are minimal and surface conditions calm. From September to November you have the highest chance of seeing whale sharks, sometimes in groups of 10-15 individuals. June to September is the best time to see the nesting season of turtles (hatching 2 months later).
In Hallaniyat the water temperature is 27-29°C from April to June and again in October/November, but drops to 24-25°C in January/February and July/August. Visibility is usually around 5-15m, but 10-20m in April/May. Currents are moderate but stronger in the spring and summer. The summer and Autumn also bring sea swells. January to April is the time to see humpback whales, November/December for oceanic manta rays,
Muscat (near Damaniyat) is hot and very dry. Air temperatures rise during the summer and peak in June at 40°C; it is coolest in January/February at 26°C. Salalah (near Hallaniyat) has a markedly different climate. Air temperatures hover between 30-32°C except in winter (December-February) and in the wetter monsoon months of July-August when it drops to 27°C and more than 2 cm of rain falls! Humidity is also higher at 80% in July-August. Visit the Weather Atlas for more details on the climate of Muscat

and Salalah

.

Where is Oman and How Do I Get There?
Review our map below showing Oman's location in the world.
The Sultanate of Oman is located on the southeast coast of the Arabian Peninsula, at the mouth of the Persian Gulf. The United Arab Emirates lies to the northwest, Saudi Arabia to the west, and Yemen to the southwest. Our liveaboard cruises use ports in the capital city Muscat, and in Salalah. A large number of airlines operate flights to Muscat Airport (MCT), and a few to Salalah Airport (SLL), including the national carrier Oman Air. There are direct flights with much of Europe (including the UK), Asia, the Middle East, and north and east Africa, but you can also connect very easily through Dubai, Qatar, Abu Dhabi and Sharjah.
Most visitors must purchase a 30 day tourist visa in advance. You can check all the latest entry requirements and buy the visa on Royal Oman Police website

.
Reef Summary
Depth: 16 -100 ft (5 - 30m)
Visibility: 15 - 70 ft (5 - 20m)
Currents: Gentle to strong
Surface conditions: Generally calm, swell in summer
Water temperature: 73 - 90°F (23 - 32°C)r
Experience level: Beginners to advanced
Number of dive sites: ~100
Recommended length of stay: 7 - 10 days
Useful References


---
CUSTOMER TESTIMONIALS OF DIVE THE WORLD
... Firstly the email replys and the front end Web page was very, very good. I found nearly all the info I needed and making a booking was easy. I would definitely book using your service again. A great experience ... -- Steve Church, Australia. [More customer reviews]