>
Newsletters
>
April 2004
Dive The World Newsletter
April 2004 - Contents
Read on for more information on:
   Oceanic Sunfish - Mola Mola
   Liveaboard trips to Komodo
   PADI Underwater Videographer course
   Coral reefs under threat
   Health - diving with asthma
New destinations
Dive Bali, Indonesia, dive Krabi, Thailand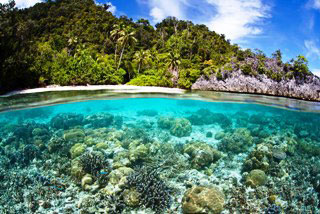 Dive the World is delighted to announce the launch of our loyal customer incentive scheme. If you have booked a diving holiday with us before, then sign up today for a 5% discount off the price of your next adventure!
To help you in selecting your next diving vacation, we are pleased to announce the launch of 2 exciting new destinations.
Bali is world famous as a tourist destination island of paradise, but have you ever stopped to wonder what's beneath the waters that lap the shores of this volcanic wonderland of mountains, rice terraces, art and culture?
Bali diving
Krabi has a magnificent and dramatic coastline of limestone cliffs, and is a delightful retreat for exploring Thailand's Andaman Sea. We now offer excellent value diving reef studies and coral conservation projects in Krabi, and scuba diving and resort packages in the nearby beach resort area of Ao Nang throughout the year.
Krabi scuba diving
Don't forget you can expect a choice of only the most reputable dive operators at no extra cost to you, so check out these new destinations today by clicking on the links above. Or use the other destinations drop-down menu in the top, right hand corner of this page.
Creature Feature - Sunfish
More about these crazy looking creatures and the dive sites of Bali where you can see them
Read on for more on these giant, swimming medallions...
Destinations Feature - Komodo Liveaboards
As renowned for its world class reefs and biodiversity, as it is for its endangered dragons, Komodo is an adventure that you need to take now to ensure you can kill these 2 birds with 1 stone.
Cormac Kavanagh, our beloved and cuddly Irishman, gives this destination his usual no-frills, objective low down click here...
Blue Movies
Phuket diving sites - Ideal for learning underwater videography.
Continuing our series of expert advice from our diving instructors and a story from a student who has recently completed the course.
We think that you'll find this approach both informative and fun and that you will want to take the opportunity to expand your diving knowledge on your next diving holiday.
For an alternative approach to diving education, click here...
State of the Reef
Some disturbing yet interesting facts on coral reefs...
Latest health checks on the world's reefs indicate worrying times ahead. Here's what others are doing about it in Komodo, and what you can do to help jump to it...
Diving Asthmatics
Ever felt that you have fallen victim to dubious medical guidelines on assessing your fitness for diving? Now there may be a way for you to get wet...
Read on for our up to date and rational assessment...