>
Newsletters
>
April 2004
>
Mermid I Liveaboard Trip to Komodo
Komodo Scuba Diving Newsletter
The Dragon's Lair - Bali to Komodo
I heard that there was an emergency at the office. We had a new destination for our Indonesia website, and there was an urgent need for someone to hop on a plane to Bali and write some dive site descriptions. Komodo diving? World beating dive destination? Sunfish, sharks and Pymgy Seahorses? What an absolute tragedy thinks I, as I went to book my ticket that moment!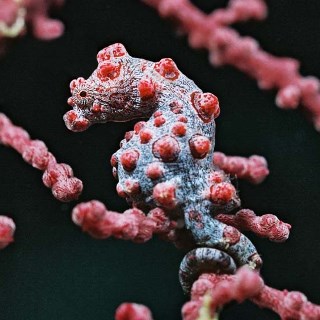 During the Thailand diving low season a number of the Similan Liveaboards head for Bali, Indonesia to conduct trips there. Our trip with the Mermaid I was the first trip of their Bali season. The trip would take us on a journey of over 650 nautical miles in a period of 7 days and during the boat briefing we were promised some fantastic diving and, of course, the Komodo Dragons. However the trip would also involve high seas, strong winds and some of the strongest oceanic currents in the world - I reached immediately for the seasickness tablets.
They were not telling any lies when they said the seas may be rough and within half an hour of leaving the harbour our boat was fighting through 5 metre swells. Well, this area is also a famous surfing destination and surfers need waves.
Nusa Penida
Our first dive was on Nusa Penida, the largest of a group of 3 islands south of Bali where tranquil beaches border some fantastic reefs and which make this a popular daytrip diving destination. The people of Nusa Penida earn a great deal of respect in Bali as Nusa Penida is believed to be the home of a Demon king (Jero Gede Macaling) who is a master of black magic and said to be responsible for many natural disasters in the region.
The dive sites around the island are generally suitable for divers of all experience levels. However, Jurassic Point and Ceningan Penida Pass are considered suitable for advanced divers only, due to the fast currents, but adrenaline junkies will have a dive of a lifetime at either of these sites. Blue point (or Jack Point as it is sometimes known) offers an easy shallow dive ranging in depth from 5 to 26 metres and was the site of our checkout dive for this trip.
One word of warning, make sure to bring ample protection against the cool waters around here. Even though Bali is almost on the equator, where tropical divers would expect to find temperatures of 28 - 30°C, you will regularly encounter water temperatures of 21°C or below.
Moyo Island and Satonda
The checkout dive complete the boat journeyed through the night, by-passing the Gili islands, and by morning we had arrived at Moyo Island which lies just to the north of Sumbawa. We had 2 dives scheduled here at Angel Reef and Panjang Reef; these are 2 large dive sites which fall to considerable depth on their seaward side. Despite the evidence of the ill effects of dynamite fishing on the area these still represent wonderful sites and 2 dives was insufficient to satisfy our appetite for exploration on these reefs. We encountered many new varieties of coral along the route and despite the evidence of past abuse the reef teems with fish life. As you descend into a shoal of Longfin Bannerfish or Redtooth Triggerfish keep a regular eye on the deeper water where Black Tip sharks and large schools of Yellowtail Tuna often make an appearance.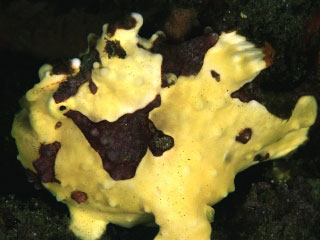 To round off day 2 of our trip we had a sunset dive at Satonda Island. This was a dive for the macro lovers, and the photographers in the group were very happy with their encounters with Clown Frog Fish and numerous Polyclad Flatworms. Personally I am a fan of the big stuff and need someone to hold my hand on macro dives to ensure that even the most obvious things do not escape my attention, give me a whale shark or manta ray any day (although I have missed a few of them in my time). However, one should not be selfish about one's enjoyment of the reef. Imagine the joy of the lobster returning to his family that evening to report that he had seen the rare species of Red Headed Irishman in the waters of Satonda.
The island itself has a lake at its centre and is home to a large colony of Fruit Bats, every evening at sunset these bats awake from their day of slumber and leave their small island in search of food. At the sight of thousands of these large bats departing on their evening forage you are reminded of old Dracula movies.
GPS Point
There is a lot of ocean to cover on this trip and our second night was once again spent traveling eastward toward Komodo. We awoke 230 nautical miles east of our point of origin at the island of Banta (Gili Banta). The north eastern tip of Banta is home of the famous GPS Point dive site and this submerged reef was certainly the highlight of our trip to date and so enjoyable that we scheduled it into our return journey.
One of the greatest delights of diving in this part of the world - the area is so large and the sites so numerous that it is possible to come across fantastic sites which are relatively uncharted. If conditions are favourable you just put on your equipment, jump in and check it out. In this way we got to explore the dive site of Gili Lawa on Gili Lawa Laut. This site is very similar in nature to GPS Point except the reef breaks the surface here. Although the dive guides are well aware of the existence of the site here, few have ever explored it due to the strong currents which are normally present. We were lucky to arrive during ideal diving conditions and took advantage of the opportunity to visit this wonderful site.
Dragons at last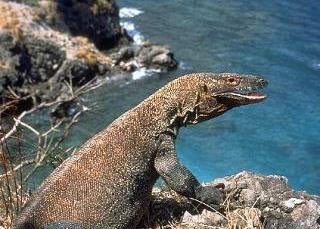 A short journey brought us the small village on Komodo and we were ready at the crack of dawn the next morning to set out in search of our first Dragon, like knights of old on a mission to rescue the princess from her jailor. In the end our dragons were not as elusive as might be expected in the circumstances. The kitchens at the rear of the village restaurant are an easy source of food and a regular haunt for some of the local dragons. Okay, so they can bring down prey as big as a water buffalo but even dragons get lazy occasionally and want fast food convenience.
I speculated with the local guide that perhaps it was laziness that was a cause for their declining numbers and near extinction. The ranger said the dragons did not move fast because they had. Its true that the dragons have no natural predators on the island, other than themselves (for the first 4 to 5 years the young avoid the adults who are known to prey on them). However, the fact that their numbers have fallen from 3,336 in 1990 to around 1,100 today suggests that a few sessions with a parenting counsellor may well be in their long term interest.
Rinca Island and Cannibal Rock
Komodo National Park comprises a number of islands including the nearby island of Rinca which is equally populated with dragons, and this was the site of our diving that afternoon. In the end we had 2 dives at a beautiful Komodo diving site called Cannibal Rock which is a submerged reef sandwiched between Rinca Island on the north and Nusa Kode to the south. The visibility on the site was less than 10 metres for the majority of the dive but the fish life was prolific. Having descended into shoals of different fish I continued to the seabed in a state of awe to be greeted by 3 white tip sharks, then round the corner a marble ray put on a display of his underwater acrobatics and it was then on to inspect a number of new nudibranch varieties which had been promised by our guide. To cap it all off, a green turtle leisurely grazed on the coral as we completed our safety stop. Why can't all dives be like this one? The site was so good we decide to return for a night dive.
Heading Home
The penultimate day of our Komodo diving trip saw us retrace our steps to the sites we visited on the outward journey. However, we were unfortunate enough to have some dynamite fishing take place close by, a very unnerving experience. It is difficult to tell how close the fishing was actually taking place but I got the hint and got out of the water. I have been told before that I'm easily frightened, but I feel that a healthy yellow streak reduces your life assurance premiums. We had encountered a number of excellent dive sites over the course of our trip but were also reminded, at almost every site, how delicate the marine eco-system actually is and how badly it is being abused by those with short term interests only. However, before pontificating, the diving community should remember that feeding your family and sending your children to school are legitimate interests, and it is incumbent upon us to identify and market alternative uses of this resource to the local peoples currently dependant on its exploitation.
Our last dive was on Bali's most famous and popular underwater attraction the Liberty Wreck. This US supply vessel was torpedoed by the Japanese in 1942 and, in an effort to salvage as much cargo as possible; it was dragged to Tulamben and beached there. The violence of the 1963 volcanic eruption in Bali pushed the ship back into the sea where she now lies within a 1 minute swim of the shore. What a way to finish a marvellous trip, the wreck supports an enormous population of near tame marine life and the entire remaining structure is richly encrusted with coral growth. If you dive nowhere else in Bali dive here.
Receive your shortlist of Komodo - Bali liveaboards options

---
CUSTOMER TESTIMONIALS OF DIVE THE WORLD
... Thanks for your great support, good follow-up and enthusiastic stories. After having gone over some alternatives I would like to confirm our reservations as suggested by you! ... -- Elco Schwartz, USA. [More customer reviews]