>
Newsletters
>
December 2016
>
Blue Seas Liveaboard Tour
Red Sea Diving Safaris Newsletter
Blue Seas Liveaboard Trip Report
Click on an image to enlarge

My expectations were not huge as I joined a cruise to the Brother Islands and Daedalus Reef on the M/Y Blue Seas liveaboard. My previous visits to the Red Sea had been good but not among my finest underwater experiences. I was certainly not expecting the amazing encounters that this dive safari delivered!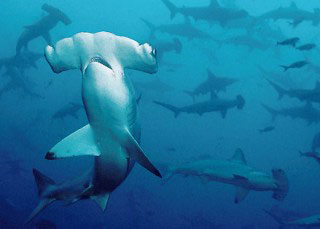 Soon into one dive at Little Brother a grey reef shark approached. Nice. Shortly after that a single hammerhead cruised by very close, seeming to eye us warily. Cool. A few moments later and the guide started banging his tank to indicate something. What was it? For a moment I couldn't see. Then there was…a magnificent thresher shark. Sleek and metallic blue with its long tail tapering off into a thin whip. Great! I was musing how 3 excellent shark encounters was a great return for 1 dive when a whale shark appeared from the blue and practically brushed past us all. Fantastic!
That was on a single Brothers dive! We would also go on to have brilliant encounters with manta rays, oceanic whitetips, a dozen or so hammerheads and silky sharks and these were just the headline creatures!
Security and Tourism in Egypt
Security is an issue in Egypt (and everywhere else) and it stops lots of tourists visiting. I don't take travel advisories as necessarily relevant to my form of travel - spending 95% of my time on or under the surface of the sea. Anyway so many countries, including our home nations are beset by security threats so I went to Egypt. Like all the others who made that choice and were on my liveaboard, I had a brilliant time. Take that, travel advisories and western mainstream media!
I added a 3 night stay in Cairo and a 4 night river cruise. Everything worked like clockwork, I never felt remotely unsafe and I got to visit places like Memphis, the Valley of the Kings, and the Pyramids of Giza, and there was little to no queuing. I used a reputable company for my Egypt antiquity tours and it made an already excellent trip unforgettable.
The route: Brothers - Daedalus - Elphinstone
After 2 dives at Ras Torombi (including our check dive) and a night dive at Marsa Shona, we steamed overnight to the Brothers, a crossing which was a little vom-inducing for some.
Thereafter we got cracking at the Brothers dive sites doing 3 dives a day. Our group were all reassuringly experienced (minimum 50 dives to join these safaris) so there was no hand-holding needed. I loved the Numidia wreck dives. There was a lot of see in and around this angled wreck whose bow is at about 10m and its stern at about 90m, which I cannot confirm… Napoleon wrasse and great barracuda were both present in numbers, as well as a multitude of other smaller fish, in and around the wreck itself, and the dense hard coral that has colonised it.
After our Brothers experience, we moved on to the highlight of this trip, the mighty Daedalus Reef. Many guests had scheduled their travel plans to be here between May and October to increase their chances of seeing schooling hammerheads and… bingo! They got what they wanted. Furthermore, on these coral-spawning reefs, we saw loads of schooling fish, plus lots of turtles and manta rays, and everyone was thrilled. There were many broad grins on board. There is nothing like seeing a safari boat full of satisfied divers.
M/Y Blue Seas
This 37m motor yacht is among the largest Red Sea liveaboards and it is a beauty. Well-maintained and spacious, it is popular with returning customers and I could see why. Excellent crew, spacious comfortable cabins, great customer service. If I have to find a fault, and I do, it was the lack of shelf space in the bathroom. Not much of a complaint, I realise.
The Dining Experience
The menu is chiefly Egyptian with some European dishes. On the Egyptian side the soups, hummus, beans and salads were great. Otherwise it was a little oily for my liking. The other guests seemed happy to wolf it all down and I was pleased they made some efforts to cater to my vegan requirements. Popular among the guests were the grilled fish, shish kofta, chicken paneer and kebabs.
The Diving Procedure
Most of the diving is done from the 2 tenders, although sometimes from the mothership. Groups are divided into 2 taking turns to go first on the dive platform. The platform has showers, rinse tanks and ladders. The dive deck is roomy and well laid-out. It also has a toilet for swift post-dive relief. Nitrox is free of charge! I was grateful for extended dive times considering the amazing sights we were seeing.
Getting There
I flew from Cairo to Marsa Alam on the morning of the first day. The boat physically leaves the harbour on day 2 so it is not the end of the world if you arrive late on day 1. The boat returns to port on the final evening of the safari. This means you can schedule flights out at any time the following day without being concerned about making the departures in time.
Conclusion
It is fair to say that I was very happy with this safari. The diving was sensational and the Blue Seas liveaboard was equally impressive. I left with a new-found appreciation for the Red Sea, in particular for Brothers and Daedalus, which were both fabulous.
Written by Sheldon Hey, July 2016


---
CUSTOMER TESTIMONIALS OF DIVE THE WORLD
... The Dive The World website makes it easy to find all the information. The booking process was all good. Your strengths are logisitics, communications and organising. ... -- Paulina Mydlowska, Germany. [More customer reviews]